Samsung is sole supplier of costly 'iPhone 8' OLED, putting Apple in 'urgent need' of alternatives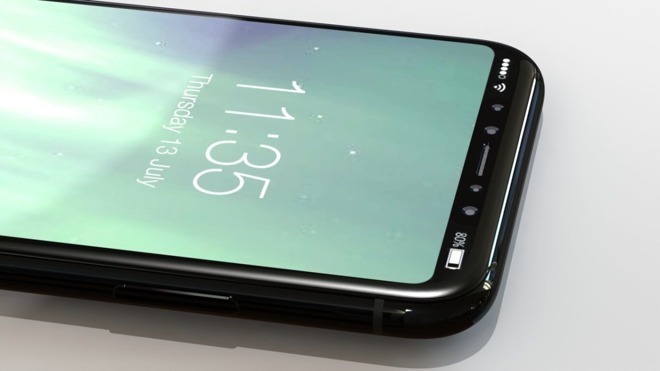 The upcoming launch of the "iPhone 8" will reportedly see Apple in a precarious position in terms of parts, as the only company currently capable of producing OLED panels for the new edge-to-edge display is said to be rival Samsung.
Analyst Ming-Chi Kuo of KGI Securities issued a note to investors on Wednesday, a copy of which was obtained by AppleInsider, revealing that Samsung has strong bargaining power against Apple.
He suspects that the OLED displays for the "iPhone 8" cost Apple between $120 and $130 per unit — well beyond the $45 to $55 per unit Apple is said to pay for the iPhone 7 Plus 5.5-inch LCD screen.
According to Kuo, "Apple is in urgent need of finding a second source of OLED." Any diversity in the supply chain will take time, however, as competing display makers need to not only ramp up OLED output, but also master manufacturing of the next-generation display technology to meet Apple's quality control standards.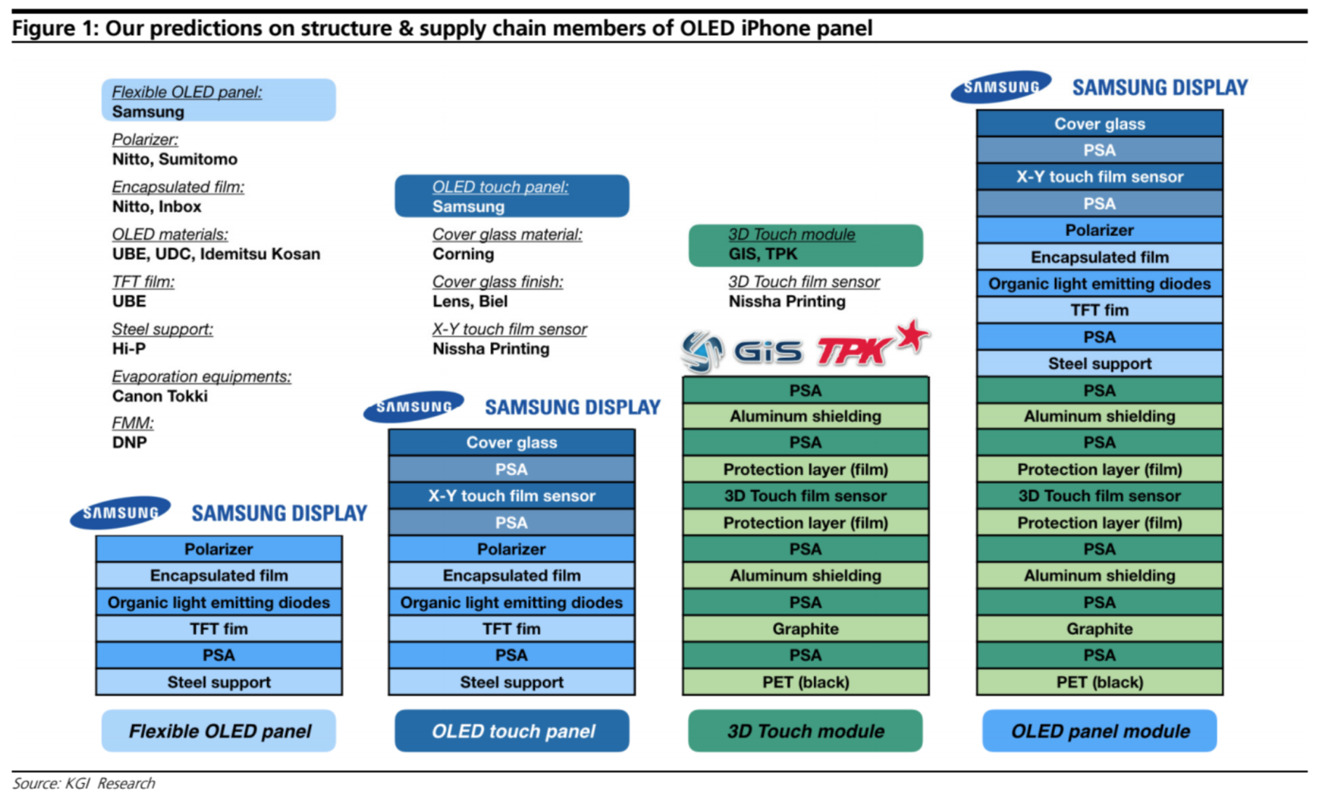 Interestingly, Kuo still seems unsure as to whether the next iPhone will have a fingerprint sensor. In Wednesday's note, he suggested that Apple "may abandon" its Touch ID technology in favor of the OLED display, but stopped short of saying definitively that it has been removed from the handset, which will be revealed in less than a week.
"We believe 3D Touch module could be unfavorable for scan-through performance of under-display fingerprint recognition," Kuo said, "which is one of the main reasons why OLED iPhone may abandon fingerprint recognition."
All the mysteries will be resolved next Tuesday, when Apple is holding an event to presumably unveil its next-generation iPhone lineup, headlined by the flagship "iPhone 8." Other names given to the unannounced product include "iPhone Pro," "iPhone Edition," and "iPhone X."
The device is expected to carry a premium price starting at around $1,000, and will be flanked by successors to the iPhone 7 lineup, sporting legacy (and cheaper) LCD technology.
In addition, a new "Series 3" Apple Watch with integrated LTE radio, and a new 4K Apple TV with support for HDR content, are expected to be announced at the event. AppleInsider will be there live, at the Steve Jobs Theater in Cupertino, with full coverage and analysis.
Why OLED?
A traditional LCD screen is considered transmissive — individual elements change color, but are at the mercy of assorted backlight technologies for presentation. OLED screens are emissive, meaning that each individual pixel is its own light source with brightness being able to be set per pixel.
As a result, OLED technology can have has significant power efficiency improvements over LCD screens, assuming software is utilized appropriately. For instance, a truly black pixel consumes no power, allowing for other utilizations of an OLED screen, such as only using a small portion of it for a constant time and notification display, with minimal impact to battery life.
Without the need for a backlight, an OLED screen can be thinner than competing technologies, all other factors equal. OLED response times can theoretically reach 0.01 milliseconds, versus 1 millisecond for modern LCD screens.

Market watchdogs believe that by 2020, OLED technology will be seen in 40 percent of all smartphones sold.
But, production remains more complicated than traditional LED screens. A speck of dust can ruin an entire screen during initial fabrication, and water impingement is a major problem for screens in-use. Even a small amount of water contacting the organic substrate of the screen can immediately damage the display, necessitating replacement.
Samsung remains the dominant producer of OLED
Other than Samsung, there are several vendors of OLED panels. However, at this time even with vendor's government aid and Apple's support, none come close to approaching the volume of the Samsung fabrication plants, and won't for a while.
Samsung holds the vast majority of OLED technology patents, with Samsung holding 97.7 percent of global production in April of 2016. Manufacturing problems remain the primary hurdle to wider success by others.
Samsung appears to be banking on Apple being a major customer for some time for the technology. After rumors in April surfaced about increased OLED production contracts from Apple, Samsung was said to be bulking up factories for production of the screens.
Other companies said to be heavily investing in OLED are Japan Display, and LG Display. When efforts by either company will produce sufficient volume for Apple is not clear.