First iPhone 8 teardown reveals few internal design changes [u]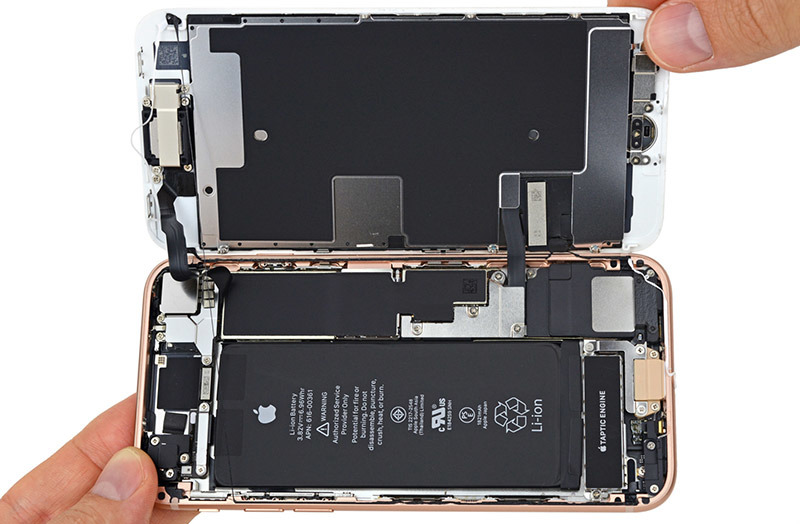 Just hours after iPhone 8 hit store shelves in early launch countries, iFixit tore down Apple's newest smartphones to reveal all the goodies packed within, finding an internal layout largely identical to iPhone 7.
The aftermarket repair firm flew to Australia to pick up this year's dissection subject, a gold iPhone 8 that is externally — and internally — very similar to last year's iPhone 7 in rose gold. iFixit's teardown is ongoing as of this writing, but the company has found only a handful of changes.
On the outside, this year's biggest update is a glass back that replaces the aluminum chassis found in iPhone 6, 6s and 7 models. Apple claims the backing incorporates special materials, including a steel and copper structure, to prevent cracking and bending. Driving the decision to move to glass instead of more rigid metal is iPhone's new wireless charging feature.
Based on the Qi standard, Apple's wireless solution is clearly seen in an X-ray image of iPhone 8's rear housing, provided to iFixit by the team at Creative Electron. In the image below, a large charging coil can be seen obscuring the handset's logic board, battery and supporting structures.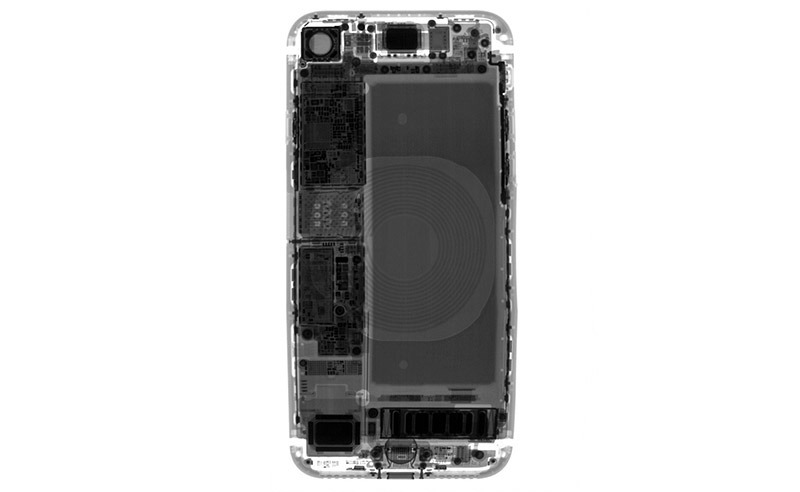 At launch, iPhone 8 wireless charging speeds will be comparable to those provided by the included 5-watt wall adapter, though Apple has promised to increase inductive charging rates with a future software update.
The handset's general construction is identical to iPhone 7, though iFixit notes a lack of gaskets on the display's pentalobe screws. The purpose of the screw surrounds is unknown, though some have speculated the design was a waterproofing feature. For 2017, Apple says iPhone is "microscopically sealed" for water and dust resistance.
Further, Apple has elected to use standard Phillips screws to secure internal cables, a change away from tri-point screws found in the iPhone 7 series.
As rumored, iPhone 8 uses an 1,821 milliamp-hour battery, smaller than the 1,960mAh cell found in the iPhone 7. Despite decreased density, Apple estimates iPhone 8 will last just as long on a single charge as its predecessor.
The general internal layout is nearly unchanged from last year, but Apple is employing a few new interconnects and cables to route power and data through the cramped space. Also new is a bracket that appears to secure the large Taptic Engine module.
On the logic board is Apple's A11 Bionic SoC with 2GB of SK Hynix LPDDR4 RAM, a Qualcomm MDM9656 Snapdragon X16 LTE Modem, Skyworks 77366-17 quad-band GSM power amplifier module, NXP secure NFC module, an Apple/USI WiFi/Bluetooth/FM radio module, 64GB of Toshiba NAND flash storage, Qualcomm Gigabit LTE RF transceiver, Broadcom wireless charging IC and a few miscellaneous chips.
Apple's iPhone 8 went up for sale last week and started shipping out to customers on Friday.
Update: iFixit has subsequently torn down an iPhone 8 Plus, finding a layout largely similar to iPhone 7 Plus and hardware tweaks in line with those seen in iPhone 8. Of note, the 8 Plus sports a 10.28 Wh battery, less than the 11.1 Wh unit found in last year's 7 Plus.