Apple ceases iOS 10.3.3 and iOS 11 code signing following iOS 11.0.2 update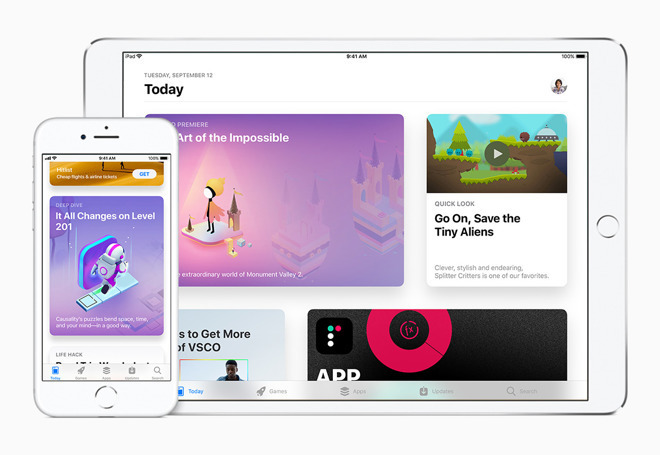 Apple on Wednesday stopped signing code for iOS 10.3.3 and the first version of iOS 11, preventing users from installing potentially vulnerable legacy operating systems in favor of the latest iOS 11.0.2 update.
The move comes just two weeks after Apple released iOS 11 to the public with major revisions and new features including a revamped user interface, ARKit, an enhanced Siri backend, support for the H.265 codec and much more. Apple's new operating system is specially tuned for iPad, with a number of new functions like drag-and-drop multitasking designed to deliver a user experience more akin to a desktop than a tablet.
Unlike past release schedules, today's code signing stoppage allowed iOS 11 to live for only two weeks, a result of bugs and other issues discovered in the firmware shortly after launch. Apple patched those holes in a quick update just one week following iOS 11's debut.
Most recently, the company on Tuesday issued iOS 11.0.2, which contained a fix for an issue that caused some iPhone 8 and 8 Plus owners to hear a crackling sound during phone calls. The update also rectified issues relating to photo viewing and opening encrypted email messages.
Apple regularly ceases code signing to prevent users from installing old iOS versions. The strategy is employed as a security measure to ensure users have the most up-to-date, bug-free software running on their iPhone, iPad and iPod. Forcing users to download and install the latest iOS versions also helps ease compatibility issues with cross-platform fucntionality and other software driven features.
With Apple no longer signing code for iOS 10.3.3 and iOS 11, users can only install iOS 11.0.1 from the company's servers.
Looking ahead, Apple is already working on the first major update to iOS 11. The company last week seeded the operating system's first point update, iOS 11.1, to developers and members of its public beta program.
Initially thought to be a minor update, iOS 11.1 could surprise and deliver Apple Pay Cash peer-to-peer payments to iPhone and iPad users. Reports this week note Apple is currently testing the payments system internally on devices running the point update, suggesting public release is not far off.