Pixelmator 3.7 for macOS fully compatible with High Sierra, launchable from Photos app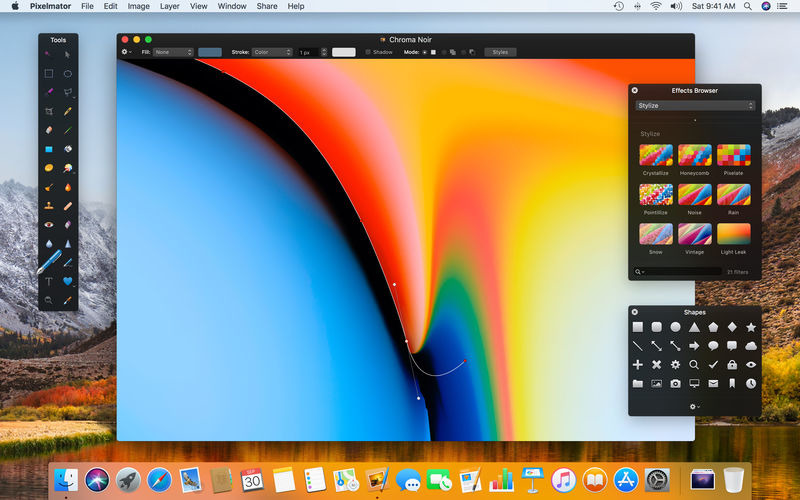 AppleInsider is supported by its audience and may earn commission as an Amazon Associate and affiliate partner on qualifying purchases. These affiliate partnerships do not influence our editorial content.
Image editing app Pixelmator has been updated with full compatibility for macOS High Sierra, with version 3.7 'Mount Whitney' of the app also adding support for HEIF files and more integration with the Photos app, along with a number of other performance improvements and bug fixes.
As part of the macOS High Sierra compatibility, Pixelmator's High Efficiency Image File (HEIF) support allows images using the image format to be imported into the editing tool. HEIF photographs created by iOS devices are said to be more efficiently compressed than equivalent JPEG images, effectively taking up less of an iPhone or iPad's storage while maintaining quality.
The increased integration empowered by High Sierra now means that it is possible to open Pixelmator from within the Photos app, by right-clicking and selecting Pixelmator under the "Edit With" menu. Once editing has completed, the resulting image can be saved back into the Photos app library.
Pixelmator's existing Photos app extensions have also been updated, fixing an issue where the extensions would quit unexpectedly on "certain new Mac computers," according to the update's release notes.
Other changes included as part of the update include improvements to the repair tool algorithm to make it faster and more accurate, better support for Photoshop files, and a repositioning of the quick selection tool's live preview. A bug where the rulers would occasionally disappear when text was being edited has been fixed, and the developers have also reintroduced the ability to drag and drop images from Safari and Photos directly into Pixelmator documents.
The update is available to download free from the Mac App Store, where Pixelmator is priced at $29.99.
An upgraded version of Pixelmator is due to arrive this fall to take on the dominant Adobe Photoshop, with Pixelmator Pro introducing a redesigned interface, new tools for retouching images, and a "remove and replace" repair tool powered by Apple's Core ML. Custom key layouts for the MacBook Pro Touch Bar, iCloud sync between the iOS and macOS versions, and split-screen multitasking on the iPad are also touted in this new version.
Pricing and a release date for Pixelmator Pro remain unknown, but the company confirms Pixelmator will continue to be maintained after Pixelmator Pro ships.