Oculus reveals $199 standalone 'Go' VR headset, drops Rift price to $399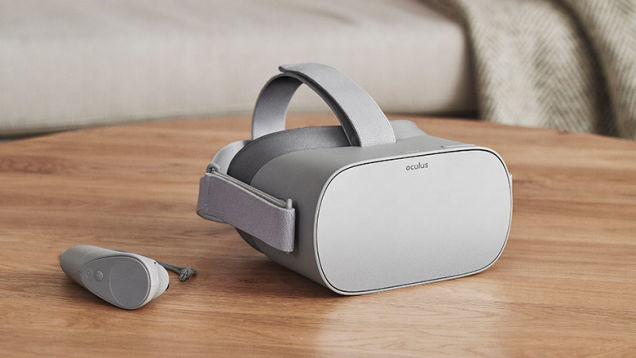 Presenting at an event in San Jose on Wednesday, Facebook's Oculus introduced the Go, a new headset capable of operating without a connected phone, Mac, or Windows PC.
The device will sport a WQHD (2,560-by-1,440) display and built-in spatial audio, with an option for external headphones via a 3.5mm jack, executives said. Wearers will only be able to glance around spaces instead of walking around a room, the latter being a major feature of high-end PC headsets like the Oculus Rift and HTC Vive.
To ensure app support, the Go will be compatible with all titles for Samsung's Gear VR. The latter product is based on Oculus technology but sells for an even cheaper price since a Samsung smartphone is required for processing and display.
Oculus has shared few other details except to say that the first development kits will ship in November ahead of an "early 2018" launch.
In the meantime the company is permanently dropping the price of a Rift bundle with Touch controllers from $499 to $399. That also includes six free apps, such as Robo Recall and two artistic titles, Medium and Quill. A new version of the Rift's dash interface — Rift Core 2.0 — combines every app and menu into a central hub, and introduces Home, a personal VR environment.
A long-term project is "Santa Cruz," something Oculus is promising will bring "the magic of a PC VR experience to an untethered form factor." The technology was teased last year, and this year the company showed off new controllers enabling six degrees of freedom.