Android smartphone vendors reportedly pushing for foldable mobile devices with dual displays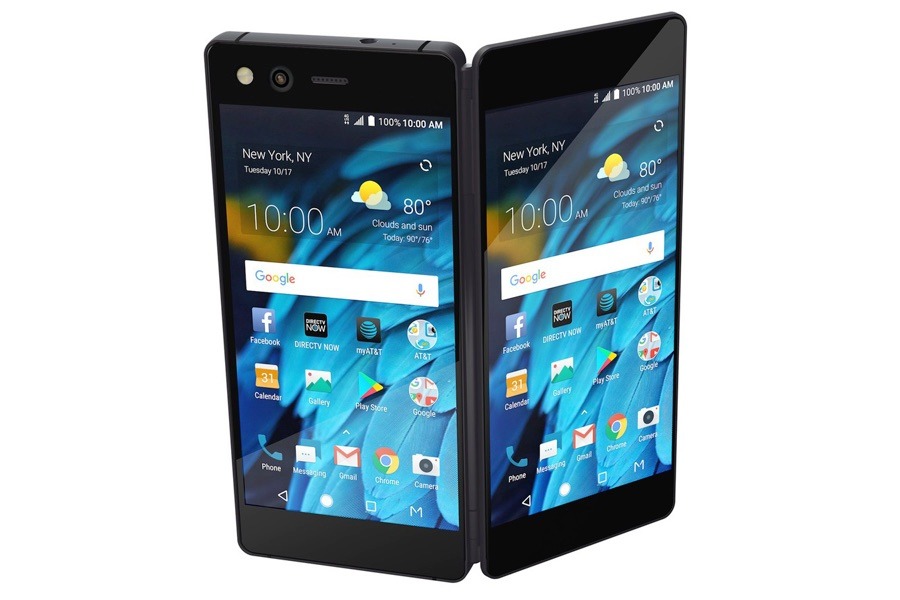 Android smartphone manufacturers are looking towards developing more foldable phones to offer consumers a larger display to compete against bigger handsets like the iPhone 8 Plus, a report claims, with a number of vendors said to be working on mobile devices using multiple screens to create a larger display area.
Vendors including Huawei, Oppo, and Samsung are allegedly refining their plans for foldable smartphones, according to industry sources of DigiTimes. After the launch of ZTE's Axon M Android smartphone in October, other manufacturers are believed to be following behind with their own releases, with some apparently very close to launch.
ZTE's Axon M is an Android smartphone that uses two 5.2-inch Full HD displays, which can be used unfolded to create a squarer 6.75-inch display. Folding it in half turns the Axon M into a conventional candy bar-style smartphone with a single screen, but the hinge and second display can be used in a mirror mode so two people facing each other can watch the same content on their own display.
Huawei consumer business group CEO Richard Yu has previously claimed the company is developing its own dual screen device, which is expected to be unveiled before the end of 2018. Oppo, another Chinese producer, has allegedly applied for patents relating to foldable displays, according to a report source.
Samsung has also applied for foldable smartphone patents in the United States, and was reported by ET News in April to have worked on dual-screen smartphone prototypes this year. At the time, Samsung had reportedly started pilot production of a device, with up to 3,000 units produced for testing purposes.
The South Korean electronics giant used its dual screen device testing in an announcement that seemingly attempted to divert attention from the iPhone X and iPhone 8 in September. For that announcement, Samsung claimed it was hoping to ship a model of the Galaxy Note with a foldable display in 2018.
Foldable smartphones using two displays is not an entirely new concept, with one early example being the Kyocera Echo, a smartphone from 2011 that connected together two 3.5-inch WVGA touchscreens with a pivoting hinge.
The use of two screens on a smartphone offer a number of supposed benefits to users, including increased multitasking by having apps on separate screens, a larger keyboard area, and the ability to see the content on an overall larger screen. This style of device also typically suffers from other issues, such as the increased chance of faults stemming from its hinge mechanism, and the small visible seam between the displays when watching a video.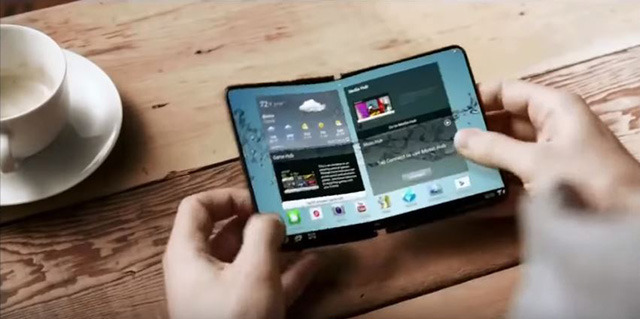 Over the years, there have been a number of demonstrations of flexible displays, a technology which could eventually be used to create a single contiguous screen in a folding smartphone. Samsung has been rumored to be close to creating a commercial product since 2015, but so far the technology has yet to be implemented in this way in retail hardware.
LG Display has also reportedly worked on developing foldable displays, and has apparently been linked to Apple in the endeavor, with the aim of commercialization by 2020.
It is likely that Samsung and LG will be among the first companies to provide smartphones with a flexible folding display, due to owning and operating their own display production lines, sources suggest. While Apple is supposedly working with LG on the concept, it is more likely the company will hang back and observe how well the technology works and is accepted by the smartphone marketplace before coming out with its own efforts.