IK Multimedia ships iRig Keys I/O keyboard MIDI interface that can record microphones and other instruments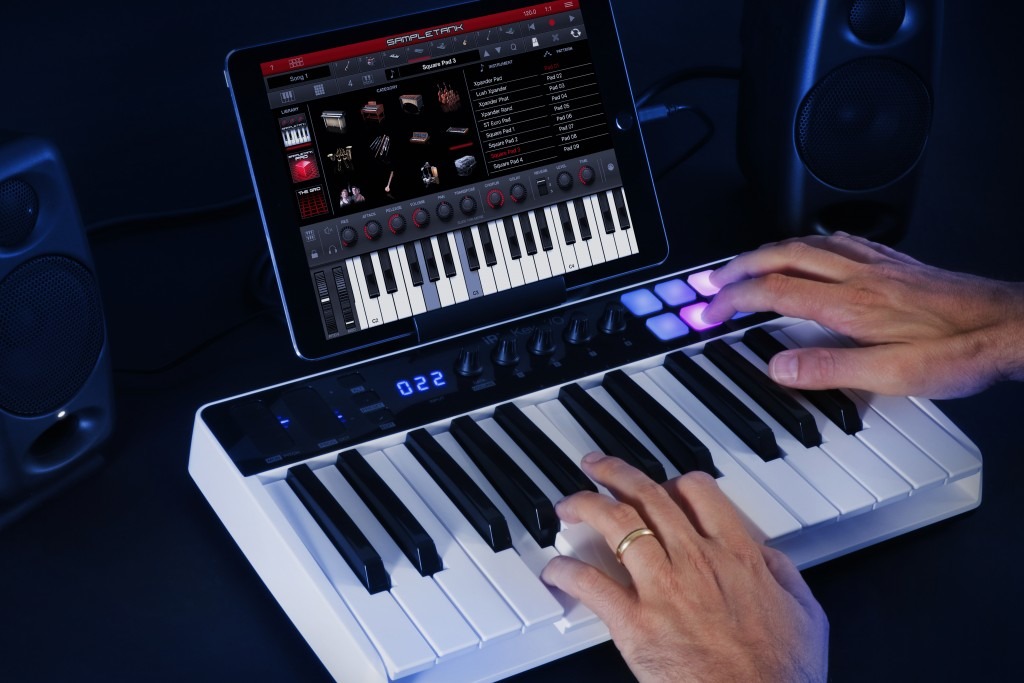 K Multimedia has added another device to its audio interface line, introducing the iRig Keys I/O as pair of MFi-certified MIDI controllers that can be used to create music on an iPhone or iPad, using its included keyboard or via another instrument or microphone using the device as a preamp.
Two varieties of the iRig Keys I/O are being offered by IK Multimedia, with the 25 and 49 variants including 25 and 49 full-sized keys for each of their respective keyboards. Despite the size and number of keys, the two interfaces are almost identical, with the larger model offering a few more interactive elements above the keyboard.
In the space on the top above the keys are a row of touch-sensitive knobs, touch-sensitive programmable sliders used for pitch and modulation changes, a numerical display, and multicolored velocity-sensitive pads to the right.
At the same time as acting as a MIDI controller, the iRig Keys I/O also includes a number of extra input options that allow it to record other instruments and microphones, recording 24-bit audio at a sampling rate of up to 96kHz. At the back is a combination XLR input which can be used with microphones and cabled instruments like an electric guitar, complete with 48V phantom power, a headphone jack, stereo outputs for a PA system, a socket for a pedal, and a multi-purpose port used to connect the USB and Lightning cables.
The XLR port at the back can also be used with the iRig Keys I/O Mic, sold separately, which is a gooseneck condenser microphone that can stand up on its own without a stand, held in position using the port itself. The microphone offers a frequency response from 100Hz to 15kHz, and is capable of capturing audio at up to 130 decibels.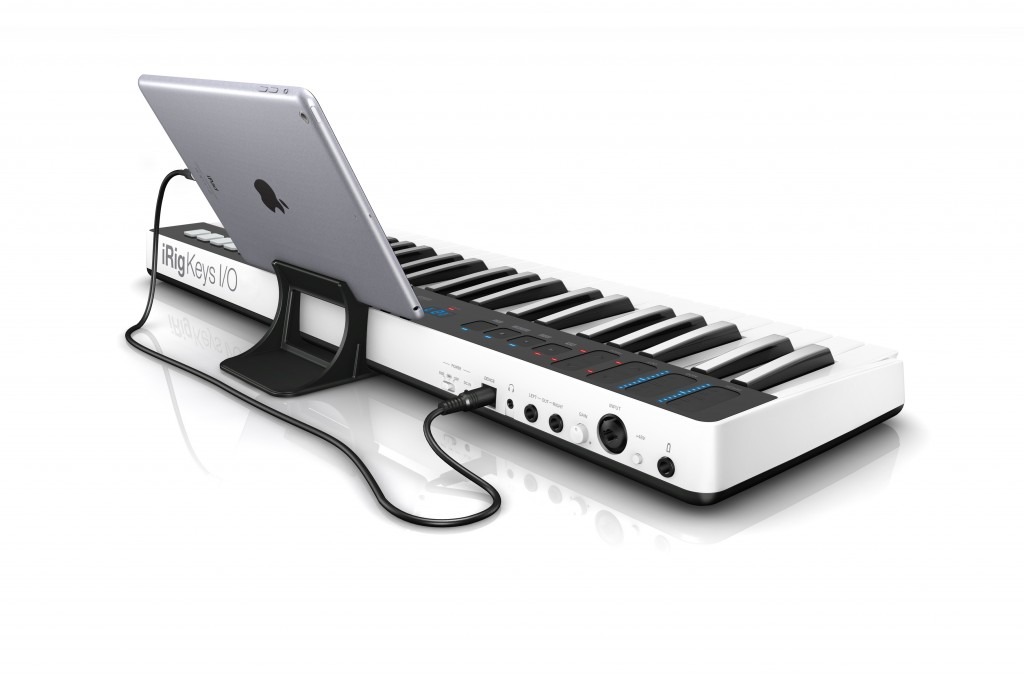 The Made for iPhone and iPad controller will work with iOS devices straight out of the packaging, with it compatible with most popular digital audio workstations, including GarageBand, Logic Pro, and Ableton Live. Over 5,000 sounds, 43 gigabytes of samples, and a selection of software is also provided with each keyboard, including Ableton Live 9 Lite, SampleTank 3, TrackS 4 Deluxe, and in the case of the 49-key version, the Miroslav Philharmonik 2 CE orchestral workstation,
IK Multimedia claims the iRig Keys I/O useful for mobile musicians, with both said to be 25 percent lighter than the lightest competitor, and with the 49-key model taking 50 percent less space than the smallest competitor with a similar number of keys, or for the 25-key version, 30 percent. Also included in the box is a mobile device stand, for holding an iPhone or iPad up in front of the user, with a travel bag also available separately to make it easier to transport the device.
Aside from using the separate power adapter, the iRig Keys I/O is also able to use the power drawn from a USB connection, though there is also the option of using AA batteries, making it a highly portable system usable in remote locations.
The iRig Keys I/O is available now, priced at $199.99 for the 25-key model and $299.99 for the 49-key version. The optional iRig Keys I/O Mic is available to pre-order, priced at $69.99.