Faster LTE speeds expected from Apple's 2018 iPhones with upgraded baseband chips from Intel, Qualcomm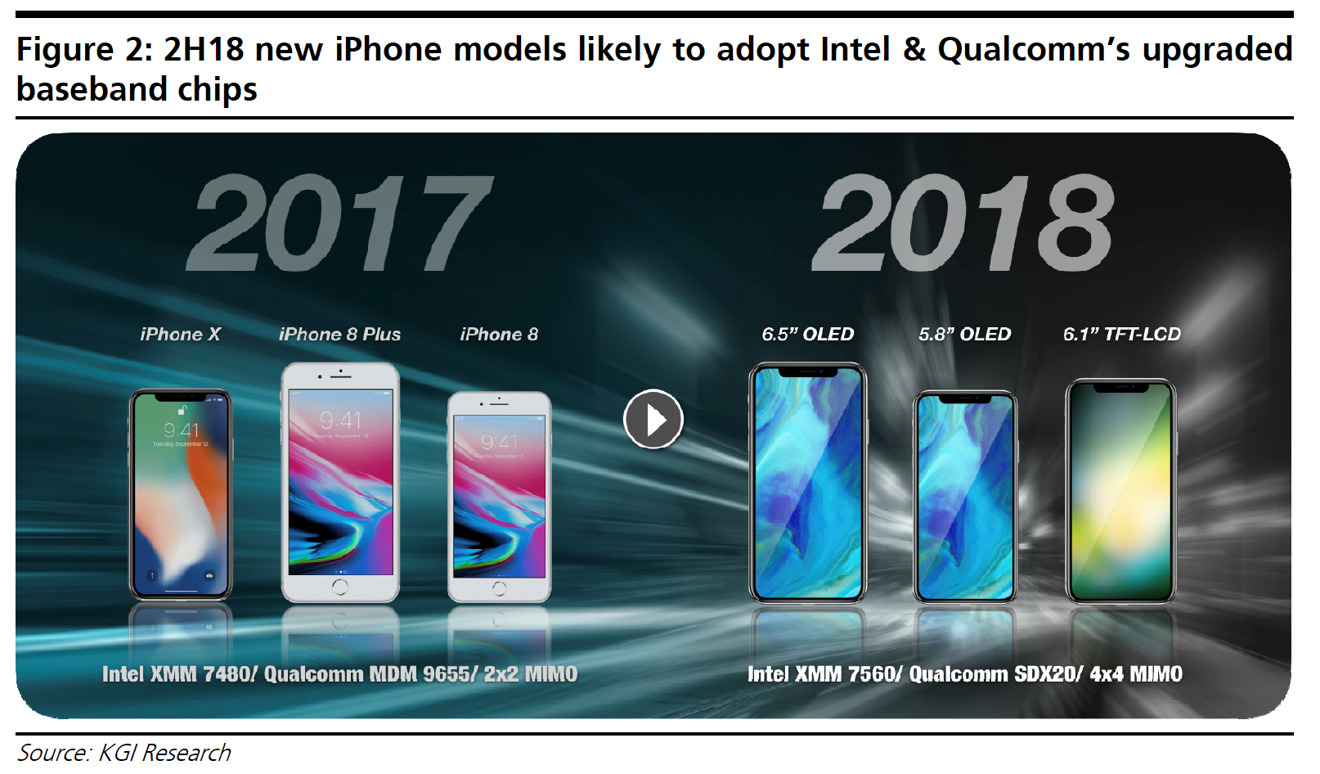 While current iPhones are limited to 2x2 MIMO technology, Apple is now rumored to upgrade to 4x4 MIMO for its 2018 iPhone models, offering users the fastest cellular LTE speeds available yet in an iPhone.
According to analyst Ming-Chi Kuo of KGI Securities, the faster transmission speeds will be made possible because of upgraded baseband chips from Apple suppliers Intel and Qualcomm. Specifically, he said new iPhones set to arrive in the second half of 2018 will feature Intel's XMM 7560 and Qualcomm's SDX20.
In a note to investors on Friday, a copy of which was obtained by AppleInsider, Kuo said he expects that LTE transmission speeds with next year's iPhone lineup will "increase significantly."
Intel is believed to take the lion's share of baseband shipments for late 2018, earning between 70 and 80 percent of orders from Apple, according to Kuo.
Unlike current phones, which commonly support LTE plus 3G connections, the analyst said Apple's next-generation iPhones will support LTE plus LTE connections.
He also believes that Apple eventually wants to "dominate" baseband chip design, building on expertise it has garnered in its own silicon production over the years.
"The entry barriers for baseband chip design are much higher than for application processors, but if Apple can successfully dominate the design of baseband chips, production costs will decline and the iPhone will become much more competitive in the market," he said.
For next year's iPhone lineup, Kuo believes that Apple's flagship model will be a 6.5-inch "iPhone X Plus," taking the edge-to-edge OLED display on the current iPhone X and applying it to the general physical form factor of Apple's current Plus-sized phones.
Because OLED technology remains expensive, and because Apple is apparently looking to adopt Face ID across its entire product lineup, he also believes Apple is working on a 6.1-inch LCD model, which would feature slimmer bezels — but not an edge-to-edge display — thanks to the elimination of the home button. He sees this 6.1-inch model being a low-end alternative to the next-generation iPhone X and so-called "iPhone X Plus."
At present, the iPhone 8 boasts a 4.7-inch screen, the iPhone 8 Plus is 5.5 inches, and the OLED iPhone X has a 5.8-inch screen.