'Hey Siri' may come to iMac Pro with rumored inclusion of A10 Fusion co-processor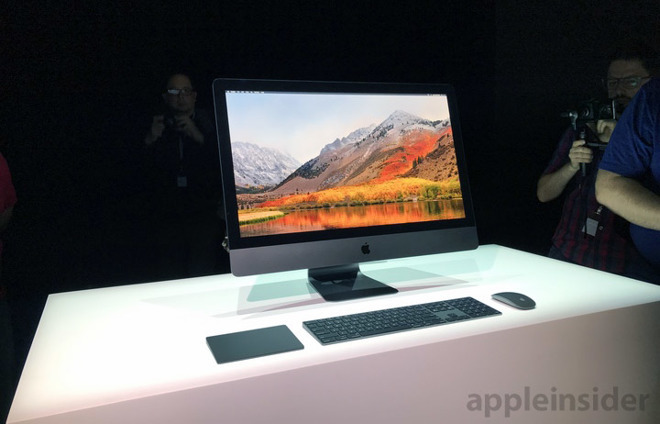 AppleInsider is supported by its audience and may earn commission as an Amazon Associate and affiliate partner on qualifying purchases. These affiliate partnerships do not influence our editorial content.
The iMac Pro may have an A10 Fusion processor running it's own iOS, called BridgeOS, to handle some functions — notably 'Hey Siri'.
Guilherme Rambo and Stephen Troughton-Smith have been exploring macOS and have found 'Hey Siri' functionality in the code base with support for multiple user accounts, just as macOS has long supported user switching.
Looks like the iMac Pro's ARM coprocessor is arm64 Seems to handle the macOS boot & security process, as expected; iMac Pro lets Apple experiment with tighter control without the rest of the userbase freaking out. More info & download here: https://t.co/wmbNeVSEZX

— Steve Troughton-Smith (@stroughtonsmith) November 18, 2017
If the accounts are correct, It looks as though the ARM coprocessor takes over the boot process, security, and the FaceTime camera. It also appears that the inclusion of the A10 Fusion allows the iMac Pro to accept the voice command 'Hey Siri' rather than requiring the click in macOS on the Siri icon or keystroke to prompt Siri.
The "Hey Siri" setup on macOS is identical to the one on iOS, but it's implemented with regular AppKit, there's no magical UIKit port or UXKit being used pic.twitter.com/lhuga3dA7y

— Guilherme Rambo (@_inside) November 19, 2017
"Hey Siri" on macOS depends on the presence of a BridgeOS device (A10 coprocessor).

— Guilherme Rambo (@_inside) November 19, 2017
"Hey Siri" enrollment model from my testing yesterday was stored in ~/Library/VoiceTrigger/SAT. Means it's going to support multiple users.

— Guilherme Rambo (@_inside) November 19, 2017
This doesn't mean necessarily that Siri will understand multiple users speaking while logged into one macOS user account. But, it may mean that if a user has multiple accounts on a Mac, they should be able to fast user switch between them and have the iMac Pro recognize 'Hey Siri' for each of them.
It is unclear if this functionality will need a coprocessor like the A10 Fusion to be implemented in other machines.