Apple reportedly acquires Canadian AR headset startup Vrvana for $30M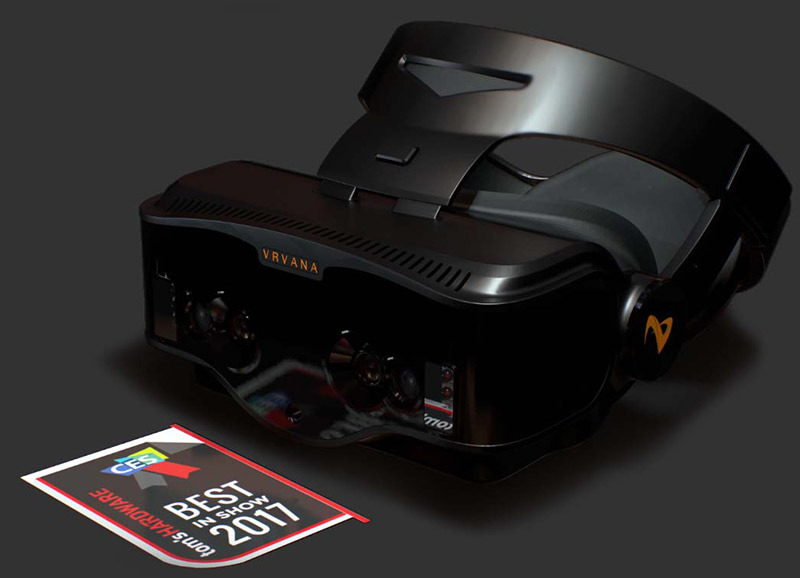 Amid rumors claiming Apple is working on a branded augmented reality headset, a report on Tuesday claims the tech giant has bolstered its AR hardware team with the purchase Canadian startup Vrvana.
Citing sources familiar with the matter, TechCrunch reports Apple paid about $30 million for Vrvana. Apple declined to comment on the report, but a number of Vrvana employees have relocated from Montreal to Apple facilities in California.
Though it did not offer its boilerplate confirmation, Apple did not refute the acquisition claims.
Vrvana is best known for the Totem, an as-yet-unreleased hybrid headset that mixes augmented reality and virtual reality technologies into a single "extended reality" device. Touted on Vrvana's website, which is still active at the time of this writing, Totem integrates specialized internal hardware to not only track head position, but also the location of a user's hands to facilitate the manipulation of virtual objects.
Specifically, Totem relies on an array of cameras to enable 6DoF tracking and capture live views of the outside world for display on OLED panels located in front of a user's eyes. The setup allows for head tracking and positioning without the usual external equipment seen in other solutions like the Oculus Rift and HTC Vive. Further, infrared cameras assist Totem in tracking user hands.
As noted by TechCrunch, Vrvana's technology allows for rich, mixed reality applications similar to those Apple is only now embracing with ARKit. Unlike competing solutions like Microsoft's HoloLens kit, which relies on transparent glass to overlay computer graphics, Totem's fusion of real-time video offers users "seamless blend" transitions between AR and VR environments. Though latency can be an issue with such configurations, Vrvana CEO Bertrand Nepveu this summer said the company had working prototypes that boasted lag times of only 3 milliseconds, the report said.
If Apple did purchase Vrvana, the move is the clearest indication yet that the company is working to bring its own AR headset hardware to market.
Earlier this month, reports claimed Apple is barreling full speed ahead on a standalone Apple AR headset code-named "T288." Unlike AR and VR products that rely on smartphones or other devices, Apple's version is said to boast its own display and processor, and runs a specialized platform referenced internally as "rOS," or "reality operating system."
Work on the headset is said to be scattered across Apple's Cupertino and Sunnyvale campuses, with the company aiming for an aggressive 2020 launch.
As can be expected, Apple has not commented on rumors surrounding a branded AR headset, but the company is sinking significant assets into augmented reality technology. For example, the launch of iOS 11 marked the introduction of ARKit, a framework built to assist developers in creating cutting edge AR apps that work seamlessly with Apple's latest iPhone hardware.
Apple CEO Tim Cook has on numerous occasions touted AR as a transformational technology that has the potential to dramatically shift the consumer landscape. In an interview last month, Cook was asked about the prospects of an Apple AR headset.
"There are rumors and stuff about companies working on those — we obviously don't talk about what we're working on, but today I can tell you the technology itself doesn't exist to do that in a quality way," Cook said. "The display technology required, as well as putting enough stuff around your face — there's huge challenges with that."
While mere speculation, a Vrvana acquisition could go a long way in overcoming some of those hurdles.