Apple starts sales of SIM-free iPhone X models in U.S. as in-store stock improves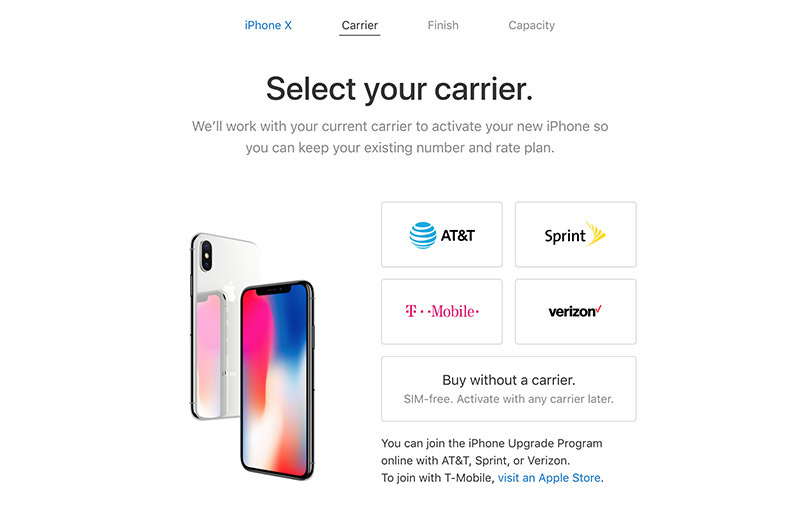 One month after iPhone X hit store shelves in November, Apple on Monday began sales of factory unlocked, SIM-free models to U.S. customers, offering customers the ability to buy the handset now and activate on any carrier later.
As noted by Apple, SIM-free iPhone X variants ship direct from Apple's chain without an installed SIM card and is by default unlocked. The option grants buyers additional flexibility when it comes to selecting a cellular carrier, or transporting the device from one carrier to another.
Apple's SIM-free models support both GSM and CDMA networks, making the device a prime candidate for frequent travelers or customers who constantly jump networks. Being an unlocked model allows for later activation on any telco that supports iPhone.
Prior to today's debut of SIM-free handsets, Apple was restricting iPhone X buyers to AT&T, Verizon, T-Mobile or Sprint. At launch, the company also instituted carrier activation limitations for all carriers save for T-Mobile, meaning buyers were forced to tie the phone to an existing number before purchase.
Base prices for the SIM-free iPhone models are identical to those for units tied to U.S. carriers, with 64GB versions going for $999 and 256GB variants priced at $1,149.
Availability is likewise the same as SIM-toting models, with delivery estimates currently pegged at Dec. 12. SIM-free models are showing up as available for pickup in certain states, including New York and California.
Apple on Monday also updated iPhone X availability on its online store to reflect in-store stock at various locations across the U.S. Just last week, Apple improved iPhone X delivery times to within one week for the first time since the device went up for preorder in October. At its peak, iPhone X ship-by estimates were sitting at 5 to 6 weeks.