Apple releases iTunes 12.7.2 with minor bug fixes, improvements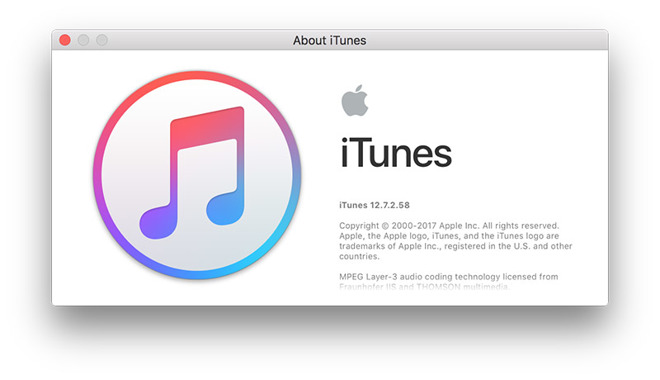 AppleInsider may earn an affiliate commission on purchases made through links on our site.
To go along with Wednesday's release of macOS 10.13.2 High Sierra, Apple pushed out a fresh version of iTunes that comes packed with minor app fixes and improvements.
Release notes issued alongside iTunes version 12.7.2 provide little in the way of detail, saying only that the update contains "minor app and performance improvements." Apple said much the same of version 12.7.1 when that revision saw release in October.
The company is looking to refocus iTunes toward media content, noting the latest software iterations place an emphasis on music, movies, TV shows, podcasts and audiobooks.
Notably, Apple removed the iOS App Store from iTunes 12.7, released in September, meaning users are no longer able to sync and download iOS apps via the desktop media hub. Instead, Apple directs users to manage app and ringtone content directly on their iOS device.
Despite its lack of an iOS App Store, iTunes still serves as a hardware management interface with support for iOS 11 device syncing and backups. Whether Apple plans to break out iOS management completely in a future update, further de-bloating iTunes, is unknown.
The latest iTunes update arrives just hours after Apple pushed out macOS 10.13.2, a maintenance release with permanent fixes for a root user login flaw discovered last week. Apple's latest macOS version also includes support for introductory app pricing with auto-renewable subscriptions, expanded eGPU support and other minor additions.
Apple's iTunes 12.7.2 can be downloaded for free from the Mac App Store.