Construction of first Vienna Apple store accelerating ahead of rumored January opening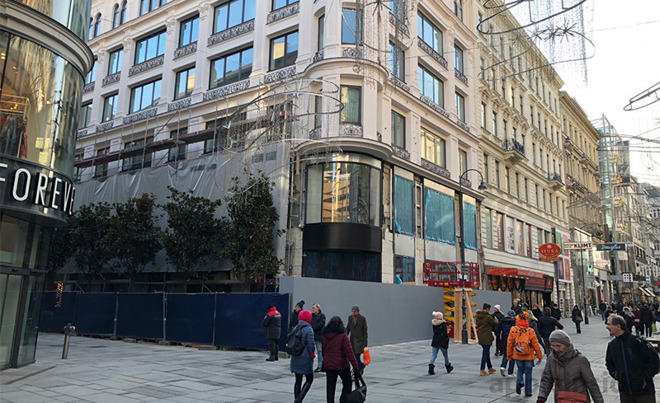 AppleInsider may earn an affiliate commission on purchases made through links on our site.
Apple is working hard to complete interior and exterior renovations at a three-story retail space in Vienna that will serve as the company's first official outlet in Austria, a location rumored to open next month.
As seen in the photo above, sent in to AppleInsider by reader Thomas, Apple is making steady progress on refitting a large brick-and-mortar outlet once occupied by Esprit. Located on Vienna's Kärntner Straße, a top Austrian shopping destination, the unit is beginning to resemble an Apple store, complete with large glass windows and metal facade work.
It seems Apple is updating the store's layout. Most notable is what appears to be a corner entryway, relocated from a side entrance that faced the main thoroughfare. In addition to adding a corner door and masonry columns, Apple removed decorative metalwork that fronted the building's perimeter when Esprit was a tenant.
Rumors of Apple's arrival in Vienna first circulated last August. The company subsequently confirmed the retail outlet in February, though construction at the store reportedly began last November.
"Our Apple stores in Europe are incredibly popular among customers and we look forward to opening our first in Austria," the company said at the time. "Vienna is one of the most important cultural centers in Europe, and we are now building the team to provide our customers with the services, training and entertainment that Apple customers around the world are so excited about."
According to Thomas, Apple's Vienna store is rumored to open in January, though AppleInsider was unable to corroborate those claims. The company has yet to list an Austrian location on its retail website, but with construction well underway, the outlet should open soon.
Apple most recently opened a futuristic store in Brooklyn, N.Y., that boasts glass walls, a unique wedge layout, and custom-built floor and ceiling panels designed to dampen outside noise. AppleInsider was able to tour the store prior to its opening this past weekend.