T-Mobile's plan to roll out TV service in 2018 with Layer3 TV assets sets up streaming video battlefront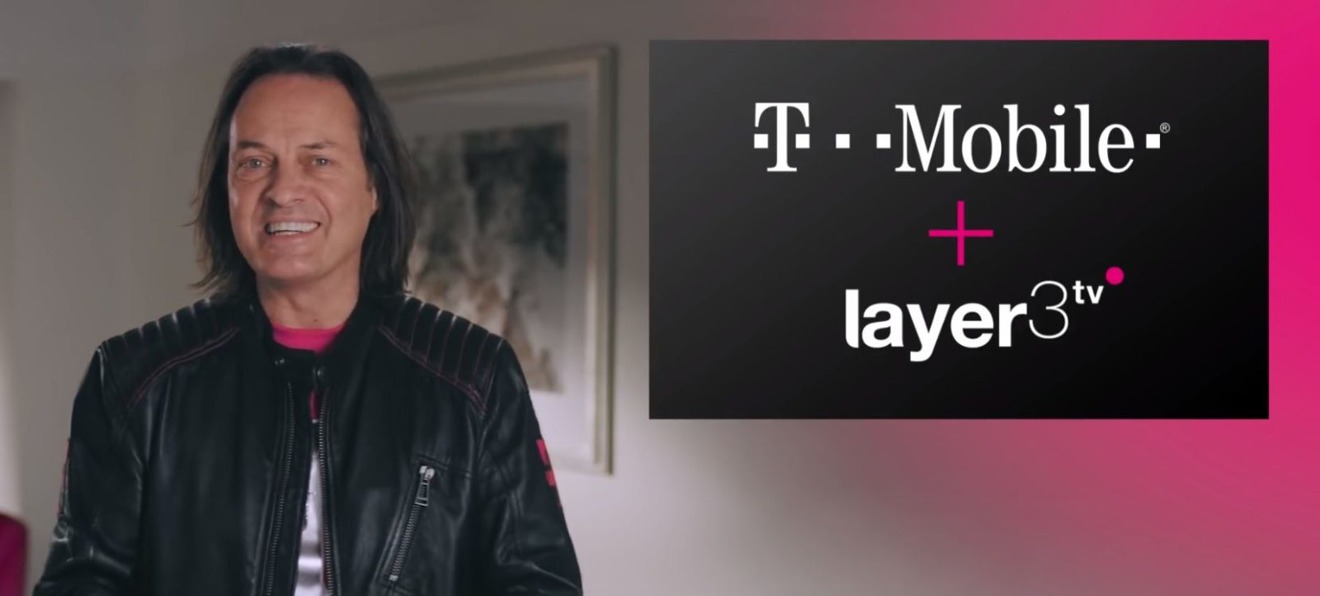 AppleInsider is supported by its audience and may earn commission as an Amazon Associate and affiliate partner on qualifying purchases. These affiliate partnerships do not influence our editorial content.
T-Mobile has acquired television provider Layer3 TV, and will launch its own streaming TV service with the technology in 2018, possibly gearing up for a battle not only with the other wireless providers, but possibly with Apple and Amazon as well.
"People love their TV, but they hate their TV providers. And worse, they have no real choice but to simply take it - the crappy customer service, clunky technology and outrageous bills loaded with fees! That's where we come in. We're gonna fix the pain points and bring real choice to consumers across the country," President and CEO of T-Mobile John Legere said in a blog post and an announcement video. "It only makes sense for the Un-carrier to do to TV what we're doing to wireless: change it for good!"
The demonstration shown in the T-mobile video shows multiple services working in parallel, beyond just Level3 TV, including Netflix. There are no specifics at present about the deal, how the hardware and software will integrate with other services, or what T-Mobile is planning to charge consumers for the service.
Layer3tv manages its own network, and has leased its own fiber backbone — limiting its service reach at present. The group has negotiated peering deals with other infrastructure companies for "last mile" connectivity to customers.
The company offers television packages, as well as internet service in bundles to served markets. At present, programming varies geographically, and not all areas served have all local channels available.
The T-Mobile purchase dramatically expands the reach that the service can have, given the carrier's network as it stands. But, when the service will be available beyond the limited markets that it is available is not yet clear.
The most obvious competition for the new T-Mobile service is AT&T's DirecTV Now. Netflix-generated content shown in the demonstration video is likely from some form of app integration. Verizon has its own television service with FiOS, and has an app for streaming content from providers.
Apple has been heavily pushing for its own unique video content. The current speculation suggests that Apple will use it to drive its own services and is not currently planning on streaming content to monthly subscribers that it does not own.
Apple's latest move in unique content is a new morning show-related drama starring Jennifer Aniston and Reese Witherspoon. Also, Apple has reportedly given a blank check to musician Drake to produce whatever shows or movies he wants.
In October, Apple signed a deal with Amblin Television and NBCUniversal to revive "Amazing Stories," an anthology science fiction series created by Steven Spielberg that ran for two seasons in the 1980s. Apple is expected to air 10 episodes, spending over $5 million on each show.
At present, Apple's three new video production ventures are believed to be part of a broader $1 billion investment in original video programming, concentrating on big-budget dramas similar to "Breaking Bad" or "Game of Thrones." Those efforts are reportedly being led by the June hiring of former Sony Pictures Television executives Jamie Erlicht and Zack Van Amburg, as well as development head Matt Cherniss.