Tim Cook writes opinion piece with Charles Koch urging Congress to protect 'Dreamers'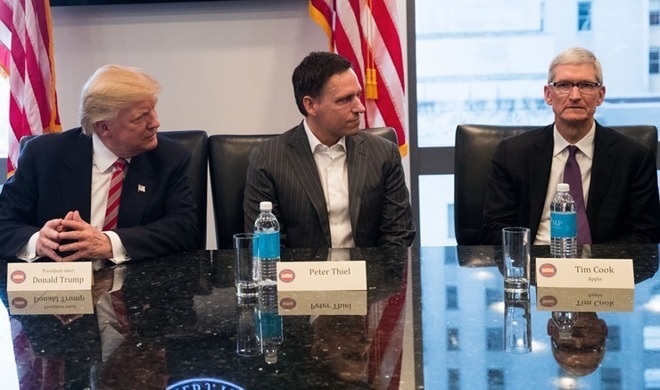 Apple CEO Tim Cook is continuing to campaign on behalf of 'Dreamers,' participants in the Deferred Action for Childhood Arrivals (DACA) program, by writing an opinion piece with Koch Industries chairman and chief executive Charles Koch demanding action from Congress over the issue.
The joint opinion by Cook and Koch, published in the Washington Post, starts by noting approximately 690,000 people can potentially be affected by the removal of legal protections provided by DACA. Under the scheme, children illegally brought into America are safeguarded against deportation, with participants known as "Dreamers."
While DACA was protected under the Obama administration, President Donald Trump declined to renew the policy, putting those covered under the policy at risk of deportation. Congress has been working on legislation that could allow dreamers to continue to live and work in the U.S., with the opinion piece urging for it to act on the policy before the end of the year.
Warning that this holiday season may be the last dreamers could enjoy within the U.S. unless Congress presses onwards, Cook and Koch talks about how the country is affected in a positive way through immigration.
"The United States is at its best when all people are free to pursue their dreams," the opinion piece states. "Our country has enjoyed unparalleled success by welcoming people from around the world who seek to make a better life for themselves and their families, no matter what their backgrounds."
Noting the difficulty of creating legislation and disagreements between law makers over immigration policy, the article's authors suggest "If ever there were an occasion to come together to help people improve their lives, this is it." By working on legislation so "dreamers can realize their potential" by contributing to the country, Congress can "reaffirm this essential American ideal."
It is acknowledged that Cook and Koch differ in opinion on numerous subjects as business leaders, but their viewpoints "are firmly aligned" on the subject of DACA. "As a matter of both policy and principle, we strongly agree that Congress must act before the end of the year to bring certainty and security to the lives of dreamers," they urge.
"Delay is not an option. Too many people's futures hang in the balance."
The opinion piece is the latest attempt by business leaders to nudge the U.S. government into keeping DACA running, in part due to the firms employing dreamers who may be at risk of deportation. Over the months, tech companies have joined together to appeal to President Trump and others on the matter, including one joint letter signed by Cook, Google CEO Sundar Pichai, Hewlett-Packard CEO Meg Whitman, Amazon CEO Jeff Bezos, Microsoft CEO Satya Nadella, and other high-level executives in August.
Cook himself has been a vocal critic of plans to end DACA, tweeting his support for Apple's 250 dreamers in early September. "I stand with them," wrote Cook, adding "They deserve our respect as equals and a solution rooted in American Values."
In the same month, Cook sent a company-wide email after the Trump administration confirmed plans to end DACA within six months. Dismayed at the decision, Cook assured employees that "Apple will work with members of Congress from both parties to advocate for a legislative solution that provides permanent protections for all the Dreamers in our country," and that Apple was also working closely with each affected co-worker to provide support, "including the advice of immigration experts."
Two weeks later, Cook issued his strongest language about the matter, calling it "unacceptable" and "not who we are as a country." In an interview, Cook advised "I am personally shocked that there's even a discussion on this. It's not a political thing, at least I don't see it that way at all. It's about basic human decency and respect."
Tech companies voiced their objection to Trump's decision to rescind DACA again in November, by filing briefs in support of a legal effort to fight its closure. Apple's brief, from Apple VP of People Dierdre O'Brien, called the dreamers "important contributors to Apple's unique culture," which helps employees "do the best work of their lives and excel at creating the most innovative products and providing the very best customer service."
Editor's note: Due to the political nature of the topic, comments for this article have been disabled.