Get more out of 'Star Wars: The Last Jedi' with these toys, tips and apps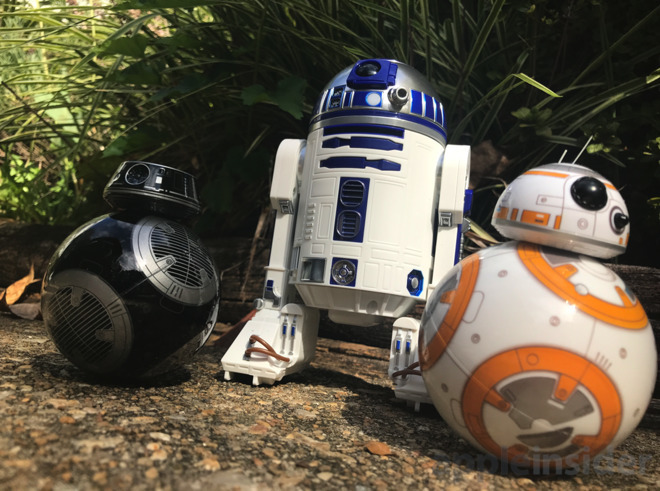 With critical acclaim and unparalleled hype, the latest entry in the Luke Skywalker saga has arrived in theaters. If you just can't get enough "Star Wars," AppleInsider has you covered, with some of the coolest toys, best apps, games and more.
Bring R2-D2 and BB-9E home, and teach your kids to code in the process
Sphero's latest Star Wars-themed toys are not only a lot of fun to play with — they're also educational. AppleInsider put them through their paces and came away impressed, as detailed in our full review.
With Swift Playgrounds integration, kids can learn to code with Apple's programming language, and see the fruits of their labor in real and tangible ways with robots from the Star Wars universe brought to life.
Take to the skies with Propel's Star Wars battle drones
A brilliant mix of licensing, miniaturized electronics, and gamification, Propel's Star Wars battle drones might be the coolest toys you can buy this holiday. AppleInsider went hands-on with the special collector's edition versions of them earlier this fall, and found that they are fun, cool looking, and most important of all, durable.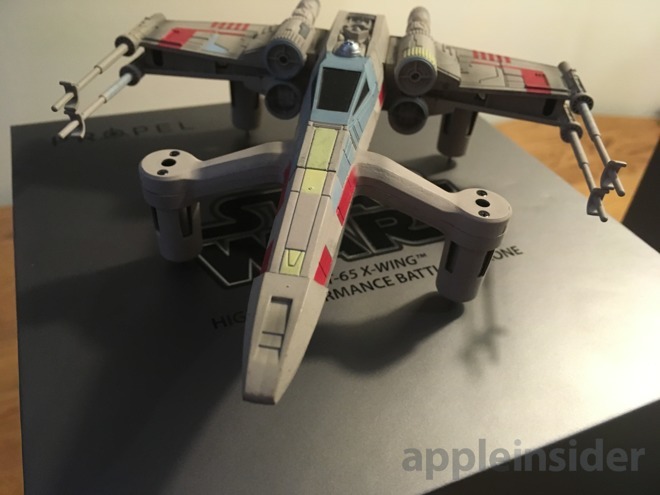 These flying toys do battle with each other with infrared technology, allowing players to shoot at each other and gain points. Scores and leaderboards are tracked through a connected iOS app, and you can even train before you take to the skies with a physical controller and virtual drone in the app.
Have a small bladder? Make sure you don't miss any of the good scenes with Runpee
"The Last Jedi" has a lengthy runtime of 2 hours and 32 minutes. Not everyone can go that long without a bathroom break.
If you find yourself looking for the ideal time for a trip to the restroom, see our tip on using the RunPee app for iPhone, which finds you the ideal time and even gives a summary of what you missed. RunPee is a free download on the App Store.
Did you buy previous "Star Wars" films somewhere other than iTunes? Transfer them over with Movies Anywhere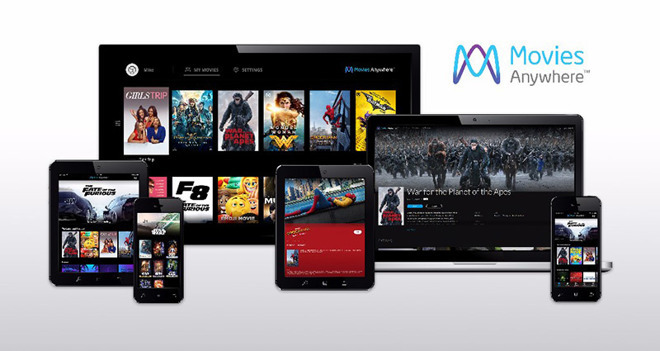 Maybe Amazon had a sale on the original trilogy a few years ago, but you're really an iTunes kind of person. Fear not: The Movies Anywhere service lets you transfer digital purchases across platforms.
That means if you bought a digital copy of "The Force Awakens" on Amazon Video, Google Play, or Vudu, your ownership of the film can be transferred to include iTunes by setting up a Movies Anywhere account. The same also works in reverse, if you bought on iTunes and are looking to get the most out of the new Amazon Prime Video app for Apple TV.
Notably, the transfer also works for Digital Copy redemptions that accompany Blu-ray purchases. So if you own it on disc and redeemed a digital copy, you can transfer to other services as well, just as if you had bought a digital version of the film outright.
Unfortunately, the original trilogy is not yet available in 4K, and there are no digital versions of the unadulterated films — only the special editions with enhanced effects. But Disney's acquisition of 21st Century Fox, the rights issues behind those limitations could change in the coming years.
Game in the Star Wars universe on the cheap with great deals on classic titles

You can also get Star Wars Pinball 5 from Zen Pinball for free for a limited time, down from its usual price of $1.99. The app includes an "Empire Strikes Back" table to play, while additional tables can be purchased from within the app.