Amazon Prime Video is already the most popular Apple TV app at launch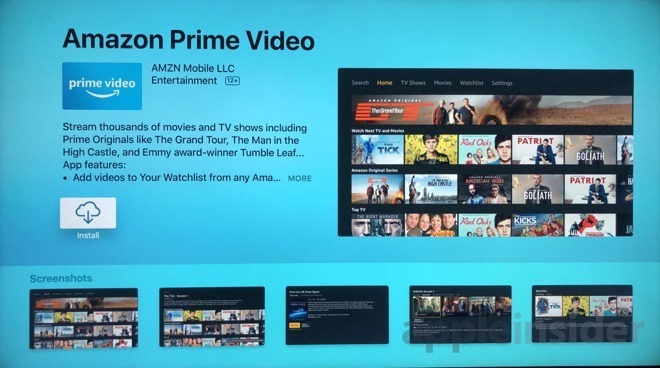 AppleInsider is supported by its audience and may earn commission as an Amazon Associate and affiliate partner on qualifying purchases. These affiliate partnerships do not influence our editorial content.
After just a few days on the tvOS App Store, the Amazon Prime Video app for Apple TV is already the most popular download ever at launch, revealing just how pent-up demand was for the service.
Edging out the likes of Netflix and Hulu, Amazon Prime Video for tvOS is now the most-downloaded Apple TV app at launch, according to BestAppleTV and later confrimed by TechCrunch.
Update: The original report has since been updated to say that Amazon Prime Video was the most popular Apple TV app at launch, and not all-time. This story has been updated to reflect that.
Amazon Prime Video debuted for the Apple TV earlier this month, as both a tvOS App Store download for the fourth- and fifth-generation hardware, and an automatic app install on the third-generation set-top box. Because it was specified as a downloadable app, the popularity of Amazon's service applies to tvOS installs, meaning customers specifically chose to install the app.
The service is included with Prime, which offers two-day shipping on many items ordered via Amazon. Amazon Prime Video is home to a number of exclusive programs and films, including "The Man in the High Castle," "The Big Sick," "Catastrophe," and "The Grand Tour."
Notably, the Amazon Prime Video app for tvOS boasts integration with Apple's proprietary TV app for tvOS and iOS, as well as Siri voice search results. Customers in select countries can find movies and TV shows to watch on Amazon through these services.
The debut of Amazon Prime Video on Apple TV was a long time coming. Interested in pushing its own streaming devices like the Fire TV, the online retailer dragged its feet in supporting tvOS, requiring users to instead load content on an iPhone or iPad and then AirPlay it to an Apple TV.
The launch earlier this month a years-long dispute between Amazon and Apple, after the company ceased sales of the Apple TV in favor of its own Fire TV lineup in 2015. With Prime Video now on the Apple TV, Amazon is set to resume sales of the Apple TV.