New Apple Park drone footage reveals improved landscaping, security checkpoint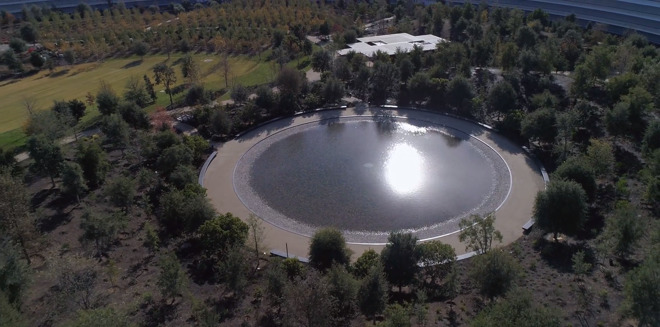 AppleInsider may earn an affiliate commission on purchases made through links on our site.
The latest drone footage of Apple Park in Cupertino shows advanced progress on landscaping, but that even now, some parts of the campus are still unfinished.
Within the main ring, landscaping is "nearly complete," according to drone videographer Matthew Roberts. Much of the space is covered in trees and grass, and in one shot we see the courtyard's completed artificial pond, with surrounding benches for Apple workers to relax.
Landscaping is still in progress around various other sections of the campus, such as the fitness center and the slopes around the Wolfe Road entrance.
That entrance has gained a security checkpoint, but signs of construction can also be seen in the vicinity, as well as the outer rim of the main ring, dubbed the "spaceship."
Apple employees have been active on campus for several months at this point. It's not yet certain how many have made the transition from 1 Infinite Loop, but Apple Park should eventually host over 12,000 people, including top-level executives like CEO Tim Cook. The Steve Jobs Theater was finished just in time for September's iPhone event, and the Visitor Center opened to the public on Nov. 17.