Caldigit launches $249 Thunderbolt Station 3 Plus dock with 10Gbps USB-C, 85W charging, cuts older TS3 dock to $199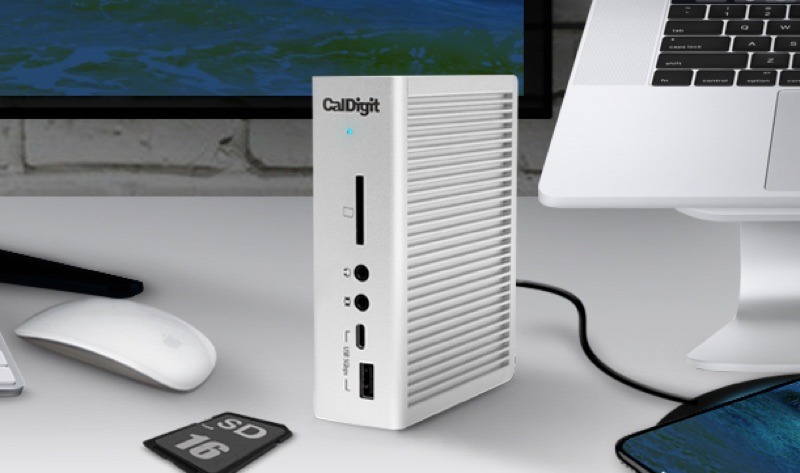 AppleInsider is supported by its audience and may earn commission as an Amazon Associate and affiliate partner on qualifying purchases. These affiliate partnerships do not influence our editorial content.
CalDigit has introduced two new products to its range of docks, with the Thunderbolt Station 3 Plus offering extensive connectivity options via a total of 15 ports, while last year's Thunderbolt Station 3 is now being offered at the lower price of $199.
The Thunderbolt Station 3 Plus is similar to the standard version of the dock, using the familiar design of its predecessor but adding more connection points to the front and back. Just as with the original, it offers two Thunderbolt 3 ports for daisy-chaining and for connecting to the host Mac, which also provides up to 85 Watts of power delivery that can charge a MacBook Pro alongside its 40 gigabit per second of bandwidth.
On the front are headphone and microphone sockets along with two USB 3.1 Gen.1 connections offering transfer speeds of up to 5 gigabits per second, consisting of one Type-A and one Type-C connection. The front panel also houses an SD card reader that supports SD 4.0 and UHS-II speeds, with a theoretical maximum throughput of 312 megabytes per second.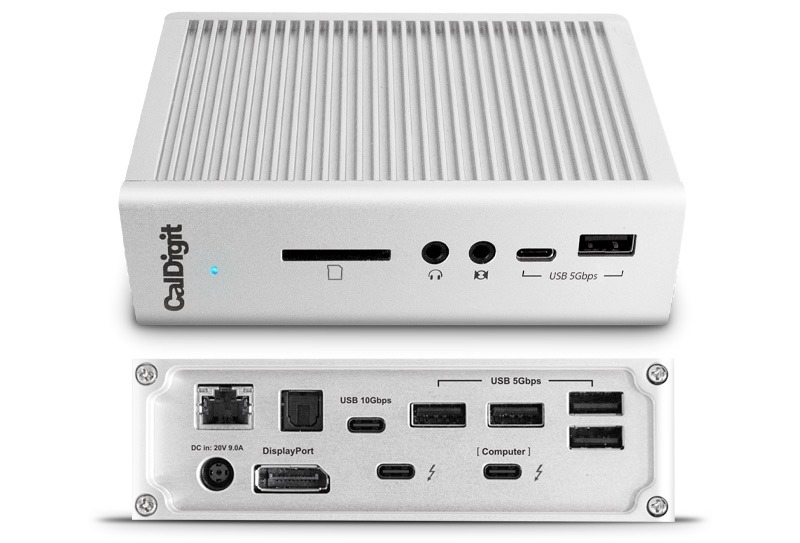 To the rear alongside the aforementioned Thunderbolt 3 ports are four more USB 3.1 Gen.1 Type-A ports, a USB 3.1 Gen.2 Type-C port capable of 10 gigabit per second speeds, a digital optical audio connection, gigabit ethernet, DisplayPort, and a power connection. The dock is capable of powering dual 4K monitors at 60Hz or a single 5K-resolution screen at 60Hz, using a combination of the DisplayPort and Thunderbolt 3 connections.
The TS3 Plus is expected to ship on February 20, and is currently available to pre-order ahead of release through CalDigit's online store at introductory prices of $249.99, $269.99, and $279.99 with 0.5, 1, and 2 meter Thunderbolt 3 cables respectively. It is also available to purchase through B&H Photo.
The Thunderbolt Station 3 is identical to the original version released last June, offering the same features and physical design as before. Again, a pair of Thunderbolt 3 connections offering transfer speeds of up to 40 gigabits per second are included, as well as 85 Watts of power delivery, and the ability to daisy-chain up to six devices through a single ThunderBolt 3 port.
Audio connections and a single USB 3.1 Gen.1 Type-A port reside on the front, with another two of the USB ports residing on the rear, bringing the total up to three. Also on the back are the Thunderbolt 3 ports, DisplayPort, two eSATA connections, and a Gigabit Ethernet port.
The main change for this revision is the price, dropping from the previous $299.99 down to $199.99. CalDigit claims this now makes the dock comparable in price to non-charging Thunderbolt 3 docks, making this a more attractive proposition for customers looking for a dock with sufficient power delivery to charge a MacBook Pro.