AppleCare+ Mac warranties come to Australia & New Zealand
By Roger Fingas
Wednesday, January 31, 2018, 01:47 pm PT (04:47 pm ET)
Mac buyers down under can now opt into AppleCare+ plans, which offer up to three years of warranty coverage, including cheaper rates for two incidents of accidental damage.




In Australia, plans range in price from A$119 for a Mac mini through to A$449 for a 15-inch MacBook Pro. For accident repairs, fees are A$149 for displays and external enclosures, and A$429 for anything else.

New Zealand rates scale from NZ$149 for a Mini up to NZ$539 for a 15-inch MacBook Pro. Equivalent accident fees are NZ$169 and NZ$499.

AppleCare+ is normally added at the same time a person buys a Mac, but shoppers also have a 60-day grace period dependent on their computer passing diagnostics.

Until now, AppleCare+ for Mac was only available in the U.S. and Japan. It's not clear why Apple has been relatively slow to expand, given wider international availability for iPhone plans.
Today's Headlines
No news headlines yet today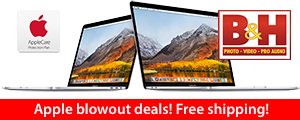 2017 12" MacBooks
Price
Save
1.2GHz/8GB/256GB (Gold)
$799.00+
$500
1.2GHz/8GB/256GB (Rose Gold)
$799.00+
$500
2018 13" Touch Bars
Price
Save
2.3GHz/8GB/256GB (Gray)
$1,649.99+
$150
2.3GHz/8GB/512GB (Silver)
$1,879.00+
$120
2.3GHz/16GB/256GB (Gray)
$1,949.00+
$50
2.7GHz/16GB/512GB
$2,449.00+
$50
2.7GHz/16GB/1TB
$2,849.00+
$50
2018 15" MacBook Pros
Price
Save
2.2GHz/16/256GB/555X
$2,549.00+
$50
2.2GHz/16/512GB/555X
$2,575.00+
$225
2.9GHz/16/1TB/560X
$3,199.00+
$300
2.9GHz/32/2TB/560X (Gray)
$3,999.00+
$700
2.9GHz/32/4TB/560X (Gray)
$5,999.00+
$700
Click here for dozens more configurations
+ Free shipping within the contiguous U.S.
Lowest Prices Anywhere!

13" MacBook Pros
Price
You Save
3.1GHz/8GB/256GB Gray
$1,679.00
$120.00
3.1GHz/8GB/256GB Silver
$1,704.00*
$95.00
3.1GHz/8GB/512GB Gray
$1,849.00*
$150.00
3.1GHz/16/512GB Gray
$2,099.00
$100.00
15" MacBook Pro
Price
You Save
2.8GHz/16/256/555 Silver
$2,199.00*
$200.00
2.8GHz/16/256/560 Gray
$2,299.00
$200.00
2.9GHz/16/512/560 Gray
$2,599.00
$200.00
2.9GHz/16/1TB/560 Gray
$2,999.00
$200.00
3.1GHz/16/512/560 Gray
$2,799.00
$200.00
3.1GHz/16/2TB/560 Gray
$3,899.00
$300.00

*

price with Promo Code:

APINSIDER

prices.appleinsider.com for more configurations