Apple tops worldwide smartphone vendor list in Q4 amid industry contraction, report says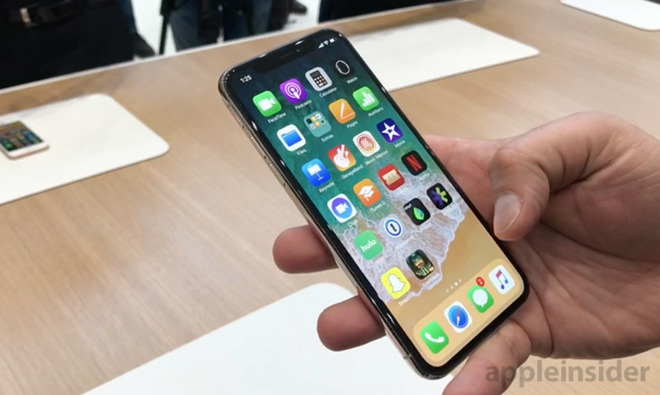 Apple led the worldwide smartphone market in the fourth quarter of 2017, according to fresh statistics from Strategy Analytics, with strong demand for products like iPhone X and iPhone 8 bucking wider market headwinds.
According to the research firm, Apple captured 19.3 percent of global smartphone shipments in quarter four, displacing market leader Samsung from its usual perch at the top. The South Korean tech giant managed an 18.6 percent share for the same period.
While Apple and Samsung gained marketshare in the last quarter of 2017 by a respective 1.5 percent and 0.9 percent year-over-year, the overall industry drooped 9 percent on a "collapse" in the Chinese market, Strategy Analytics said.
During quarter four, worldwide shipments fell to 400.2 million units, down from 438.7 million in 2016. The firm characterizes the precipitous decline as the "biggest annual fall in smartphone history." At fault are slower than normal sales in China, which saw longer replacement rates, fewer operator subsidies and a scarcity of "wow" handset options.
Apple earlier today reported record-breaking quarterly earnings for its first fiscal quarter of 2018 with revenue of $88.3 billion. However, with 77.3 million units sold, iPhone saw its first annual decline for the holiday quarter since its launch in 2007.
The results mean Apple's iPhone sales mix trended toward premium priced models like its iPhone X flagship. Indeed, CEO Tim Cook in a conference call on Thursday said iPhone X was consistently Apple's top selling phone every week since it shipped in November.
It should also be noted that Apple's first fiscal quarter of 2016 was one week longer than its 2017 period.
Commenting on the downturn in iPhone sell-through, Strategy Analytics executive director Neil Mawston said Apple needs participate in a race to the bottom if it wants to grow shipment volumes moving forward.
"If Apple wants to expand shipment volumes in the future, it will need to launch a new wave of cheaper iPhones and start to push down, not up, the pricing curve," Mawston said.
Apple has long opted out of competing in the low-end market with the likes of most Android makers, instead concentrating on mid- and top-tier products. Concessions were made when the company began to carry over the previous year's model, and offer the smaller and cheaper iPhone SE, but those efforts fall short of designing and producing a dedicated budget handset.
The company is looking to grow in burgeoning markets like India, though such expansions are expected to be more of the same — selling older handset models at more affordable prices.