Apple begins wide collection of Apple Watch data for Heart Study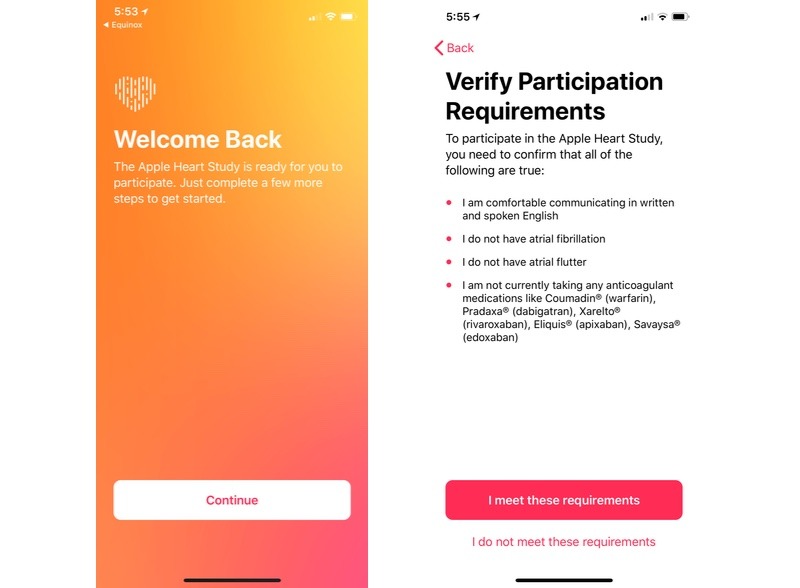 Apple this week began collecting heart rate data from a wide number of Apple Watch owners who signed up to participate in a heart study being conducted in cooperation with Stanford Health.
The company is currently sending out push notifications to Apple Watch owners who opted in to the Apple Heart Study in November, notifying them that the project is underway.
Tapping on the notification opens the Heart Study app, which directs users to verify participation requirements including the ability to communicate in English. Users with certain pre-existing heart conditions like atrial fibrillation and atrial flutter, as well as those taking prescription anticoagulant medications, are not eligible to participate in the study.
Once a user confirms that they meet the specified requirements, Apple sends out a pair of emails containing an informed consent document and information regarding HIPAA rights and regulations.
Officially called the "Apple Heart Study: Assessment of Wristwatch-Based Photoplethysmography to Identify Cardiac Arrhythmias," Apple announced the research initiative during last year's Apple Watch Series 3 unveiling. The collaborative project is designed to further ongoing efforts in the health sciences market.
As noted by mobiHealthNews, Apple's documentation suggests data from the study will be used to develop new product technologies.
"This study is part of the development of a new investigational device and certain Study Data will be used for FDA submission to seek approval of the investigational device," one of the documents reads.
Whether the device in question is under development at Apple or Stanford is unknown. Alternatively, the document might be hinting at Apple's intent to seek FDA approval to market Apple Watch, or future versions of the wearable, as a medical device.
The study relies on Apple Watch's specialized heart rate sensor and a dedicated app to collect data that can be used to identify irregular heart rhythms. If a study participant displays abnormal heart activity, they receive a notification on their Apple Watch and iPhone, a free consultation with a study doctor and an electrocardiogram peripheral for additional monitoring.
The Apple Heart Study app is available to users aged 22 and above in the U.S. An Apple Watch Series 1 or later is required to participate in the study.