Estimates peg HomePod build cost at $216, Apple's margin smaller than competitors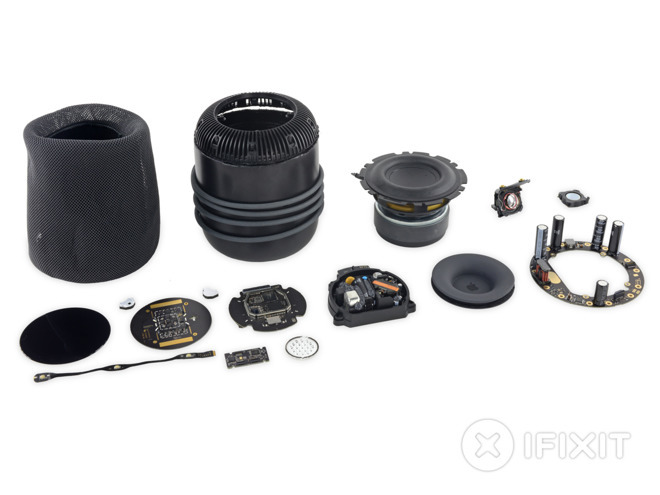 AppleInsider may earn an affiliate commission on purchases made through links on our site.
According to the latest research from TechInsights, Apple is shelling out $216 to build HomePod, meaning margins from the tech giant's first smart speaker are much slimmer than those of its flagship iPhone line.
If the estimate is correct, Apple is generating margins of approximately 38 percent on the $349 HomePod, reports Bloomberg. The figure is not only lower than iPhone and iPad, but also competing smart speakers like Amazon Echo and Google Home, which boast margins of 56 percent and 66 percent, respectively.
A breakdown of component costs finds HomePod's microphones, tweeters, single woofer and power management hardware add up to $58, while other miscellaneous parts like the OLED panel come out to another $60, the report said. TechInsights pegs Apple's A8 chip at $25.50, as the housing and other unmentioned components run another $25. Manufacturing, testing and packaging tack on $17.50 to the final cost, the firm estimates.
The parts in question were laid bare in a teardown conducted by iFixit earlier this week.
"Apple is compressing their margins a bit, wanting to go big or go home," said TechInsight manager Al Cowsky. "In doing so, I suspect they reduced the selling price from a normal Apple margin in order to sell more units on volume."
Apple typically nets huge margins on its mobile device lineup, competently leveraging its supply chain sway and massive share of the memory market to drive down component and assembly pricing.
For example, TechInsights in November estimated a 64-gigabyte iPhone X costs about $357.50 to make, giving Apple a 64 percent margin on the $999 handset. The mid-tier iPhone 8 reaps a lower margin of 59 percent, the firm said.
As usual, the cost estimate is just that and should not be taken as gospel. Apple CEO Tim Cook himself commented on supply chain "guesstimators" in 2015, saying he has never seen an estimated bill of materials breakdown from "that's even close to accurate."