Apple to launch 'AC Wellness' clinics for employees in spring, centers will serve as testing ground for health products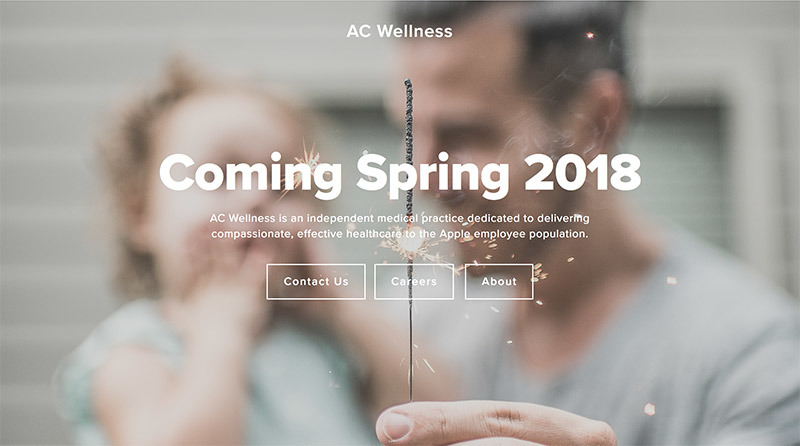 Apple this spring will launch a network of health clinics under the "AC Wellness" banner, with the independent health centers initially dedicated to servicing company employees and their families.
Citing people familiar with Apple's plans, CNBC reports the company is looking to build out AC Wellness as a primary care solution for employees based in California.
While details have yet to be made public by Apple, a website for the health clinic network recently went live and touts a spring 2018 launch date. The site's landing page points directly to Apple, saying, "AC Wellness is an independent medical practice dedicated to delivering compassionate, effective healthcare to the Apple employee population."
According to information published to job search site Indeed.com, AC Wellness Network, LLC. is a subsidiary of Apple that manages an independent medical group under the same name. The group is tasked with serving Apple employees through Apple Wellness Centers in Santa Clara Valley, and will open "multiple, stunning state-of-the-art medical centers" in the area. At least one will be located at Apple Park, according to a LinkedIn job listing.
AC Wellness Network's business address places the LLC's headquarters at Apple's Valley Green complex, which is located across the street from the firm's One Infinite Loop campus in Cupertino. Interestingly, the operation appears to be run out of a building in Valley Green 2 next to the Apple Fitness Center.
As noted on its website, technology will play a large role in delivering high-quality care and a "unique" experience to AC Wellness patients.
"This is fostered by an environment of continuous learning and teamwork, which in turn allows us to work with our patients to achieve exceptional health outcomes," the site reads. "The centers offer a unique concierge-like healthcare experience for employees and their dependents."
A jobs listing page on ACWellness.com reveals posts seeks applicants for a primary care doctor, exercise coach, "care navigator" and phlebotomist for on-site lab tests. Other jobs posted to Indeed.com include a medical coder, nurse coordinator, nurse practitioner, health educator and more. Many of the job listings have been viewable on Indeed.com, Glassdoor.com and LinkedIn for more than a month.
A number of positions fall outside of what industry professionals would consider traditional medicine. For example, the Population Health Program Designer and Clinical Program Designer roles will work together to create new health programs targeting disease prevention, early detection of diseases, ongoing management of chronic diseases and general promotion of healthy lifestyles.
Apple's medical clinics will not only provide coverage to employees, but also serve as a testing ground for the company's quickly growing lineup of health-related products and services, the report said.
Currently, Apple Watch with its heart rate monitor and built in sensor array stands as Apple's flagship health device, while connected products such as HealthKit, ResearchKit and CareKit provide data collection and portability services. Other special programs like the Heart Study, accomplished in partnership with Stanford, provide insight into future hardware capabilities.
Most recently, Apple last month announced the forthcoming iOS 11.3 update will include options for healthcare providers to integrate health records within the Health app, allowing users to share information with their doctors, receive alerts and more. So far, 12 U.S. hospitals have pledged support for the feature.
News of AC Wellness arrives months after reports claimed Apple was considering the purchase of Crossover, an in-house clinic startup that counts Apple and Facebook among its customers. Sources said Apple began informing third-party providers, presumedly Crossover and others, about the coming switch to AC Wellness this week, according to the report.