Apple takes Transit directions live in West Virginia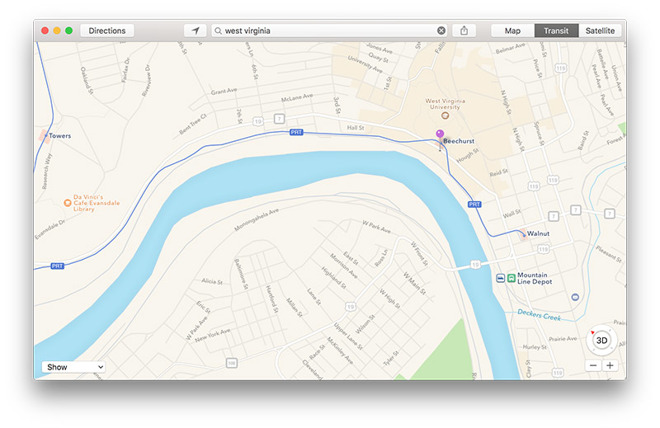 AppleInsider may earn an affiliate commission on purchases made through links on our site.
Continuing an apparent acceleration in the rollout of Apple Maps Transit data, Apple recently activated public transit directions across West Virginia, granting users in major metropolitan areas access to bus, tram and rail information.
Not yet noted on Apple's iOS Feature Availability website, Transit directions are now live in select West Virginia municipalities including Charleston, Fairmont and Morgantown.
In the state capital of Charleston, Maps integrates bus data from Kanawha Valley Regional Transportation Authority and TriRiver Transit, while directions in Fairmont are backed by data from the Fairmont-Marion County Transit Authority. Morgantown pulls information from Mountain Line Transit, Buckwheat Express and Morgantown Personal Rapid Transit, the latter being a tram system connecting three West Virginia University campuses.
The usual assortment of navigation options are available to users in the area, including arrival and departure times, route creation tools and local service advisories.
Apple's public transportation mapping feature was deprecated from Maps when the company abandoned Google Maps in iOS, but the function returned with the release of iOS 9 in 2015. Instead of outsourcing the project, Apple built its own Transit feature in part with technology acquired through purchases like HopStop and Embark.
Like other popular transit tools, Apple Maps Transit provides routes, departure times and other relevant data for buses, trains, ferries and other forms of public transportation. Apple adds its own flourish with top-down views of select underground subway and train stations, complete with entrances and exits for quick on-foot navigation.