Samsung reports weak demand for OLED displays used in iPhone X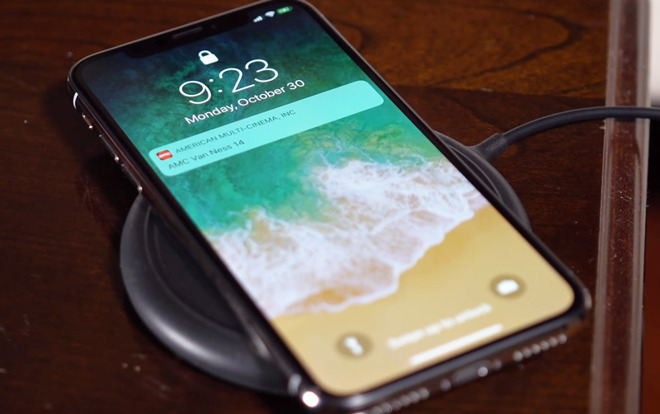 AppleInsider may earn an affiliate commission on purchases made through links on our site.
Samsung Electronics reported positive quarterly profits on Wednesday, its fourth consecutive period of massive record gains, but warned of slow growth due to weaker than expected demand for smartphone OLED panels like those supplied to Apple for iPhone X.
According to Reuters, Samsung noted weakness in the overall smartphone market would slow earnings growth in the coming months.
"Generating overall earnings growth across the company will be a challenge due to weakness in the display panel segment and a decline in profitability in the mobile business amid rising competition in the high-end segment," the company said.
Alongside an industry-leading smartphone business, Samsung supplies components to competitors, the most notable being Apple. For its 2017 iPhone lineup, the Cupertino tech giant relied solely on Samsung for OLED panels that wound up in iPhone X.
Extrapolating from Samsung's quarterly statement, soft demand in the panel segment could be a harbinger of slower than expected iPhone X sales. Apple's flagship iPhone is the first to use OLED, though at least two models predicted to launch this year will feature the display technology.
Previous reports also cast doubt on iPhone X performance. Without citing sources, Nikkei in January claimed Apple cut production in half due to slow sales, a situation reiterated in a follow-up report a month later. At the time, the publication said the purported poor showing prompted Samsung to shop its OLED screens to other customers.
The Nikkei reports seemingly fly in the face of comments made by Apple CEO Tim Cook, who in February said iPhone X outsold both iPhone 8 and 8 Plus since its ship date in November. It has been suggested that reports of Apple's order cuts, if legitimate, were due to common seasonality.
Today's statement from Samsung adds another wrinkle to the ongoing iPhone X narrative. Earlier this month, AMS, an Austrian firm that supplies components for Apple's TrueDepth camera, issued a short-term guidance report warning of lower than expected revenue in quarter two due to a reduction in production orders. A second partner manufacturer, A-series chip producer TSMC, revised its full-year revenue target down $1 billion due in part to a declining mobile market.
Whether Samsung's revelation provides insight into Apple's handset sales remains to be seen, though circumstantial evidence of a slowdown in iPhone X sales is mounting.
Apple will have the opportunity to clear the air next week when it reports earnings for its second fiscal quarter of 2018. Though the company does not traditionally break out sales on a per-model basis, it does provide detail on overall iPhone performance.
Looking ahead, Apple is rumored to debut three new iPhones this year, two of which are likely to boast OLED panels manufactured by Samsung. Apple is supposedly looking to diversify its OLED supply chain in 2018 by bringing LG into the fold, but reported manufacturing snags put the display maker's participation in doubt.