Rumor: 6.5-inch OLED iPhone roughly same size as iPhone 8 Plus, iOS 12 supports horizontal Face ID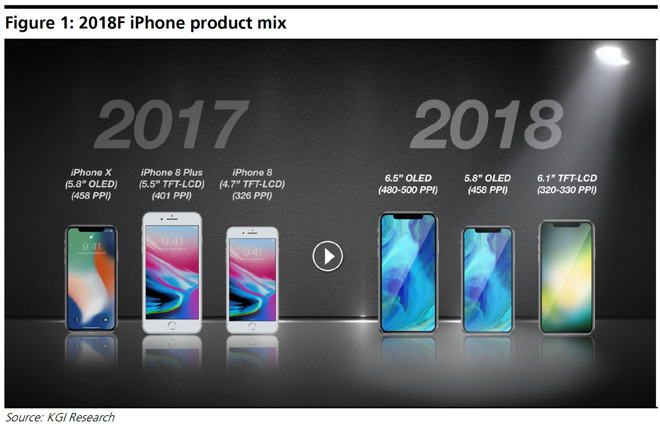 Rumors of Apple's forthcoming iPhone refresh are beginning to seep out of the Asian supply chain, with the latest claiming a next-generation flagship model will be roughly the same size as the current iPhone 8 Plus despite boasting a 6.5-inch OLED display.
According to a report from Japanese blog Mac Otakara on Monday, rumors circulating in Apple's supply chain suggest the company plans to shoehorn the oversized OLED panel into a chassis with dimensions nearly mirroring that of iPhone 8 Plus.
The largest of three new iPhones anticipated to launch this fall, the 6.5-inch "iPhone X Plus" is expected to feature an iPhone X design with edge-to-edge display and Face ID technology. Nixing the "chin" and "forehead" areas that on models like iPhone 8 are dedicated to the Touch ID home button and ear speaker, respectively, Apple makes room for a vastly enlarged touch panel.
The claims are in line with rumors first aired in February.
While its height and width are said to share similarities with iPhone 8 Plus, the 6.5-inch OLED iPhone could be 0.2mm thicker than the existing handset to accommodate a vertically stacked rear-facing camera array, sources said. Until iPhone X, all dual-camera iPhone setups were arranged horizontally, but the slew of components needed to accomplish TrueDepth and Face ID forced Apple to reposition the rear shooter. That change will apparently carry over to the larger-screened successor.
As for the upcoming iPhone X revamp, supply chain sources said only minor external changes are due for the expected 5.8-inch OLED version. The handset's chassis is rumored to be identical to that of the current iPhone X, but with a slightly larger rear camera lens to make way for a bigger camera sensor or sensors.
Both the 5.8- and 6.5-inch OLED iPhones are rumored to feature enhanced Face ID authentication with support for multi-position recognition. Currently, users authenticating with Face ID must hold the phone vertically in front of their face, but that could change with iOS 12.
Sources say the next-generation operating system includes an update to Apple's recognition algorithms that will allow users to unlock and authenticate while the handset is in a horizontal position. The addition would be a welcome enhancement for users who frequently operate their device in landscape mode.
Finally, today's report reaffirms rumors that a low-end iPhone model will rely on LCD technology. Of note, sources claim the device's panel might come in at 6 inches, not 6.1 inches as previously thought.