Berkshire Hathaway now Apple's third-largest shareholder after big Q1 investment [u]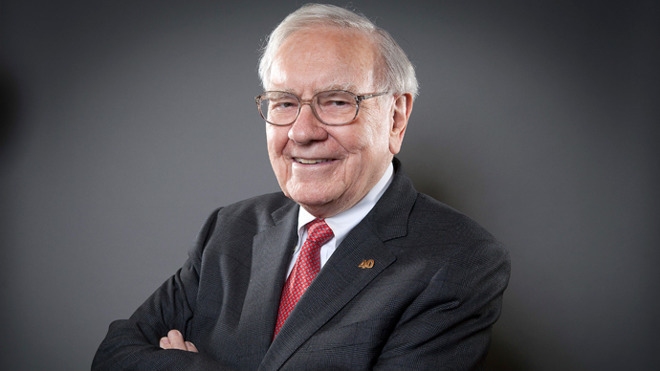 AppleInsider is supported by its audience and may earn commission as an Amazon Associate and affiliate partner on qualifying purchases. These affiliate partnerships do not influence our editorial content.
Berkshire Hathaway is now Apple's third-largest shareholder, financial mogul Warren Buffett has confirmed.
Revealed in a regulatory filing disclosing Berkshire Hathaway's U.S. stock holdings as of March 31, Reuters reports the Warren Buffett-controlled company owned 239.6 million shares in Apple. The total value of the shares possessed by Berkshire Hathaway is more than $40 billion, and represents a stake in Apple of around 5 percent.
During the quarter, Berkshire Hathaway used part of the $14.8 billion investment in equities for Apple stock. Earlier this month, Buffett revealed the company had acquired close to 75 million Apple shares in the first quarter, significantly bolstering its ownership position.
It is unclear who in Berkshire Hathaway performed the Apple stock purchase, as the filing does not reveal that information. It is believed Buffett himself makes the firm's larger stock purchases, while investment managers Todd Combs and Ted Weschler perform smaller deals.
The large share purchase is a continuation of previous activities by the investment firm to own more of Apple, a company that Buffett claims produces "sticky" products. Before the 75 million share purchase, a regulatory filing for the fourth quarter 2017 revealed Berkshire had increased its Apple stake by 23.3 percent, becoming its largest holding at the time.
Buffett has heaped praise on Apple in the past, calling it "an unbelievable company" that he believes earns "almost twice as much as the second most profitable company in the United States."
The "Oracle of Omaha" has also admitted to wanting to own even more of Apple, claiming "It was a company I liked, a business I liked, very much." Buffett also suggested Berkshire could easily invest in Apple more in the future, proclaiming "I'd like to own 100 percent of it."
At a shareholder meeting, Buffett praised Apple's recent share buyback plans, loving the idea "of having our 5 percent, or whatever it is, maybe grow to 6 or 7 percent without our laying out a dime." At the time, Buffett suggested more shares could be bought, if the price is right.
Update: Reuters apparently had erroneous data in its calculations on the matter. Apple remains in third place, behind BlackRock and Vanguard Group.