Warren Buffett's Berkshire Hathaway bought another 75M Apple shares in Q1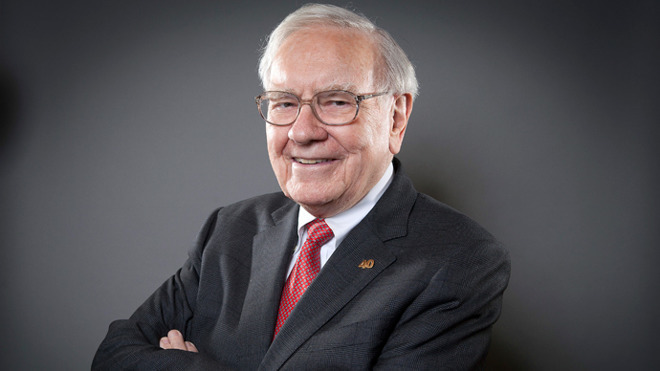 AppleInsider may earn an affiliate commission on purchases made through links on our site.
Ignoring a chorus of analyst doom and gloom, financial mogul Warren Buffett's Berkshire Hathaway bought 75 million shares of Apple stock in the first quarter of 2018, raising the fund's position to just over 240 million shares.
Buffett revealed the massive purchase to CNBC on Thursday, two days ahead of Berkshire Hathaway's annual shareholders meeting.
"It is an unbelievable company," Buffett said. "If you look at Apple, I think it earns almost twice as much as the second most profitable company in the United States."
Berkshire is due to release its quarterly earnings report on Saturday, where investors will be able to peruse the fund's top 10 largest holdings. Buffett said the enhanced position would be obvious to those following along.
The huge first quarter purchase is thought to bolster the 165.3 million Apple shares Berkshire owned at the end of 2017. If the fund held its position, as the report suggests, the resulting 240.3 million shares were worth about $42.5 billion at the end of trading on Thursday.
Though he initially shied away from tech stocks, Buffett can be considered a convert, at least in the case of Apple. The "Oracle of Omaha" first bought into the company in 2016 with a share purchase worth about $1 billion. He extended that position to 57.4 million shares worth about $6.64 billion at the end of 2016, only to raise Berkshire's stake to 133 million shares a quarter later.
Apple was Berkshire's second-largest holding last year, sitting just behind Wells Fargo. Berkshire's other tech industry bet, IBM, failed to impress, and the fund ultimately dumped 94.5 percent of its holdings in the company late last year.
Buffett has consistently heaped praise on Apple and its "sticky" product offerings, particularly iPhone.
"Apple has an extraordinary consumer franchise," Buffett said in February. "I see how strong that ecosystem is, to an extraordinary degree. You are very, very, very locked in, at least psychologically and mentally, to the product you are using. [iPhone] is a very sticky product."
News of Buffett's big bet on Apple arrives just two days after the Cupertino tech giant posted its best March quarter ever, reporting revenue of $66.1 billion on 52.2 million iPhone sales. Leading up to the earnings report, analysts cast doubt on the company's decision to market a $1,000 smartphone in iPhone X. Critics were silenced when CEO Tim Cook noted — multiple times — during an ensuing earnings conference call that the flagship handset outsold all other iPhone models since its launch in November.