Apple Pay roundup: Ukraine, Toronto's TTC, Citi cards & dozens of new banks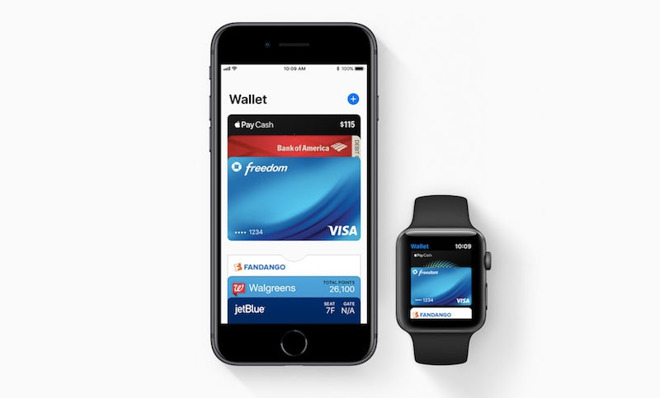 Beyond just adding the Ukraine to Apple Pay, Apple continues its regular roster expansion of banks and credit unions with Apple Pay, and hammering home its marketing with promotions and new merchant announcements. Here are some of the latest additions to the payment platform.
May 17
Apple Pay is now available for the first time in Ukraine, though currently only to PrivatBank customers. The news was announced by the country's finance minister via Facebook.
U.K. Apple device owners have meanwhile gained the option of Monzo, an internet-only bank in which accounts are managed mainly through mobile apps. At the moment Apple Pay transactions will generate two push notifications — one from the Wallet app, and another from Monzo's own.
May 16
Aeroquip Credit Union
AllSouth Federal Credit Union
AuburnBank
Azura Credit Union
Bangor Federal Credit Union
Bank of Sun Prairie
Citizens National Bank of Albion
Community Alliance Credit Union
Community Bank [IL]
Dover-Phila Federal Credit Union
Family Financial Credit Union
Farmers & Merchants Bank [NE]
First Century Bank
First Century Bank, N.A.
Gratiot Community Credit Union
Key Community Bank
Kraftman Federal Credit Union
Lake Elmo Bank
Millington Bank
MTC Federal Credit Union
OneUnited Bank
Orlando Federal Credit Union
Prime Alliance Bank
Revere Bank
Sterling National Bank
Teachers Federal Credit Union
The Bank of Tampa
Tyler City Employee Credit Union
UP Arkansas Federal Credit Union
West End Bank
White River Credit Union
Yampa Valley Bank
May 7
Apple recently met with Metrolinx — the agency responsible for integration of Presto fare technology in Toronto, Canada — in what may be a sign residents will soon be able to use Apple Pay for public transit, the Toronto Star said. Relatively few cities offer Apple Pay on their metro systems, some other examples being London, Tokyo, and Chicago.
May 2
Canandaigua National Bank & Trust
Chesapeake Bank
Citizens National Bank [TX]
Classic Bank
Dowell Federal Credit Union
Embarrass Vermillion Federal Credit Union
Farmers Bank and Trust [now KY and TX]
First Bank [MI]
First Farmers State Bank
First Point Federal Credit Union
First State Bank and Trust
Houston Police Federal Credit Union
incrediblebank
Kelly Community Federal Credit Union
Magnolia State Bank
North Central Bank
Ocean Financial Federal Credit Union
Oregonians Credit Union
Scott and White Employees Credit Union
Southern Heritage Bank
State Highway Patrol Federal Credit Union [OH]
Summit Ridge Credit Union
Surrey Bank & Trust
The First National Bank of Dennison
Trademark Federal Credit Union
TruChoice Federal Credit Union
Cathay United Bank [now debit cards]
E.SUN Commercial Bank [now debit cards]
First Commercial Bank [Mastercard & Visa credit cards]
HSBC (Taiwan) Bank [Mastercard & Visa credit cards]
Hua Nan Commercial Bank [Mastercard & Visa credit cards]
KGI Bank [Mastercard & Visa credit cards]
Standard Chartered Bank [Mastercard & Visa credit and debit cards]
Taipei Fubon Commercial Bank [now debit cards]
Taishin International Bank [now debit cards]
Societe Generale (Cartes Bancaires)
Apr. 26
Citi announced that its credit cards can now be used with Apple Pay in Australia, Singapore, and Hong Kong. Taiwan will be supported later in 2018.
Apple meanwhile said that Apple Pay will soon be accessible by customers of Spain's BBVA.
Apr. 17
Assiniboine Credit Union
Cambrian Credit Union Limited
Steinbach Credit Union
Vancity
5 Star Community Credit Union
AlaTrust Credit Union
Apple River State Bank
Bank of Weston
Community Bank of Elmhurst
Farmers & Merchants Savings Bank
Farmers and Merchants Bank of South Carolina
First Bank of Coastal Georgia
First Citizens Federal Credit Union
First National Bank of Gillette
Killbuck Savings Bank
Lighthouse Bank
Merchants Bank [AL & MN]
Morton Credit Union
MutualBank
One Credit Union
SeaComm Federal Credit Union
Security First Bank of North Dakota
Ukrainain Federal Credit Union
Unico Bank
United Fidelity Bank
Wayne Westland Federal Credit Union
Buddybank
CARTA BCC (banca credito cooperativo)
Cassa Centrale, Casse Rurari Trentine [credit cards]
Credit Agricole (cariparma, friuladria, Carispezia) [credit & debit]
Credit Bank of Moscow
Credit Ural Bank [Visa debit & credit]
Caja Rural [Visa debit & credit]
EVO Banco [Visa debit & credit]
Openbank [prev. Mastercard only]
Bank of Baoding
Xiamen Bank
Yinzhou Bank
Yunnan HongTa Bank
Yunnan Rural Credit Cooperatives
Zhejiang Chouzhou Commercial Bank
Zhejiang Rural Cooperatives
ZhongYuan Bank