CarPlay, Monster offerings, and a Bluetooth water bottle: A day at CE Week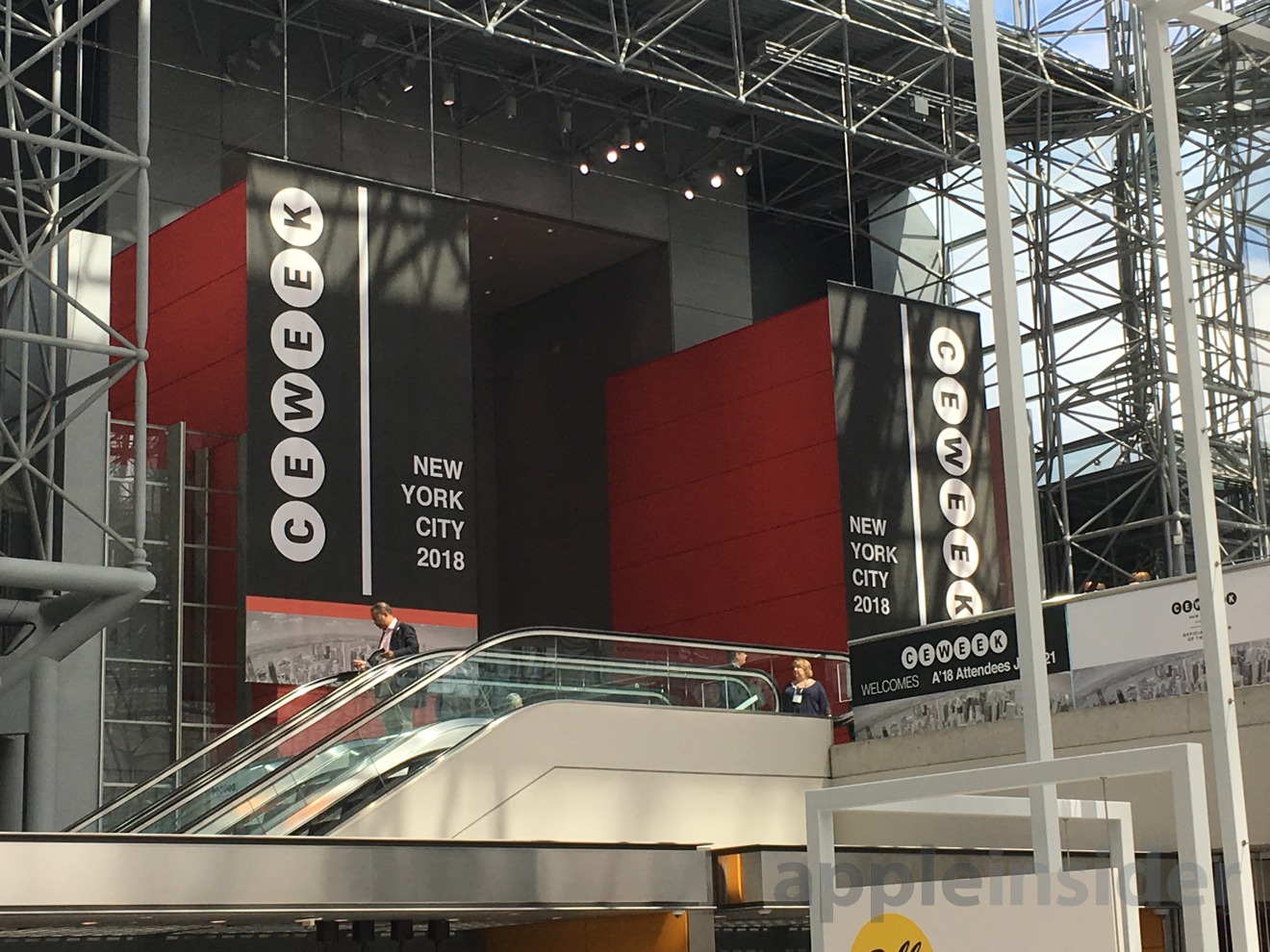 At the annual CE Week tech event in New York, Monster announced two public funding offerings, Pioneer showed its wireless CarPlay units, and a Sonos exec spoke about AirPlay 2 and HomeKit.
This year's edition of the CE Week event had a distinct feel of change. The East Coast-based summer tech show in New York City has a new venue in the Javits Center, and a new owner with Germany's IFA running the show as part of a new joint venture with the Philadelphia-based media concern CT Lab Global Media.
AppleInsiderwas in New York for the first day of the show on Wednesday. CE Week used to be conducted in partnership with the then-Consumer Electronics Association, and like most years, it could best be described as "like CES, only much smaller and quieter." While this year's event got off to a sleepy start, that changed when Noel Lee rolled in on his trademark, gold-plated Segway.
Two Monster offerings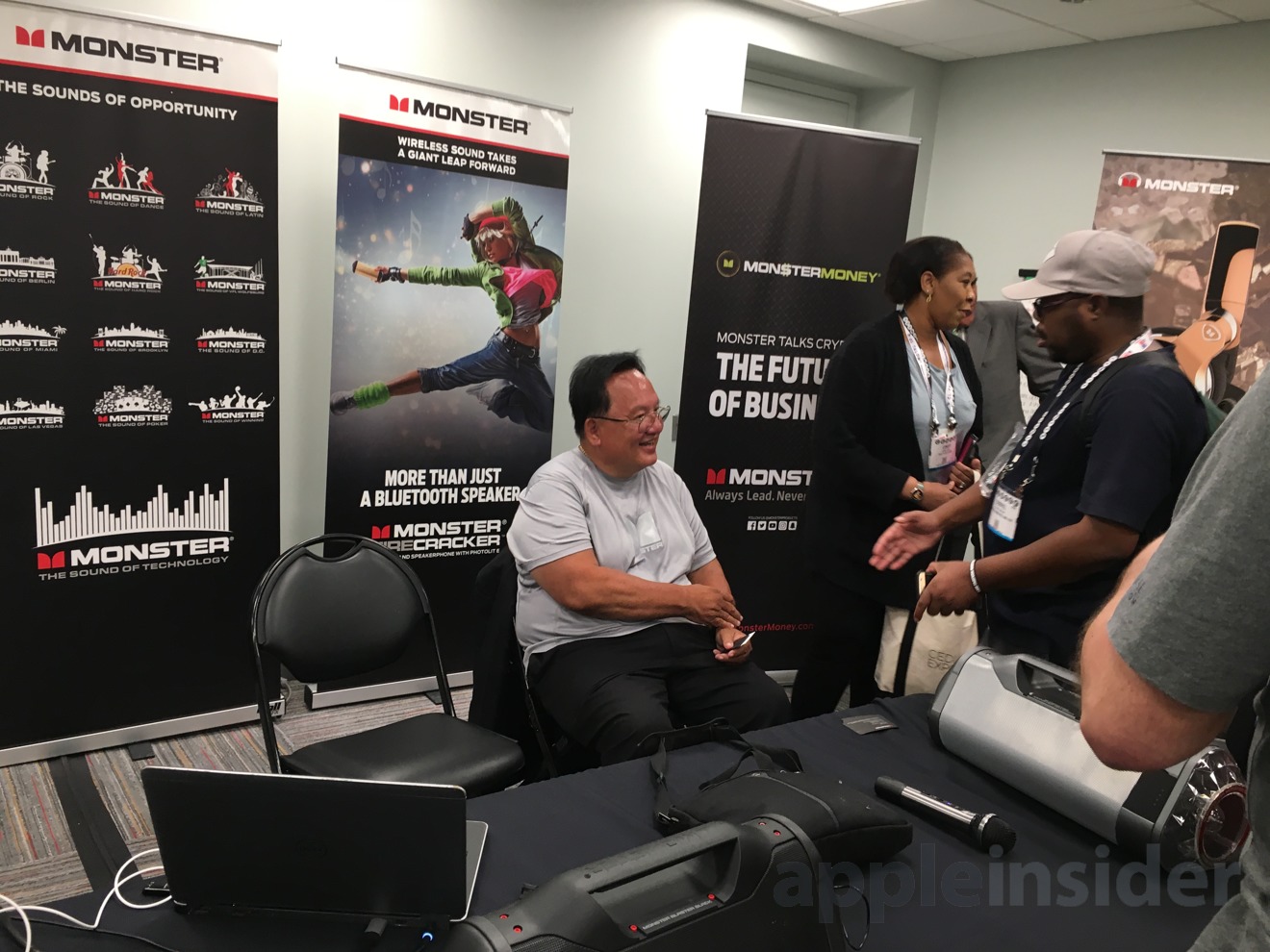 Neither Monster nor "The Head Monster" Lee had been advertised in advance as exhibiting or participating in CE Week, but Lee appeared for a hastily called event Wednesday afternoon. Held in a small side room of the Javits Center's River Pavilion, Lee detailed Monster's way forward, which will include two different Hail Marys: an Initial Public Offering AND an Initial Coin Offering.
In addition to the courtroom wars, Monster has also been needling Apple, including at CE Week, by advertising its own headphones with a picture of Apple earbuds with a line through them, and the slogan "you deserve better."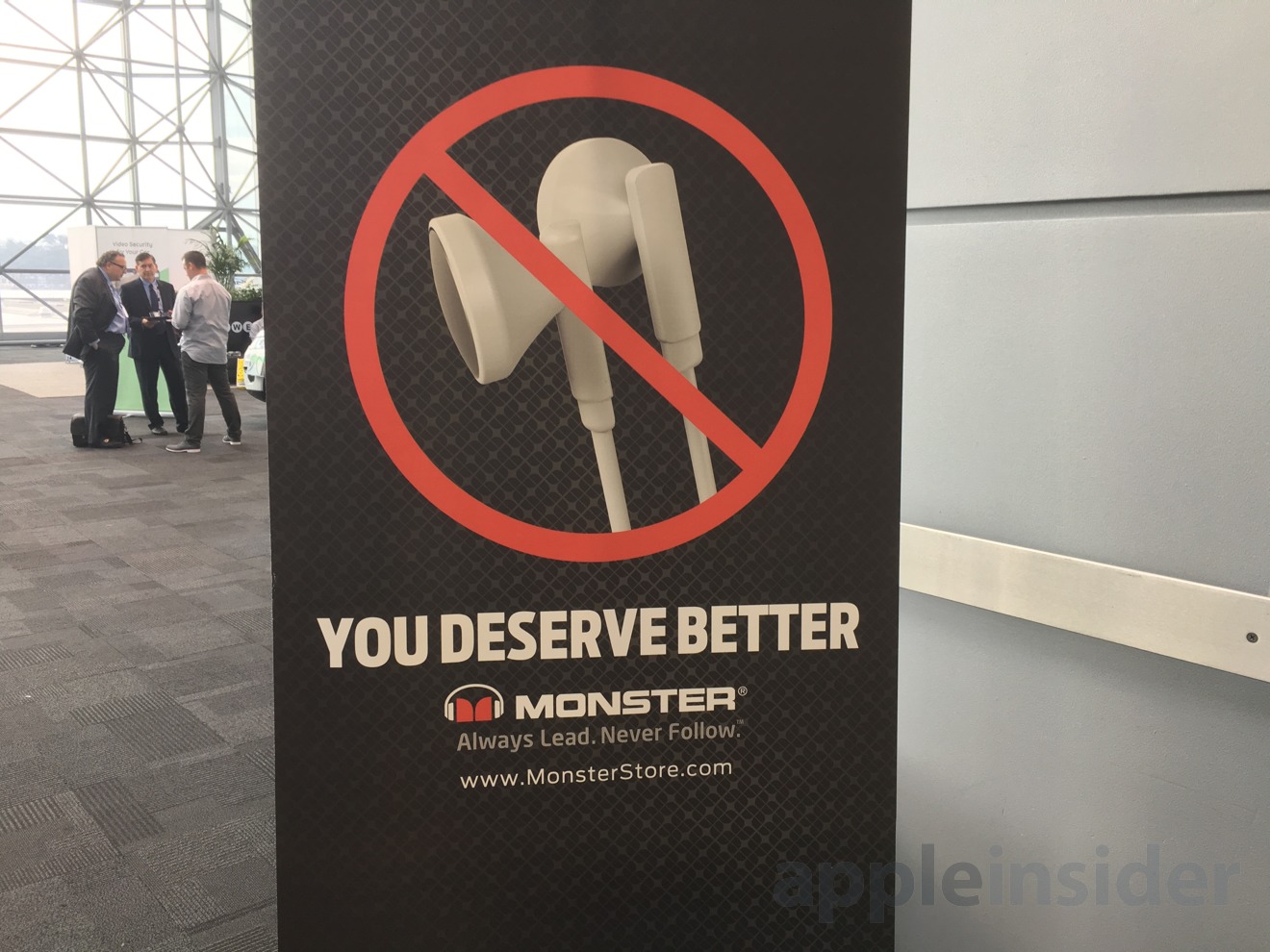 As Ted Green of the consumer electronics industry website Strata-GEE reported earlier this month, citing public filings for the ICO, Monster finds itself in significant financial dire straits, with the company having lost $26.7 million in 2017.
The company's answer to its financial woes is both an IPO AND ICO, as Monster will issue both stock and a cryptocurrency offering, called Monster Money. Monster hopes for the crypto play, which Lee described as "a way for consumers to get invested," to be the first cryptocurrency "legitimized" by the SEC.
Both offerings, Lee said, represent a break from Monster's 40 years as a privately-held company that had never before taken outside money. "We need some money that's from outside the bank of Noel Lee," he said, referencing reports that he's been floating the company his own money for some time.
Monster had spent big on a Super Bowl commercial in January — which it showed again at CE Week — and has some other efforts on tap in its attempt at a resurgence. These include a series of "dance your ass off" dance contests based on the Monster Blaster speaker and a series of "alternative retail" ventures, which will include selling products at such nontraditional venues as Hard Rock Cafes, sports arenas, and even on cruiseships.
The company will also continue to utilize celebrity endorsements. Their current stable includes rapper Iggy Azalea and NFL star Marshawn Lynch.
A new evolution in Pioneer head units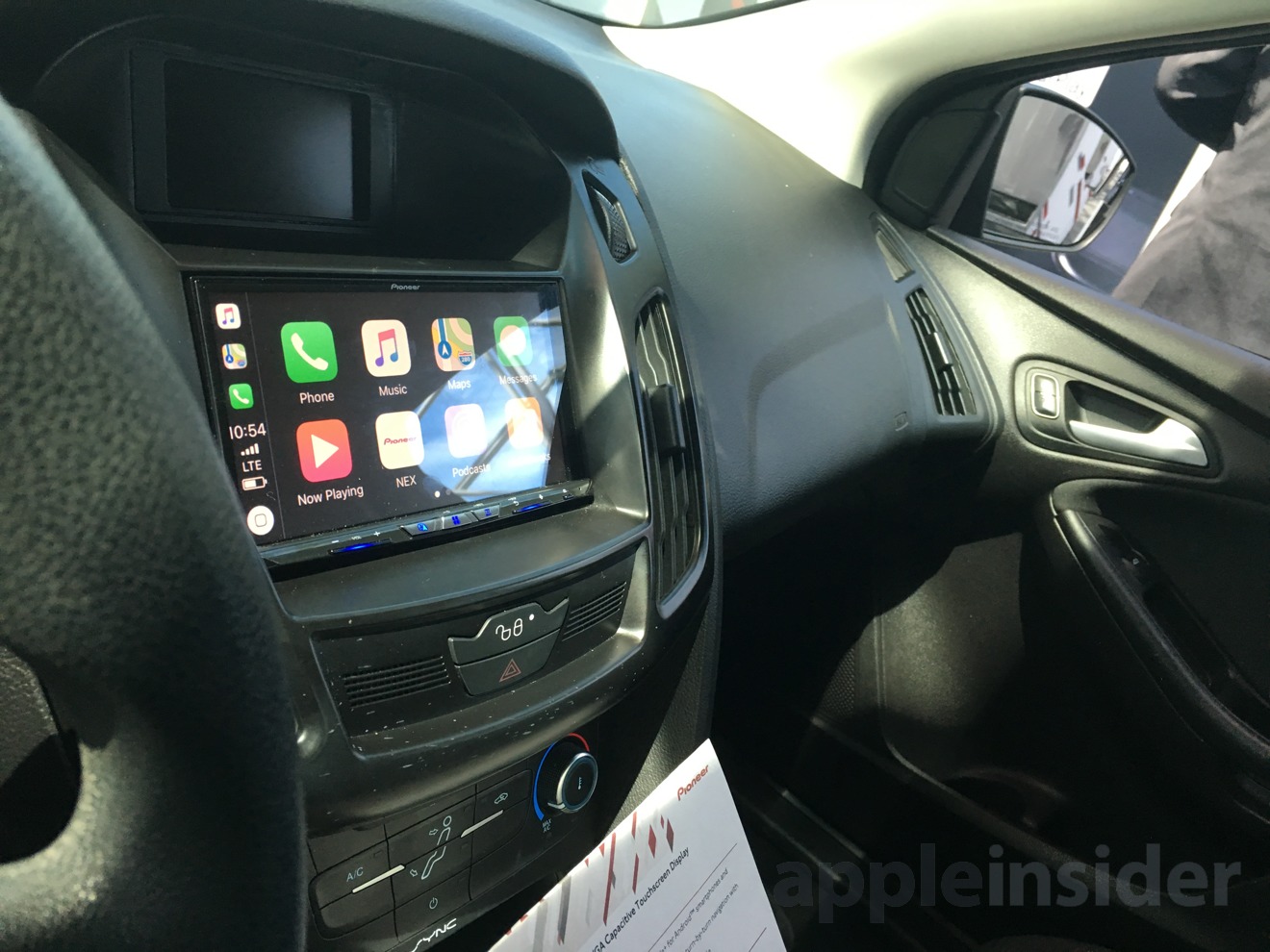 Also at the event, Pioneer demoed its latest CarPlay-compatible units, which arrived on the market last month. The three units include wireless, Wi-Fi connectivity, while two of the units, AVIC-W8400NEX and AVH-W4400NEX, work with both CarPlay and Android Auto. In addition, the units allow users to use Siri to control their HomeKit-connected devices, straight from the car.
"Anything you can do with Apple HomeKit, you can do with Siri from the car," Pioneer's vice president of marketing, Ted Cardenas, told AppleInsider.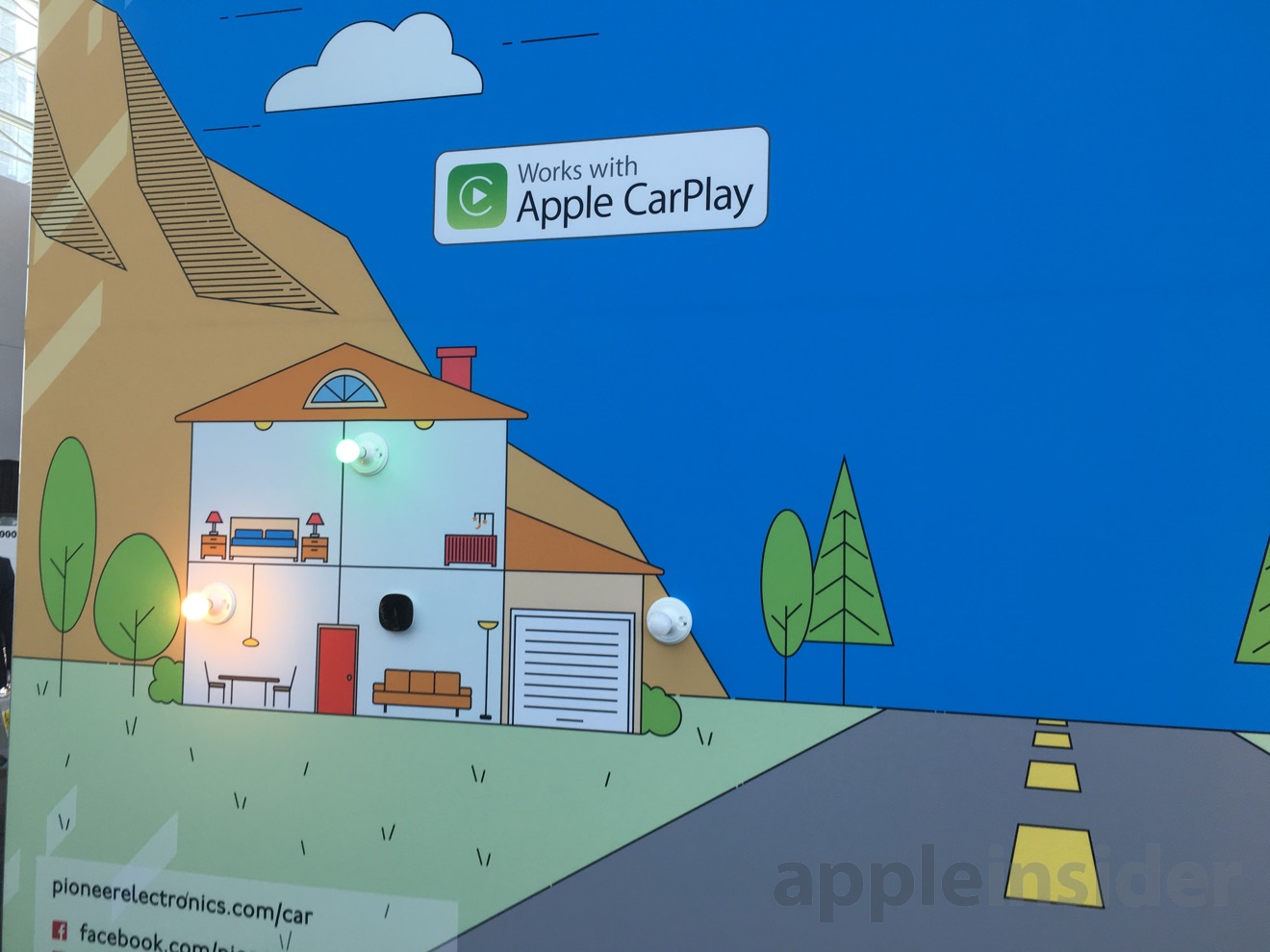 As for what might change with the units once iOS 12 arrives, Cardenas noted that "the nice thing is that the software updates are pretty well-integrated," although if, as rumored, USB-C becomes part of the next iPhones, that "might change how we connect," he said.
Cardenas also joked that Pioneer, in 2014, had missed out on becoming the first partner to place CarPlay in a car by one day. He attributed that to Apple's Eddy Cue being on the board of Ferrari and giving it to them first.
"The Ultimate Apple Dock"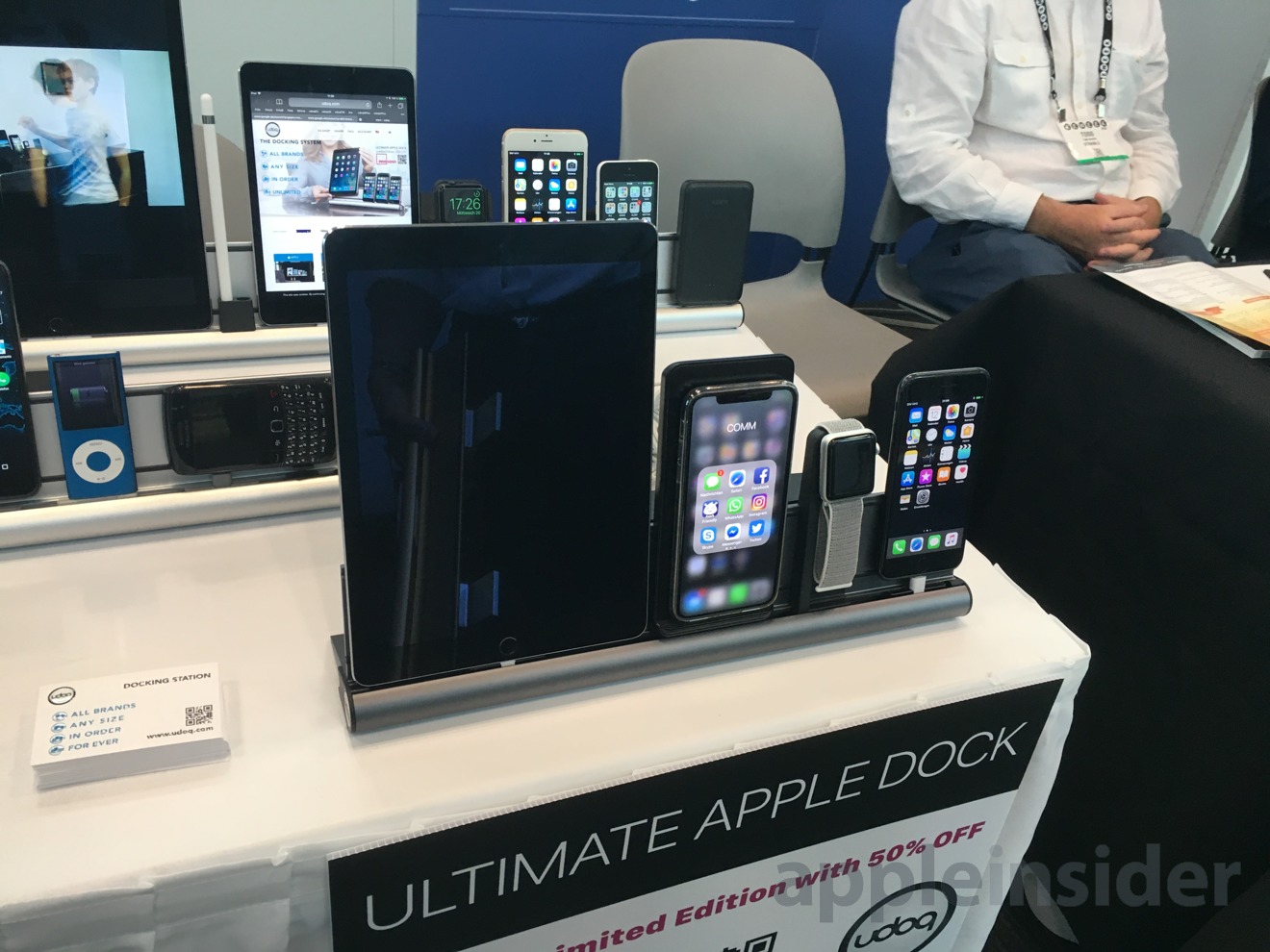 AppleInsider showed a hands-on back in March of the Udoq modular docking system, which works through a series of adjustable adapters. The product's inventor, Marcus Kuchler, demonstrated the Udoq at CE Week, revealing that the product's Indiegogo campaign, in which the Udoq is offered for $99, runs through July 22.
Smart home thoughts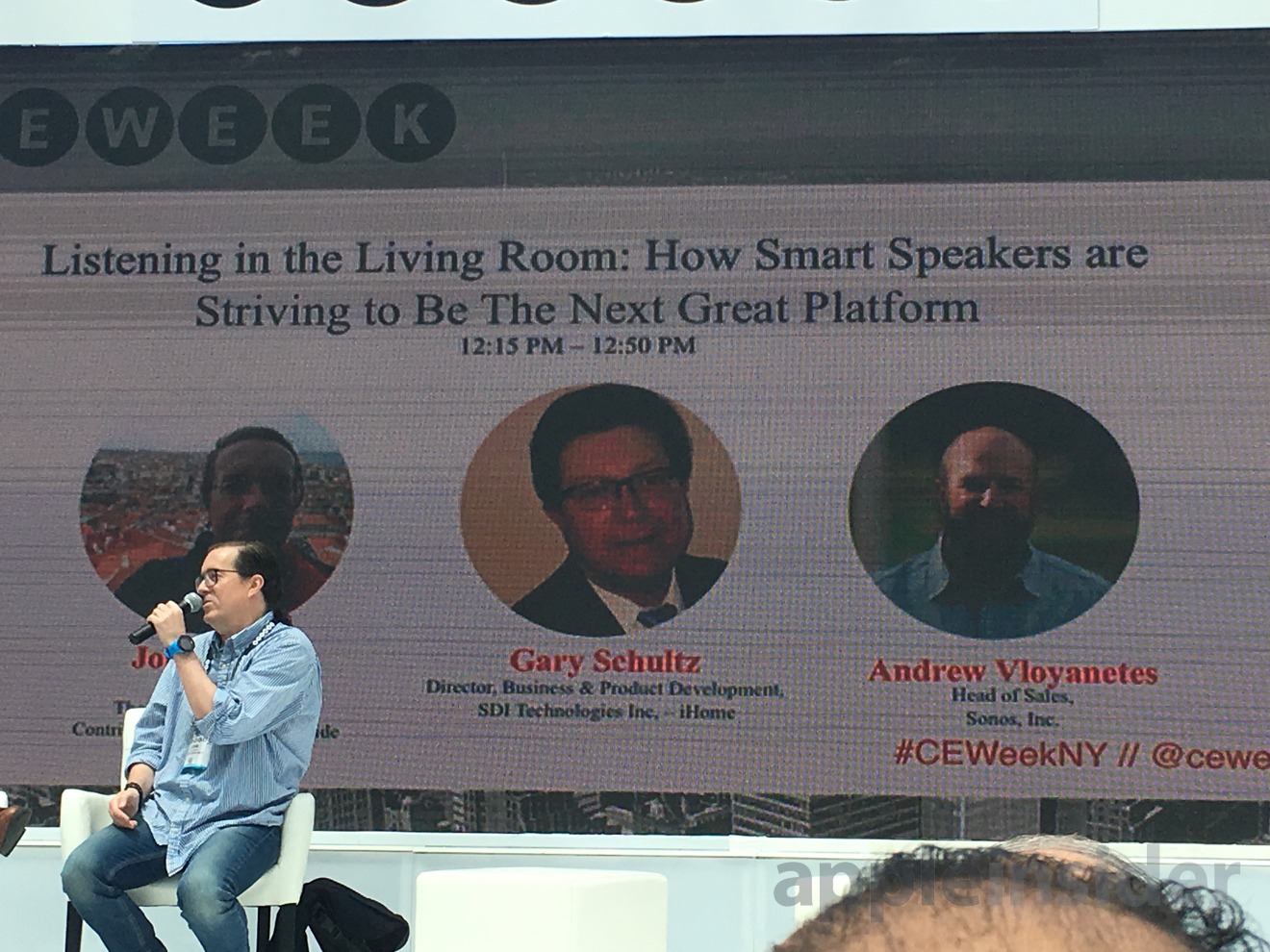 A panel was held Wednesday on "Listening in the Living Room: How Smart Speakers are Striving to Be The Next Great Platform," and on the panel, both the moderator John Quain and panelists Andrew Vloyanetes (head of sales for Sonos) and Gary Schultz (Business & Product Development for iHome parent company SDI Technologies) spent most of the proceedings characterizing the smart home as a two-horse race between Amazon and Google.
However, the panelists agreed that Apple will eventually have a shot in the space.
"Don't count Apple out," Schultz said. "The first HomePod is the start of something. Airplay 2 is their next evolution of how they're integrating with products inside the home," although Schultz urged Apple to open the system up further to third-party apps.
"At Sonos we believe two operating systems, three operating systems, can coincide inside the home," Vloyanetes added.
It's a speaker — and a water bottle!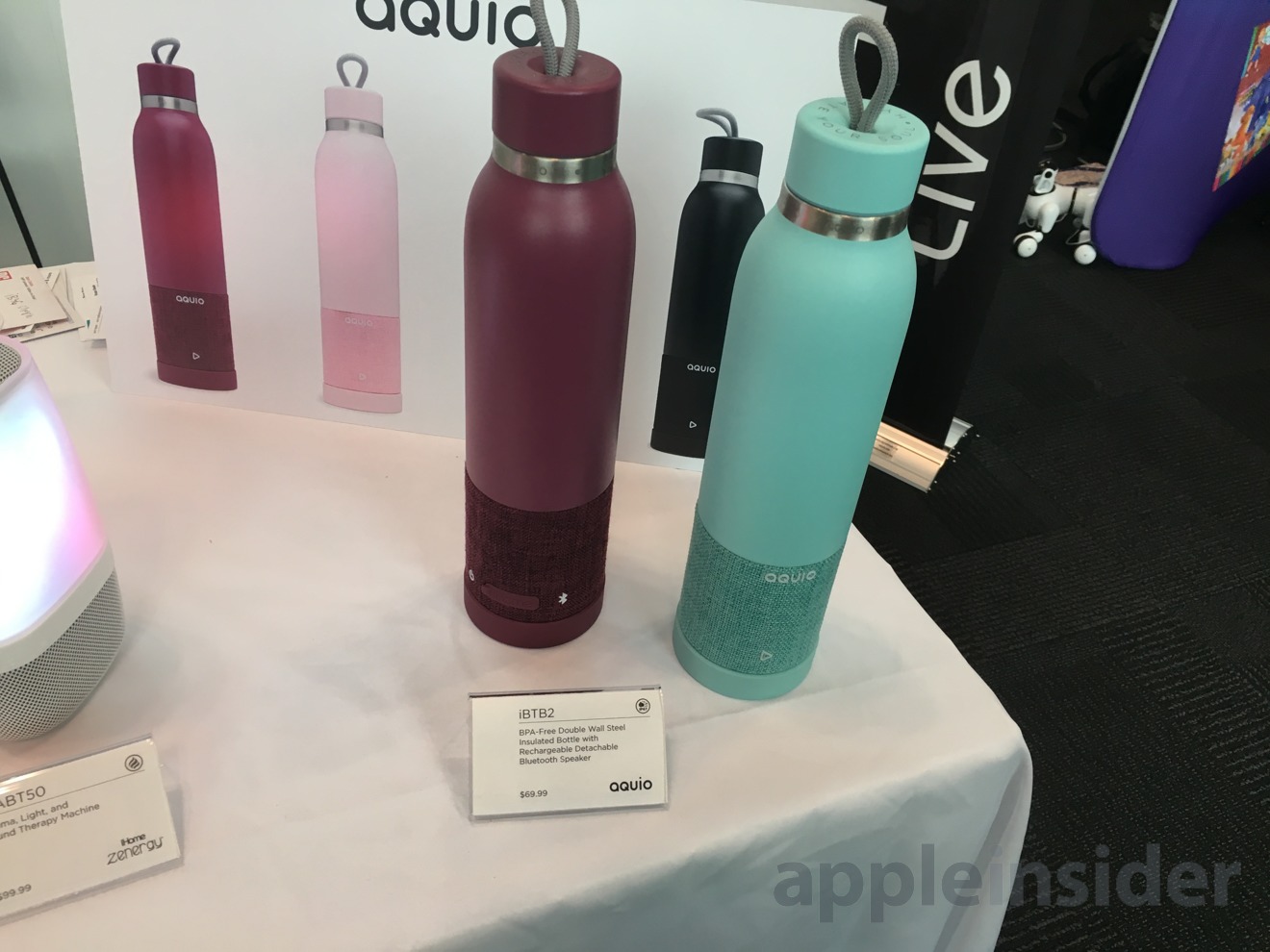 Speaking of iHome, the longtime Apple accessor maker had some new speakers at CE Week, including a dual alarm clock, but the one that had people at the show talking was the Aquio, a water bottle with a Bluetooth speaker attached to it. The bottle, available in four colors, sports a modular waterproof Bluetooth speaker that unscrews easily. It arrives on the market in July for $69.99.
CE Week concludes on Thursday.