Nicki Minaj says Spotify retaliated against her for Apple Music show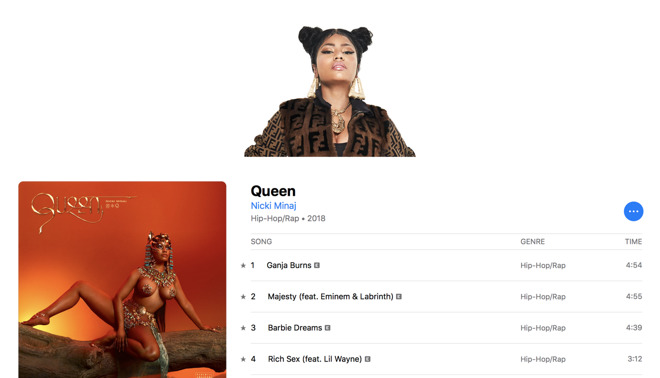 AppleInsider may earn an affiliate commission on purchases made through links on our site.
The rapper says Spotify pulled back on promotion of her new album, "Queen," after she launched a new Beats 1 show on Apple Music.
Popular artist Nicki Minaj last Thursday debuted a new show called "Queen Radio" on Apple Music's Beats 1 station, in conjunction with the release of her new album, "Queen," on August 10. Now, the artist is accusing Spotify of retaliating against her for the Apple deal by not promoting her music aggressively.
Minaj went on to blame Spotify, at least in part, for the album coming in second on the Billboard charts to Travis Scott's "Astroworld." The accusations from Minaj came in a series of tweets Sunday night.
Spotify put drake's face on every playlist but told me they'd have to teach me a lesson for playing my music 10 mins early on #QueenRadio. Even tho they've been giving away my music for free for years & I am one of the top Spotify artists of all time.

— QUEEN (@NICKIMINAJ) August 19, 2018
Spotify had to teach me a lesson but rewarded the man who has had an Apple radio show the longest; inadvertently helping the Apple platform the most. Oh I can't wait for #QueenRadio on Tuesday. They took away my promotion they had promised for the 1st cpl days b/c of this. #Queen

— QUEEN (@NICKIMINAJ) August 19, 2018
My music went up on Apple so I played it. I assumed it was on Spotify & Tidal at the same time. Spotify said that Apple tweeted fans advising #Queen was up & therefore they had to teach me a lesson. But PRAISE BE TO GOD!!!!!!

— QUEEN (@NICKIMINAJ) August 19, 2018
Do you know how many people subscribe to my Spotify page?????

— QUEEN (@NICKIMINAJ) August 19, 2018
Nicki Minaj's Queen Radio show returns Tuesday on Beats 1.
Not the first time
This is only the latest skirmish involving Apple Music, Spotify, and the way exclusives with major artists remain a weapon in their battle with each other. In June, Drake's new album "Scorpion" had almost 25 percent more streams on Apple Music than on Spotify.
Spotify has been accused of retaliating against artists with Apple Music exclusives before.
Spotify went on to start offering its own exclusives with artists the following year.