Review: Ring's iPhone-connected Spotlight Cam Solar falters without a paid subscription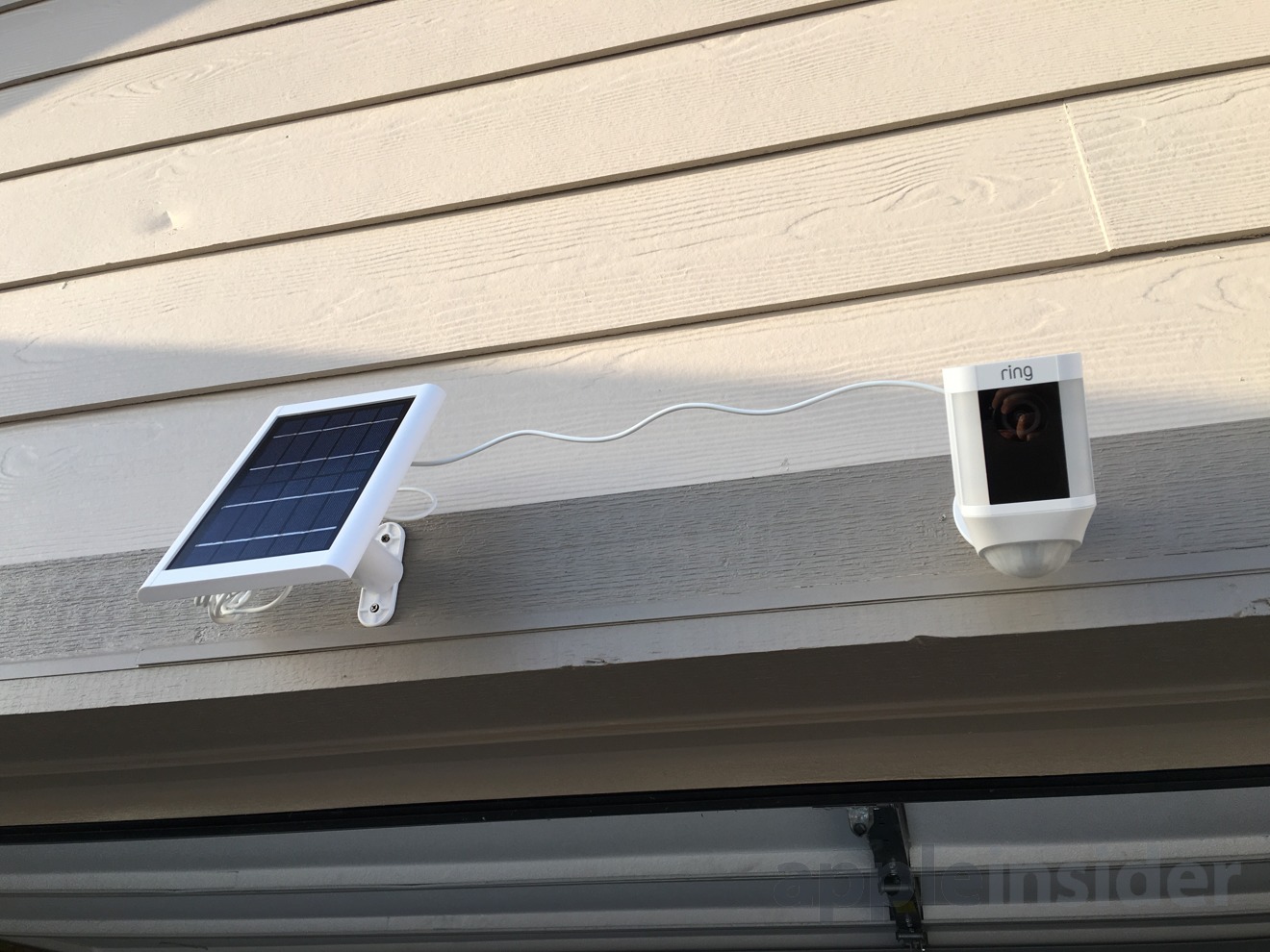 AppleInsider is supported by its audience and may earn commission as an Amazon Associate and affiliate partner on qualifying purchases. These affiliate partnerships do not influence our editorial content.
Ring's Spotlight Cam Solar kit is a decent option for outdoor security — but hard to recommend to most people unless you can check very specific boxes.
There's been a growing push to bring smarthome accessories outdoors in the past year or two, which should be expected given how commonplace platforms like Apple HomeKit and Amazon Alexa are becoming. You can even get HomeKit-enabled water controllers.
Security cameras have been one of the trickier propositions, since they have to be not just waterproof but tamperproof, with access to power and the internet in places where those are normally absent.
The Spotlight Cam Solar manages to solve at least one of these problems. The product is essentially Ring's existing Spotlight Cam Battery, but bundled (at a discount) with a solar panel accessory. No need to buy a spare battery, or make sure the camera is mounted in place that's easy to access.
Installation and setup takes about an hour, maybe less, but is relatively straightforward thanks to video-enhanced guidance provided on Ring's YouTube channel and in an official iPhone and iPad app. The company supplies all of the necessary parts and tools including bits and screwdrivers, though you might still want to bust out a power drill, especially if you're working with anything tougher than wood.
It should be said here that one of the biggest challenges may be solid internet access. There's no LTE, so you'll have to connect to Wi-Fi, and many people may have weak or non-existent outdoor range without an extender. We were lucky enough to have a mesh router with a satellite, and we still had to reposition the satellite to get a reliable connection. The camera also operates only on the 2.4 gigahertz band, though that's what you want for maximum range.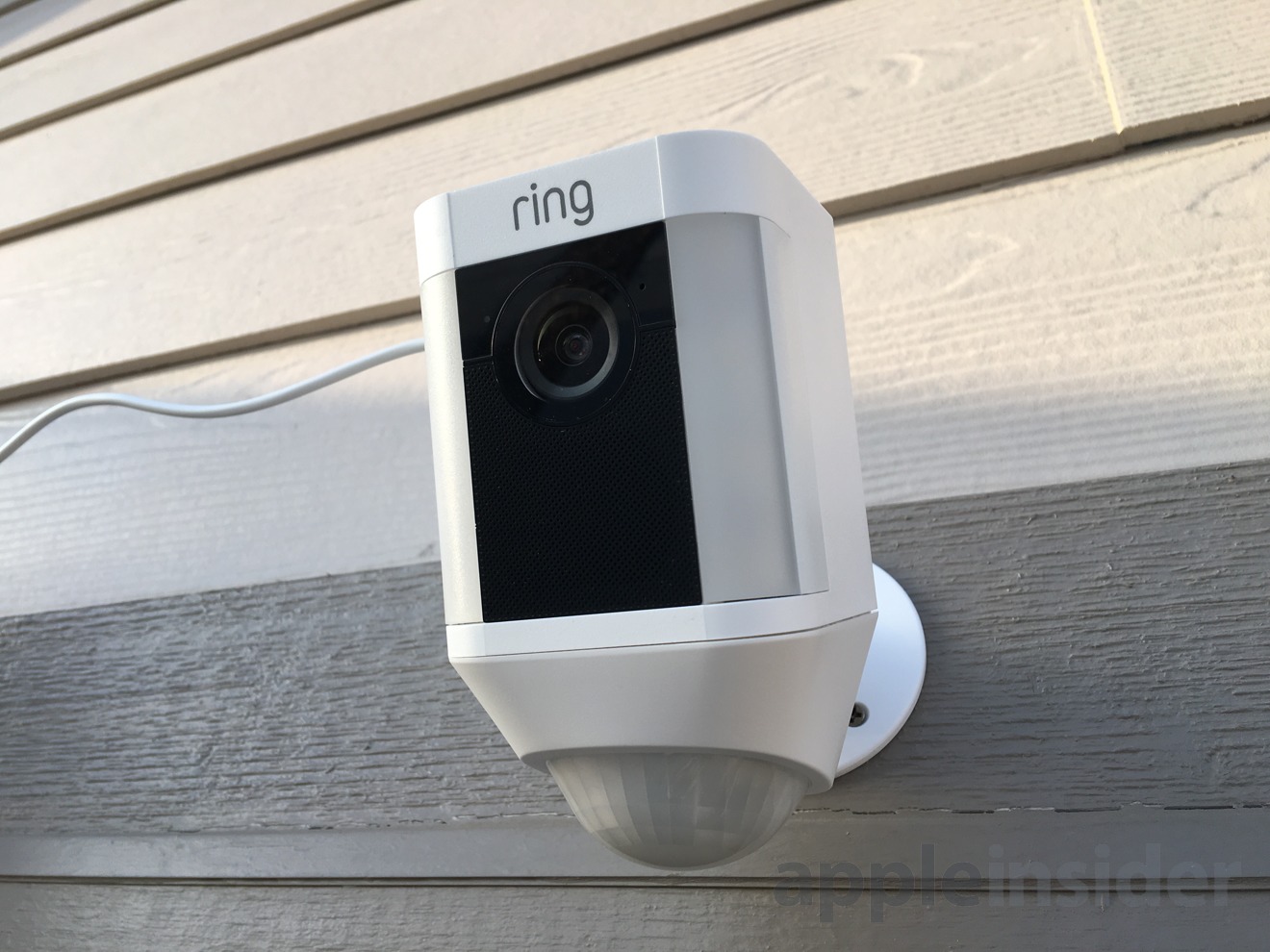 What you get once everything is up and running is 1080p, 140-degree video, infrared night vision, motion detection, and a set of extremely bright spotlights. There's also two-way audio and a 110-decibel siren — we didn't test the siren, given a house in a crowded neighborhood, but we weren't too impressed by the camera's microphone, since it's supposedly noise-cancelling but still picked up plenty of wind.
The nexus of everything is the Ring app, as the camera lacks Apple HomeKit support or even a Web portal. Because Ring is owned by Amazon, it does support Alexa for viewing feeds through an Echo Show or Spot if you happen to own one.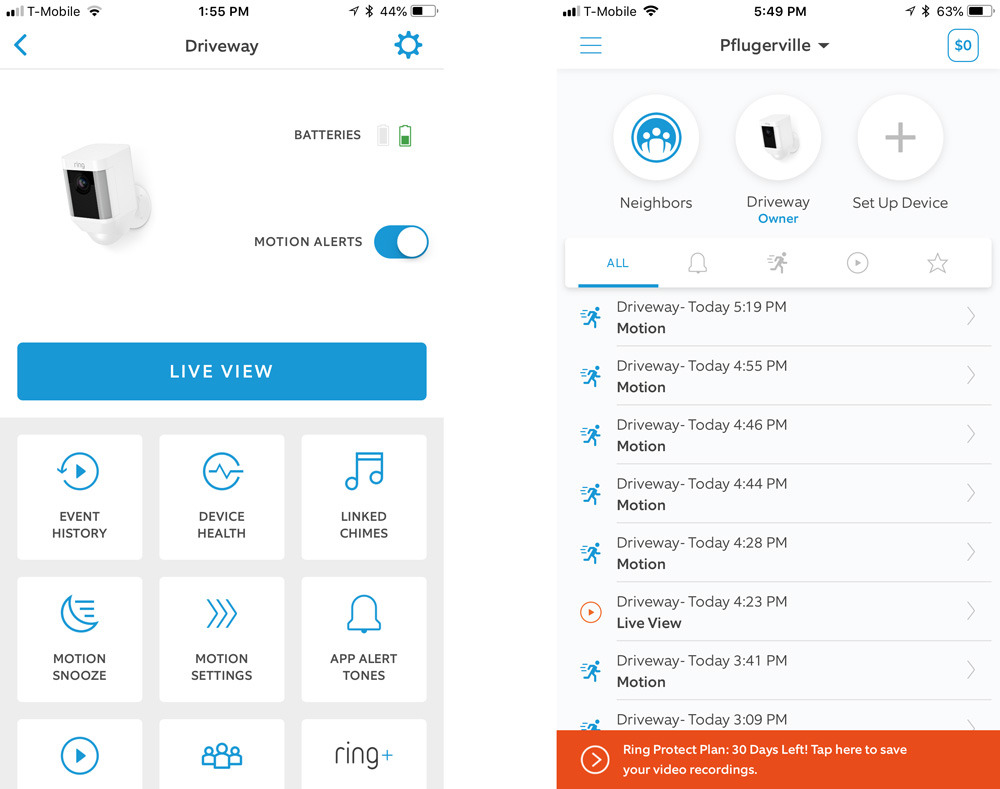 Thankfully the app is extremely well-organized, making it easy to toggle settings, and see alert history and power status. There's also built-in access to Ring's Neighbors platform, where local individuals and police can share footage of suspicious incidents. Some civilians tend to be a little paranoid, so take their posts with a grain of salt.
One thing you may have to do right away is narrow the focus of the Solar's three motion zones. A 140-degree view is impressive, but by default the app triggers push notifications for a good portion of that, which can be a little extreme.
Even with narrower cones, detection can be sensitive — we would get notifications only to discover that it had been set off by something like a distant bird. For that reason you'll probably want to take advantage of the app's "motion schedules," which can mute notifications when you know you'll be home and awake. You can also cut back on notifications by lowering the sensitivity of Smart Alerts, which identify continuous movement and suppress multiple notifications until action stops.
On air
The beating Texas sun certainly supplied enough power during testing. When we installed the camera its battery had about 58 percent charge, and a little less than two weeks later that had risen to 73 percent, despite regular overnight draining. We'd recommend that people in cloudier regions cable-charge to 100 percent before installing, and/or consider a second battery, for which the camera has an extra slot. Those in climates with heavy snow might want to stick with wired or battery-only cameras, since the solar panel could easily get blanketed with snow or ice even if the camera itself is warm and protected.
Perhaps the most disappointing thing about the Solar was its response time. Even if we tapped on an iPhone notification immediately, by the time we were watching the live feed, we were often catching the tail end of an event. And if the event was happening mid-day, video would usually start washed out by the sun for a second or two until auto-brightness kicked in.
This would be less of an issue if Ring weren't stingy with video recording. Any kind of recording requires a Ring Protect plan, starting at $3 per month or $30 per year, and the Solar comes with just a month-long trial. Netgear's Arlo cameras record 7 days of highlights for free, forever, and companies like August and Logitech offer at least a day's worth of free storage. Heck, you can get 14 days with a $30 Wyze Cam.
One advantage the Solar does enjoy is night vision. It has infrared sensors, but more often scenes are illuminated by the spotlights, which are powerful enough to guarantee well-lit images. Those lights also serve as a deterrent naturally, since by default they come on whenever motion or a live view is triggered at night.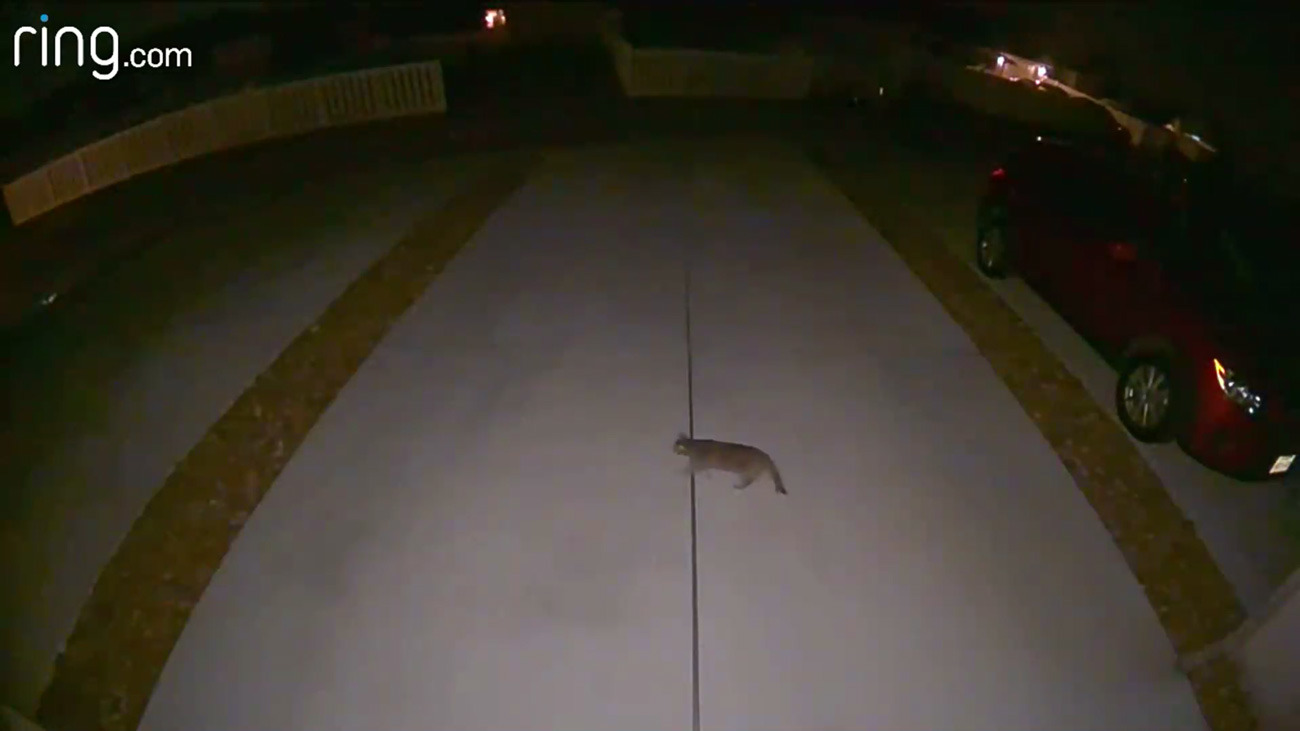 Conclusions
The only people for whom we can truly recommend the Solar are those deeply invested in the Ring ecosystem. In that case you probably already have Ring Protect, and any response time issues will be more than made up for by the advantages of integration and solar power, assuming you live somewhere sunny enough.
Otherwise, look elsewhere. In fact the only reasonable HomeKit-compatible outdoor option is currently Logitech's Circle 2 Wired, but you'll probably need to spring for the Weatherproof Extension kit and do some extra installation work to make that practical.
If you don't need HomeKit, we might suggest getting a Wyze Cam Pan, putting it in a weatherproof enclosure, and buying a conventional motion-sensitive spotlight. You'll be missing some features, but it could easily cost less.
Score: 2.5 out of 5
Where to buy
Home Depot has Ring's Spotlight Cam Solar Outdoor Security Camera Bundle for $229 with free delivery or store pickup. Amazon also carries the Spotlight Cam and Solar Panel, but without the bundle savings.