AirPower wireless charging pad allegedly stalled until spring by heat and interference issues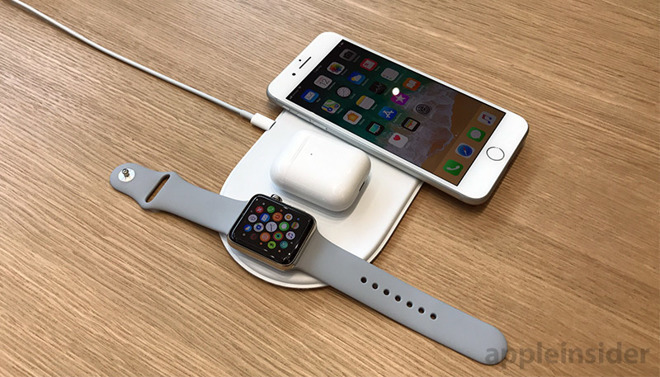 AppleInsider may earn an affiliate commission on purchases made through links on our site.
Multiple development hurdles are behind Apple's failure to ship its AirPower multi-device wireless charging mat, with a report claiming heat, mechanical, and interference issues are preventing Apple's engineers from completing the project.
Announced in 2017 at the iPhone X launch, the AirPower wireless charging mat was warmly welcomed by the media, as a single charging point for up to three devices, allowing an iPhone, Apple Watch, and an AirPods wireless charging case to recharge at the same time. While not launched at the time, Apple anticipated a release for the accessory sometime in 2018, but has unexpectedly stayed quiet about it over the last year.
According to sources of Sonny Dickson, the prospects for AirPower are grim, with the feeling of those with knowledge of the project suggesting it is doomed to failure, and is probably unviable for release unless "significant advancements" are made to it.
Heat management is cited as one of the major issues with the product, with AirPower generating too much heat, which in turn affects performance and the ability of devices placed on the mat to charge in the first place. Heat is also said to be affecting Apple's custom charging chip.
A second problem, dealing with inter-device connection, is causing issues with charging activation, charging speed, and accuracy of charge levels. The problem is apparently worse for the AirPod case and the Apple Watch, as both devices have to communicate with the iPhone to monitor each device's charging level while on the mat, something that is being hampered by the mat itself.
A major problem is the mechanism that the mat uses for multi-device charging. Qi wireless charging relies on induction between two coils for power delivery, but AirPower uses between 21 and 24 power coils of different sizes, which the report claims is used to accommodate the three main devices that will be used for charging.
AppleInsider has been aware since 2017 that the only way to execute Apple's vision is with multiple flux generators, as described by Dickson as up to 24 power coils.
This multi-coil configuration has numerous challenges associated with it, including a significant amount of interference buildup and heat generation. This is in part caused by the use of many different sizes of coils, which are also overlapping in order to fit into a confined footprint.
The complex circuitry associated with the coils is also identified as an issue for the product, and it is unlikely to be overcome without making the AirPower mat thicker and larger. It is believed Apple will not compromise on thickness nor size for the device, despite the engineering challenges.
The chances of there being an AirPower launch before the end of 2018 are slim, with engineers connected to the project suggesting it is unlikely to take place. References to the product have been removed from the Apple website, further suggesting there won't be a launch in AirPower's current form anytime soon.
Some "less notable individuals involved with the project" apparently suggest the AirPower concept and trademark will be reused, but on an all new product instead of the previously-teased mat. Features are not known, and a future public reveal is said to be unlikely to occur before the spring.