Apple shares several early iPhone XS and iPhone XS Max reviews ahead of launch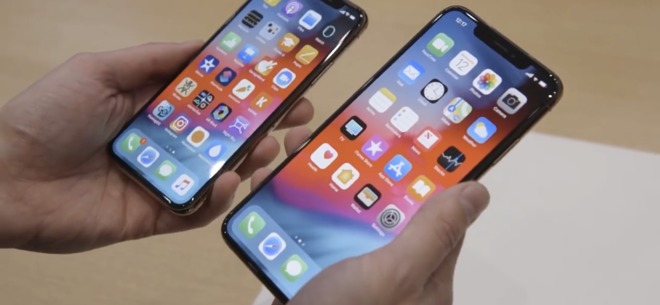 AppleInsider may earn an affiliate commission on purchases made through links on our site.
Ahead of the iPhone XS and XS Max release this Friday, Apple has highlighted a few of the early reviews praising the latest handsets.
As is the case with new product launches, Apple sent pre-release units to select members of the press. The early reviews went live this morning, and Apple has collected a series of excerpts from them.
The general consensus seems to be that Apple's latest iPhones are the best yet, with impressive speed and extremely capable cameras, but limited evolutionary improvements make it hard to justify an upgrade from the iPhone X. Many also recommend those who don't need the absolute best iPhone hold out for the yet-to-be-released iPhone XR, which contains almost all of the new features introduced in the XS series, but with a smaller price tag.
Here are a few of the excerpts shared by Apple:
"The improved camera hardware combined with a new automatic Smart HDR' technology, powered again by the Neural Engine and the A12 Bionic's ISP (image signal processor), mean you get the best of both the advanced camera optics and computational photography."
"The iPhone XS is for those that want a fast, powerful and impressive smartphone — not just Apple lovers."
"Apple did a terrific job of increasing screen size without adding bulk or compromising the usability of the [iPhone] XS Max. These changes amounted to meaningful improvements in ergonomics and overall convenience."
Apple also threw a spotlight on photographer Austin Mann's first impressions of the iPhone XS camera system, as published by PetaPixel on Monday. As he does every year, Mann turned in a set of stunning images, this time captured during a trip to Zanzibar.
CEO Tim Cook also got in on the action and posted a link to Mashable's review to Twitter, urging followers to take a peek by appending the link with the "eyes" emoji.
The reviews Apple selected are expectedly positive. Others, like CNBC, suggest the latest features make the iPhone XS the best iPhone ever, but do not justify an upgrade from iPhone X. CNET issued a similar assessment, noting enhancements to iPhone's camera system, but said customers might be better served to wait for iPhone XR next month.