New program offers free accidental death insurance to Apple Watch owners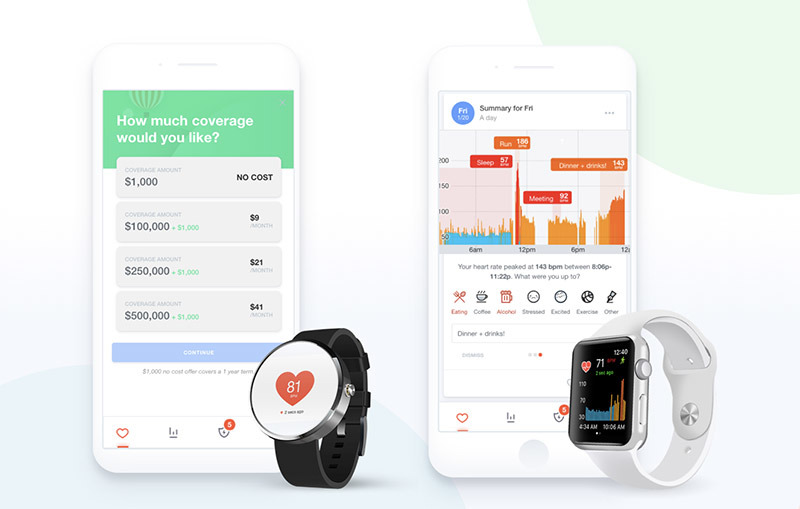 Consumers who own an Apple Watch are being offered $1,000 of accidental death insurance coverage at no cost through a new program from popular health app Cardiogram and two major insurance providers.
Launched on Thursday, the initiative grants Apple Watch owners guaranteed access to set-rate coverage provided by Amica Life and Greenhouse Life Insurance Company, a subsidiary of Reinsurance Group of America, Incorporated (RGAx).
In addition to the $1,000 no-cost offer, users can upgrade to up to $500,000 of coverage for $9 to $41 per month.
Available to users living in Arizona, Georgia, Indiana and Wisconsin, the program is the latest development in a wider push to main-stream quantified self data, with health and life insurers now looking for ways to integrate data from wearable devices into their respective business models, according to Cardiogram co-founder Brandon Ballinger.
Evidence of that shift is readily available. UnitedHealthcare in March added the Apple Watch Series 3 to its Motion program, an initiative lets people deduct $1,000 per year from their insurance premiums if they meet fitness goals. Earlier this month John Hancock rolled out a similar plan when it expanded the Vitality "behavior change platform" to all life insurance policies.
Ballinger believes insurance providers are quickly realizing the need to shift from reactive to preventative medicine.
For example, the risk of getting into a car accident — one of the leading causes of accidental death in the U.S., per the CDC — is 2.5 times higher for people with undiagnosed sleep apnea, Ballinger notes, adding that Cardiogram last year found devices like Apple Watch can be used as a diagnostics tool to detect sleep apnea.
Previous research conducted by the app maker in partnership with the University of California, San Francisco, revealed wearables can detect early signs of diabetes and atrial fibrillation to a high degree of accuracy.
"The Apple Watch's heart rate sensor is transforming healthcare from reactive to preventive, creating the opportunity for life and health insurers to save dollars by saving lives," Ballinger told AppleInsider.
The suggestion is devices like Apple Watch, when used in conjunction with apps like Cardiogram, can help users lead healthier lives. For health and life insurance companies, that translates into potential reductions in hospital payouts and other related costs.
On the other hand, with little regulation on the use of quantified self data — and the tools that gather such information — there are fears that corporations might take advantage of burgeoning medical technology to more accurately assess underwriting risks. Such is the case with at-home DNA tests and the information they can provide health and life insurance providers.
Ballinger says no data is shared in the Cardiogram program without express user consent. Further, data gleaned from wearable devices is not used to change rates or deny coverage.
"We think wearables can fundamentally transform the way insurance is distributed and underwritten," said Farron Blanc, president of Greenhouse Insurance and vice president at RGAx. "More importantly, these tools may help people stay healthier longer."
The offer is available to owners of any wearable compatible with the Cardiogram app, which currently includes all Apple Watch versions, select Wear OS devices and certain Garmin smartwatches.
Those interested can apply in-app via a new "life insurance" section found in the profile tab or by tapping on the offer in the app's timeline.