Mac sales decline in Q3 as customers await new models [u]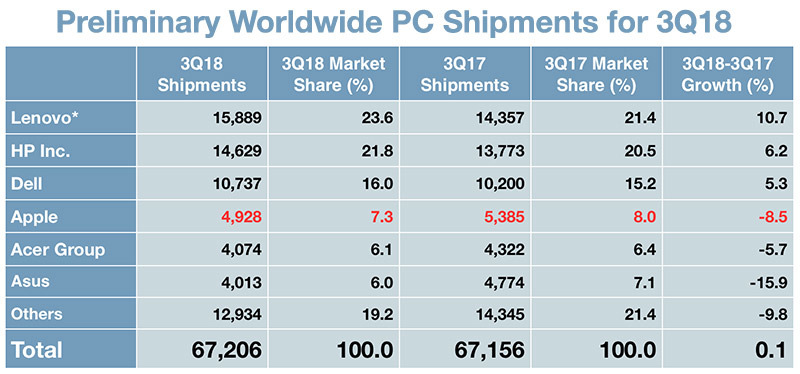 Apple's share of the worldwide PC market slipped in the third calendar quarter of 2018 as other top manufacturers reaped the benefits of a slow return to growth, according to new estimates from market research firm Gartner.
According to preliminary estimates shared by Gartner, Apple shipped 4.9 million Mac units to capture 7.3 percent of the market during the three-month period ending in September. The performance was down 8.5 percent year over year, putting the Cupertino tech giant in fourth place among the world's top PC vendors.
Apple was one of two companies to exhibit negative growth during the third quarter, likely due to a dearth of new products. The company released new 13-inch and 15-inch MacBook Pro models in July, but has yet to refresh its popular iMac all-in-one and MacBook lineups for 2018.
Lenovo and HP retained their respective first- and second-place spots, with Lenovo shipping an estimated 15.9 million units during the period for a 23.6 percent share of the market. HP shipped 14.6 million units for a 21.8 percent marketshare. Both leading players saw marketshare increases over the quarter, with Lenovo gaining 10.7 percent over its performance last year, and HP increasing its take by 6.2 percent.
Dell came in third on shipments of 10.7 million units to capture 16 percent of the market, up 5.3 percent year-over-year.
Trailing Apple was Acer, which managed 4 million units for 6.1 percent of the market, down 5.7 percent from the same time in 2017.
Gartner's estimates suggest the wider PC market is in the process of stabilizing after a more than six-year contraction. For the third quarter, worldwide shipments reached 67.2 million units, up a scant 0.1 percent year-over-year.
"The PC market continued to be driven by steady corporate PC demand, which was driven by Windows 10 PC hardware upgrades. We expect the Windows 10 upgrade cycle to continue through 2020 at which point the upgrade demand will diminish," said Mikako Kitagawa, principal analyst at Gartner. "Despite the third quarter typically showing strong consumer PC sales due to the back-to-school season, weakness in consumer PC demand continued, offsetting the strong sales in the business market."
The story was similar for the U.S. market, where Apple maintained its spot in fourth place despite a downturn in sales. The company shipped an estimated 2 million units in its domestic market, down 7.6 percent year-over-year. HP and Dell once again led the U.S., though the latter saw a 0.8 percent contraction during the quarter. Lenovo finished in third with 15.4 percent of the U.S. market, up 22.2 percent from the same time last year, while Microsoft rounded out the top-five with a 4.1 percent marketshare.
IDC also released estimates for the third quarter on Wednesday, showing nearly identical rankings — but different shipment numbers — for the world's five largest distributors. Apple, however, finished in fifth on IDC's charts with Mac shipments of 4.8 million units, down 11.6 percent year-over-year. According to the research firm, Apple was the only top-five vendor to exhibit negative growth during the quarter.
Updated with estimates from IDC.