Tim Cook meets government officials, visits schools on China tour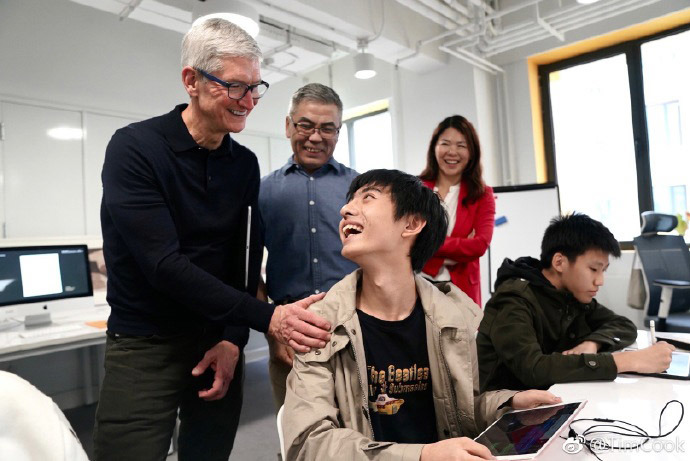 Apple CEO Tim Cook continued his latest China tour on Wednesday with a visit to a Beijing high school that integrates iPad and Apple Pencil into its learning curriculum, moves that one report suggests are part of a plan to remain in Chinese consumers' good graces.
Cook dropped in on students at Peking University Fuzhong Chaoyang Future School in Beijing. Following the visit, the Apple chief posted a brief note to Weibo, calling the institution a "truly a model school."
"Thank you, Chaoyang Future School, for an eye-opening visit today! I'm incredibly impressed by the talent and passion of your students, teachers and staff," Cook said in a post presented in both English and Chinese.
He went on to tout the school as being one of the first in China to adopt Apple's "Everyone Can Create" curriculum. The program, introduced at a special education-focused event in March, relies on iPad hardware and iOS software to help teachers facilitate creative learning strategies across a broad variety of subjects.
Cook also previewed an art exhibit by Su Yiliang at the Modern Art Museum Shanghai. The piece was created using an iPhone and presents a "moving use of augmented reality, unlike anything we've seen so far in a work of art," Cook said in a separate Weibo post.
Both blog entries were sent from Cook's iPhone XS Max.
The Washington Post characterized the Apple chief's visit as a "one-man charm offensive to promote Apple products" in China against the backdrop of strained trade tensions with the U.S. The publication, citing a Caixin report, said iPhone XS sales in the region have been disappointing, hinting that the handset's high price tag is too much for locals to swallow.
On the topic of cooling trade relations, Cook met with Communist Party Secretary of Shanghai Li Qian to discuss future Apple-funded development in the city.
"We are hoping that Apple will play a bigger role in promoting exchanges and cooperation between Shanghai and the United States," Li said in a statement, according to The Washington Post.
It is unknown if Cook is scheduled to meet with other government officials during his China excursion, though he is expected to attend an advisory board meeting at Tsinghua University's School of Economics and Management, the publication said. The Apple executive met with Chinese president Xi Jinping at a similar event last October.