Should you upgrade to Apple's redesigned 2018 iPad Pro?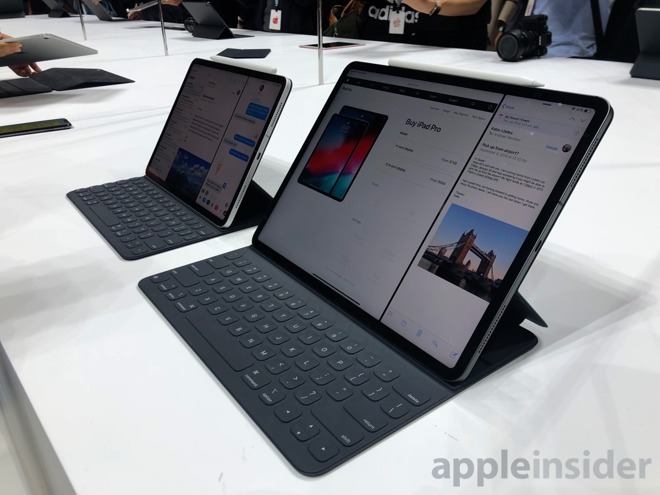 AppleInsider may earn an affiliate commission on purchases made through links on our site.
In last year's review of the 10.5-inch iPad Pro, AppleInsider called it the king of tablets. Apple's new 2018 iPad Pro is so much better in so many ways that it is hard to even think of what to call it.
The main question that many existing iPad Pro owners will be asking is if it's worth upgrading to the new iPad Pro generation.
For starters, the new 11-inch base iPad Pro is priced at $799. If you're planning on using the Apple Pencil, you also have to buy the new second-generation Apple Pencil for $129, bringing the base model up to a grand total of $928.
Even with that price, it's easily has the power and features to make it worth that much.
This is the iPhone X story all over again, as the new iPad Pro is basically an iPad revolution. It's packing Face ID that works no matter what orientation you hold the device, a refined exterior design, a new edge-to-edge display, the first USB-C port in any iOS device ever, support for a brand new Apple Pencil, and shocking performance.
Last year's iPad Pro also shocked us by outperforming Apple's 12-inch MacBook in both processor performance and graphics performance, and the new iPad Pro is supposed to double the graphics performance and almost double the processor performance of last year's model.
Of course, this is just Geekbench 4, which doesn't factor in thermal throttling, but the raw power is incredibly impressive.
Despite the difference in size, the 12.9-inch iPad Pro is identical in terms of performance, making the decision to buy one over the smaller version more based the mass and the cost than anything.
So, let's say you already have a 2017 iPad Pro. Should you upgrade? If money isn't an issue. Face ID and the new display alone should make the upgrade worth it, and you could probably sell your current iPad Pro for at least $400 to 450.
If you're happy with your current iPad Pro and you don't have that much spare cash, just stick with the 2017 model for another year.
For owners of older iPad Pro models, I would definitely recommend upgrading. The biggest things those models lack is a very bright and color-accurate display, Apple Pencil lag improvements, and 120hz ProMotion technology, which really makes the new iPad Pros shine.
If you've got any other kind of iPad, you should only think about if you really need the performance and the Apple Pencil support. The 2017 budget iPad for $329 supports the Apple Pencil and has a decent A10 processor, but the display is definitely lacking.
Apple has just released a brand new Apple Pencil, and next years' budget iPad will probably support it, which means it'll also come with the new boxy design to incorporate it. If you don't need the extra power and the amazing display, you could just wait until March.
Now some of you may be thinking about skipping this year's iPad Pro in favor of the 2019 model. Here's something to think about.
Apple basically went all out on this new iPad Pro, and there's a lot of firsts in this generation; it's the first iPad to switch to this boxy design since the original iPad, the first with an edge-to-edge rounded display, the first with Face ID, the first with a USB-C port, the first with support for the new Apple Pencil, the first with a 7-nanometer chip that outperforms a MacBook Pro, and it's also thinner than any iPad or even iPhone ever, if you're not counting the camera bump.
Speaking of the camera, it gets the same wide camera as the iPhone XS, with the latest video recording improvements and features like Smart HDR and Portrait Mode selfies.
Based on that, next years' iPad Pro models are unlikely to be that much different, and since it'll be running on the same 7nm architecture, the performance won't see as big of a jump as this year's versions. It's doubtful Apple will switch to an even smaller chip architecture for at least a couple of years.
There may be some changes here and there, but the 2019 models will generally be very similar to the 2018 iPad Pro.
If you're thinking of upgrading to an iPad Pro within the next two years, you might as well just just upgrade right now. That's the same advice we gave when the revolutionary iPhone X came out, and as you can tell by the iPhone XS, there really isn't much different apart from the larger iPhone XS Max.
Here's the rundown: if you've got a 2017 iPad Pro and you're perfectly happy with it, don't upgrade unless you've got a bunch of extra cash. If you've got anything else and you're thinking about getting an 11-inch iPad Pro within the next couple of years, seriously just upgrade right now, because the 2019 iPad Pro won't be that much different, and it definitely won't get any cheaper.
As for the 12.9-inch model, it's $200 more expensive, but the chassis is now significantly smaller than the previous 12.9-inch iPad Pros, making it a lot more convenient to use. If you're trying to use your iPad Pro as a laptop replacement, the 12.9-inch model will be the better choice if you have the extra cash, while artists will enjoy the extra screen space that the larger model offers.
Where to buy
Apple authorized reseller Adorama is accepting preorders for Apple's newest iPad Pros with no sales tax collected on orders shipped outside New York and New Jersey. Orders are filled on a first come, first served basis and your credit card will not be charged until the iPad Pros are ready to ship.