Apple turns retail logos red for World AIDS Day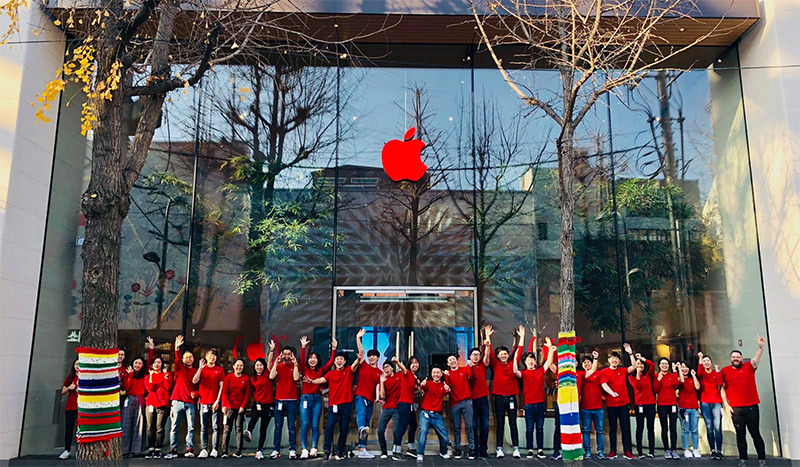 As it has done every December since 2012, Apple on Friday marked World AIDS Day by tinting red the Apple logos that front its stores around the world.
Apple CEO Tim Cook announced the annual logo color change in a tweet featuring photos of the Piazza Liberty store in Milan and Garosugil outlet in Korea. Both locations now bear the red Apple signage.
"Apple stores around the world are turning red to honor #WorldAIDSDay. Together, we can achieve an AIDS-free generation," Cook said in the tweet.
Apple marketing executive Greg Joswiak mentioned the World AIDS Day decorations in an interview on Wednesday, saying the company will turn the Apple logo red at 125 stores, while another 400 locations will feature red decals. Thanks to the National AIDS Trust's red ribbon, and the separate Product Red nonprofit campaign, the color red has come to symbolize awareness and support for people living with HIV/AIDS.
This Saturday marks the 30th anniversary of World AIDS Day and to commemorate Apple is donating $1 of every Apple Pay purchase made at an Apple store, Apple.com or through the Apple Store iOS app to charity. The event runs from Dec. 1 through Dec. 7.
Apple first partnered with Product Red in 2006 and has raised more than $200 million for the Global Fund over the past 12 years. The company creates and sells special Red editions of its products, including the flagship iPhone line, and donates a portion of the proceeds to the charity.
This year's iPhone XR is the first iPhone to be offered in Red livery at launch.