Apple commences developer beta testing of iOS 12.1.2, tvOS 12.1.2, macOS 10.14.3, and watchOS 5.1.3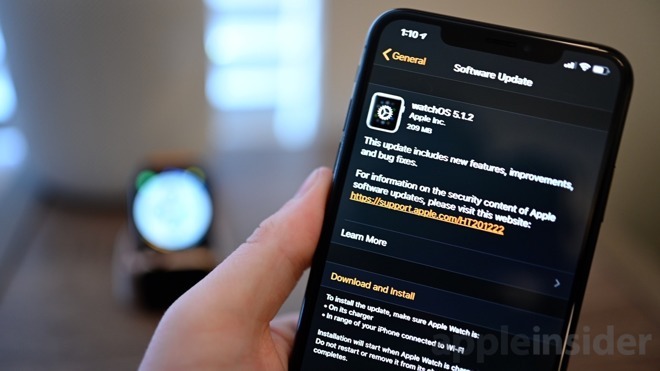 Apple has restarted the beta testing cycle once more after its latest batch of public releases, providing developers the first builds of iOS 12.1.2, tvOS 12.1.2, macOS 10.14.3, and watchOS 5.1.3.
The new builds can be acquired by developers in the beta as an over-the-air update on devices enrolled into the program, or via the Apple Developer Center. Public beta versions of each operating system normally arrive a few days after the developer betas, and are made available via the Apple Beta Software Program website.
The first iOS 12.1.2 beta is build number 16D5024a, the first tvOS 12.1.2 developer beta is build 16K5524a, and the first watchOS 5.1.3 developer beta is build 16S5523a. MacOS Mojave 10.14.3's first build in the developer beta is 18D21c.
At this early stage, no information is known about the contents of each beta. AppleInsider is currently checking the release notes for updates and the builds themselves for new features and other changes.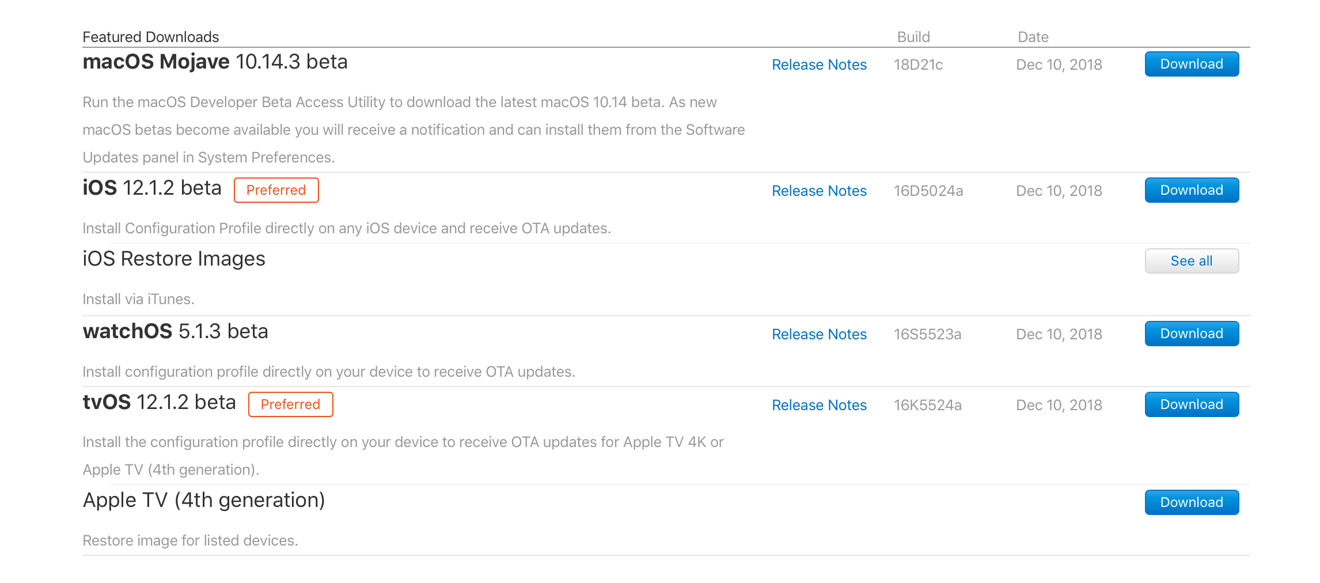 The new betas arrive the week after the public releases of the previous beta generation: iOS 12.1.1, tvOS 12.1.1, macOS 10.14.2, and watchOS 5.1.2.
FaceTime was the main recipient of changes in iOS 12.1.1, including the ability to take a Live Photo during calls, as well as an updated bottom bar with buttons for muting and switching the camera. Real-time text (RTT) has been enabled for iPads and the iPod touch when Wi-Fi calling is active, eSIM support has been extended to more carriers, and the iPhone XR's Haptic Touch was extended to work for notification previews, among other changes.
The tvOS 12.1.1 and macOS 10.14.2 updates largely related to performance improvements and bug fixes.
The watchOS 5.1.2 update finally enabled the ECG app to run on the Apple Watch Series 4 in the United States. All versions from Series 1 onward gained the Irregular Rhythm Notification that checks the user's heart rhythm in the background, while new complications for the Infograph and Infograph Modular faces added extra elements for Messages, Home, and Mail.
AppleInsider, and Apple itself, strongly suggest users avoid installing betas on to "mission-critical" or primary devices, due to the potential for data loss or other issues. It is instead recommended to install betas onto secondary or non-essential devices, and to ensure there are sufficient backups of important data beforehand.