Review: Caviar's luxury $4,600 iPhone has more gold than purpose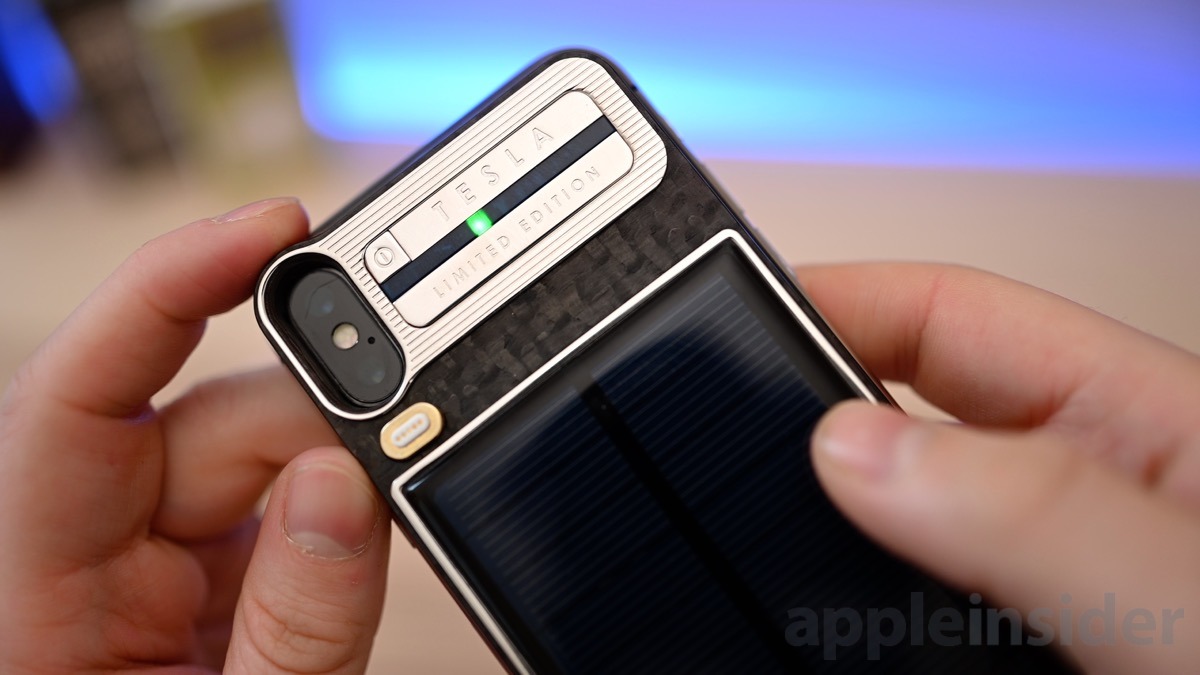 AppleInsider is supported by its audience and may earn commission as an Amazon Associate and affiliate partner on qualifying purchases. These affiliate partnerships do not influence our editorial content.
If you've ever wondered what it is like to use a custom modified $4,600 gold and carbon iPhone with a built-in solar charger, AppleInsider has you covered.
We reported backed in May about the solar-powered iPhone X Tesla' model that went for a pricey $4,600. AppleInsider now has one that we've been carrying around for the past week or so.
Modifications galore
Caviar by craft is a phone modification shop. They take Apple's off-the-shelf iPhone X, then apply their own elements to theoretically craft an even more luxury version of the iPhone.
The entire back panel of the iPhone has been replaced by a carbon fiber housing with gold accents and a solar panel. The top of the back panel has a gilded metal panel with an LED in the center and Tesla engraved on the top. Important to note, even with all the Tesla references, this phone isn't related to the automaker in any way.
A small power button also sits within this top portion, used to turn on the battery contained within the solar charger. The Tesla iPhone isn't just powering your iPhone via the sun but also powering up an additional battery pack as well. The LED light lets you know when the solar battery is charging, as well as when it is turned on and off. It isn't super intuitive as to what it means, alternating between flashing, solid blue, or solid green.
Covering that solar panel is a shock resistant layer, designed to provide impact resistance should it ever fall. With the added weight here, that is a distinct possibility.
Caviar also engraved several points on the iPhone's original frame. On the right side, it has the Caviar logo near the top and Made on Earth by humans — a phrase synonymous with Tesla — towards the bottom. The left side of the iPhone has a few more demarcations highlighting the brand, as well as an X — for iPhone X — and a signifier of the 24K gold used.
Located right below the camera cutout, is a magnetic charging port akin to Apple's legacy MagSafe. Instead of relying on the solar charger, you can juice up this way instead.
While the back panel was replaced, everything else on the phone remains stock. Including iOS, Face ID, the Lightning port, and all the buttons.
Daily use
Using the Caviar Tesla iPhone X each day has been an experience. There are many pros and cons that make it hard to weigh how much these modifications are really worth it.
We wholeheartedly appreciated the additional battery life in the device, getting significantly more use out of our phone than we would otherwise. The solar charger is beneficial too but takes 30 hours to juice up from a low charge and is less than useful in cloud-covered Ohio in the winter.
In reality, wireless chargers are probably still more convenient, something you give up by using the Tesla model. We set our phone down so many times throughout the day, like in the car or while at our desk when a wireless charger would come in handy, but a solar charger doesn't. For day-to-day use, wireless chargers are a better option.
If you use the magnetic charger rather than wait for the solar panels, you also end up with a very hot phone. Almost too hot to touch. We were a bit worried about leaving the phone to charge this way without us being around. This is an aftermarket modification after all.
Lastly, we also didn't love the added weight of the modified handset. It doesn't look it in the press images, but it is rather thick. The carbon fiber housing may be lightweight, but the battery and metal certainly aren't. It weighed down our pockets significantly and isn't easy to carry around.
No case will fit such a custom phone either. You likely wouldn't want to cover up the back anyway, so you better be careful with it. Apple won't touch these devices, so your only hope is aftermarket dealers or Caviar itself to get it repaired. But, if you're spending $4600 on it, you may not be that concerned about replacement cost.
Missing the attention to detail
There are countless elements of this phone that are finely crafted, but there are also many that aren't.
Around the camera cutout is a ring of metal, which has a surprisingly sharp edge. We stacked the Tesla iPhone on our XS Max to get an idea of the size difference, and it actually scratched our iPhone XS Max display. If grabbed the wrong way, we wouldn't be shocked if it cut our finger — apologies for not testing this directly.
The magnetic charging port also doesn't seem to be quite secure. It moves around, making us question the water resistance of this handset, which originally was promised to be IP67 rated.
Interesting to see, less exciting to use
Caviar has put out a luxury device, but it misses the mark. Solar chargers are a unique alternative, but for most people who spend most time indoors, it isn't all that useful compared to Qi wireless chargers.
The extra battery power is great, but there are other battery cases out there that let you still have your phone serviced through Apple and protect your phone at the same time.
Those seriously considering such a device are looking for the luxury factor, or something no one else has. Caviar is only producing a set number of these devices, and at nearly $4,400, it's unlikely you will see others walking down the street.
We just can't recommend it.
Rating: 2 out of 5
Where to buy
If you'd like to grab a handset for yourself, you can order directly from Caviar where a personal consultant will assist with your order. Right now, they are even running a holiday sale for a bonus 5 percent off, if this is your thing.