TSMC and Foxconn revenues up, contrary to dour iPhone supply chain forecasts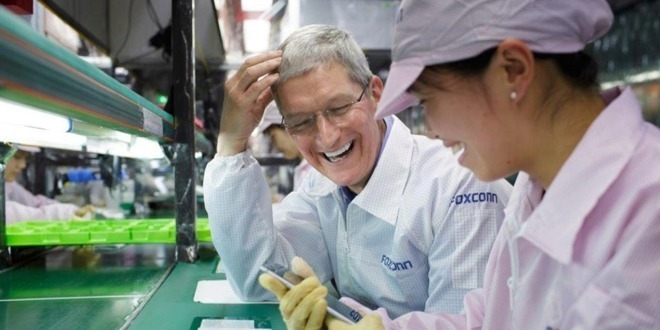 TSMC and Foxconn, two of Apple's major iPhone production partners, have reported street-beating revenue for November, casting some doubt on supply chain reports suggesting component suppliers are struggling following iPhone production cuts.
Assembly partner Foxconn's revenue in November reached NT$601.4 billion ($19.5 billion), buoyed by the production of new models including the iPhone XS, iPhone XS Max, and iPhone XR. The revenue level was a record for the month and also brings the company's sales growth for the January to November period to almost 16 percent.
Apple A-series chip producer TSMC achieved NT$98.4 billion ($3.2 billion) in sales for the month, representing a year-on-year growth of 5.6 percent, reports Bloomberg. While there is some reduction in growth from October, this is said to be a solid level of revenue for the chip maker.
The revelations from two key companies in the iPhone supply chain are highlights in a supply chain supposedly feeling the pinch of iPhone production cuts from Apple, as it revises its output to more closely meet demand. Suppliers including AMS, Japan Display, Lumentum, Qovrvo, and others all slashed their forecasts in November and warned of weaker earnings.
The positive revenues are also notable due to the high level of income each company has from their dealings with Apple, with Foxconn estimated to earn close to half its revenue from Apple while the iPhone maker accounts for a fifth of TSMC.
In the case of TSMC, it is somewhat insulated from Apple-ordered cuts, due to reports it has a queue of other clients wanting to take advantage of its 7-nanometer chip fabrication process. Already working with Huawei, it is believed TSMC also counts Qualcomm and AMD as customers for 2019, alongside Apple, with Broadcom, Xilinx, and Nvidia also tipped to tap the company.
Foxconn's high Apple-based revenue may be an issue in the future if the cuts get deeper, due to it having relatively thin margins for production. Flat unit growth for iPhone can hurt revenue growth for Foxconn in the long run, as it benefits less from the high average selling price levels currently observed for iPhones.
The assembly partner is also having to deal with the ongoing trade war between the U.S. and China, with the company reportedly exploring the possibility of shifting some iPhone production to avoid the effects of tariffs.
Many analysts have mused on Apple's fortunes, with share price target cuts across the board citing the slowdown of iPhone unit sales and the general slump in the smartphone market.