Apple Music promo lets subscribers give one month of free service to a friend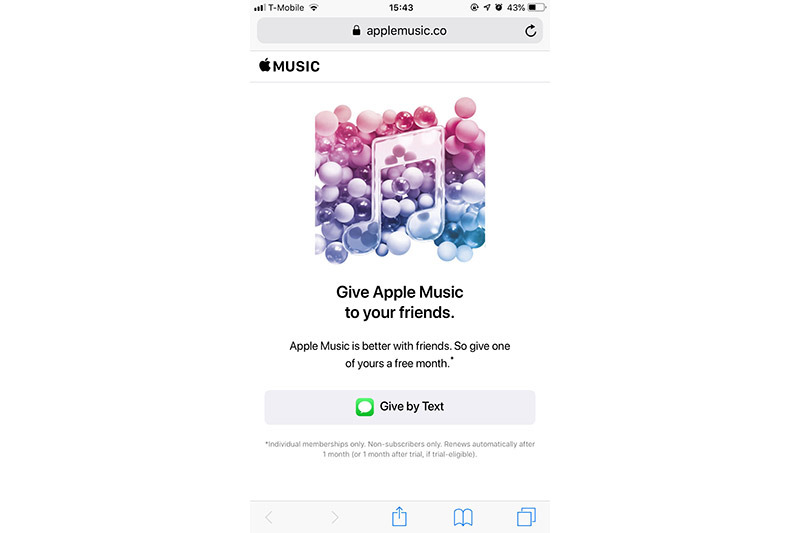 In what is quickly becoming Apple's preferred method of advertising to existing customers, the company on Friday sent out an iOS push notification offering Apple Music subscribers the ability to give away one free month of service.
The push notification, distributed to current Apple Music subscribers, redirects to an Apple-hosted webpage that allows users to gift a month of service to a friend.
"Apple Music is better with friends. So give one of yours a free month," a tagline on the website reads.
Users are urged to take advantage of the promotion by tapping on a large "Give by Text" button, which sends a custom referral link to a contact via Messages. Redeeming the offer sets a recipient up with an individual Apple Music membership that automatically renews after one month.
Apple notes only non-subscribers are eligible for the gift subscription, adding that the one-month membership can append Apple Music's standard three-month trial period for new users. The subsequent four-month period is identical to an extended trial offer presented Shazam users during the Grammy Awards earlier in February.
While not confirmed, the fine print suggests former Apple Music subscribers can also take advantage of the free month offer.
Reports of the Apple Music promotion hit Twitter earlier today.
Apple has increasingly leveraged its push notification service to tout hardware and software promotions, a strategy seemingly at odds with its own developer ruleset. Specifically, section 4.5.3 of the App Store Guidelines prohibits developers from using Apple Services to "spam, phish, or send unsolicited messages to customers."
The first of Apple's push notification ads arrived on Dec. 7, when the Apple Store app sent out a message urged iPhone owners to upgrade to the latest iPhone XS and XR. Later that month, notifications from Apple Music promoted new "Carpool Karaoke" episodes and an Alexa skill that introduced the music streaming service to Amazon Echo devices.