August's HomeKit support for smart doorbells not coming anytime soon

AppleInsider is supported by its audience and may earn commission as an Amazon Associate and affiliate partner on qualifying purchases. These affiliate partnerships do not influence our editorial content.
Once promised, Apple HomeKit isn't coming to August's smart doorbells anytime soon. That includes the newly-announced View, representatives told AppleInsider at the SXSW festival in Austin, Tex.
It's a long-term "possibility" and August "would love to do it," one of the representatives said. In the meantime, "August remains committed to offering platform agnostic products. We are working with Google and Amazon and plan to have integrations with the Google Assistant and Amazon Alexa live once the View is available for purchase on March 28, 2019," August told AppleInsider. "We continue to work with Apple to explore integration opportunities with our doorbell cameras."
One of the issues though is that the company wants the same seamless doorbell/lock interaction found in its iPhone app — people who have both a Doorbell Cam and a Smart Lock can check their camera, use the intercom, and unlock a door all from the same screen.
HomeKit, in theory, should offer similar interactions. Currently, when a camera detects motion and sends a notification, smart actions are displayed allowing you to control different accessories such as turning on the lights. Third-party developers have told AppleInsider that this functions the same way with HomeKit doorbell cameras, allowing you to talk and unlock the door right from the notification interface.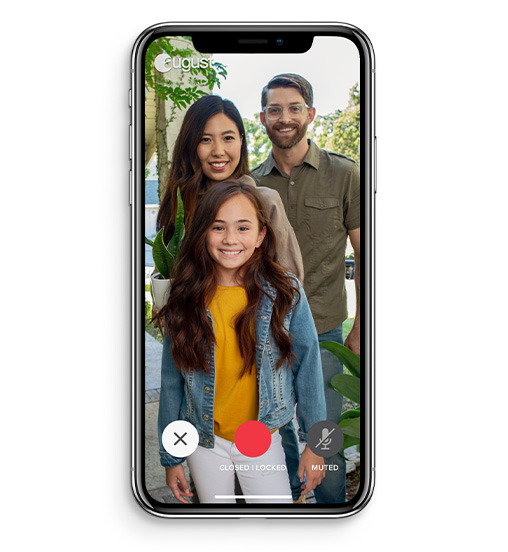 The other issue is that HomeKit is simply harder to develop for than platforms like Amazon Alexa and Google Assistant, August indicated. It did say however that it's in regular talks with Apple. Apple's tight standards for security and small internal team have made it somewhat difficult for third-parties to properly integrate their accessories in a timely fashion.
In the meantime the company teased the possibility of watching live View and Doorbell Cam feeds on Google's Smart Display platform. Alexa live view support already works for Doorbell Cams.
August-branded gear could potentially land among in-home delivery services like Amazon Key, and some form of announcement is coming in the next few months. "In-home delivery is a space that we continue to invest in," one person said when asked about Key specifically. That service already makes use of smartlocks by Yale, owned by August's parent company Assa Abloy.
The View, shipping later this month, is August's first battery-powered doorbell, able to run 3 to 6 months on a single charge. That makes it easier to install, and August has reworked its design to make it more conventionally doorbell-like. It also has a higher-resolution 1440p camera and a better field of view than the Doorbell Cam Pro as well as many other smart video doorbells on the market. With a higher-resolution video stream, it makes it easier to zoom in to identify objects and people picked up by the camera.
The slimmer design also allows it to fit into small locations, another primary objective for the August team.
Even though August has struggled to integrate HomeKit into the View, other companies have been able to accomplish it. AppleInsider went hands on with the Netatmo HomeKit video doorbell earlier this year and Robin Telecom has already started shipping its ProLine model that has HomeKit baked in.