IHS Markit: Apple shipped 43.8M iPhones in Q1, down 16% from 2018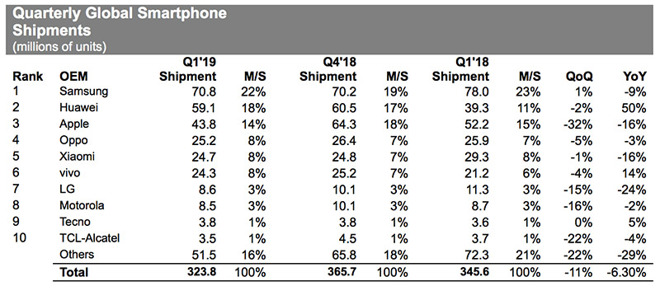 AppleInsider may earn an affiliate commission on purchases made through links on our site.
Contradicting controversial smartphone shipment estimates from market research firm IDC, IHS Markit on Thursday released its own set of preliminary figures that fall in line with wider industry expectations. At least as far as Apple is concerned.
Earlier this week, IDC released estimates claiming Apple shipped 36.4 million iPhones in the first calendar quarter of 2019, down a shocking 30.2% year over year.
The report was subsequently panned by independent analysts and industry insiders including Neil Cybart, who characterized the results as "embarrassing" for IDC. Chinese smartphone maker Xiaomi also took issue with the data and on Thursday issued a statement saying IDC's estimates were at least 2.5 million units off.
Amid the hubbub, IHS Markit released its own findings, which are more conservative than those issued by fellow market research firms IDC and Canalys.
IHS estimates Apple shipped 43.8 million iPhones during the quarter to take a 14% share of the market, down 16% from 52.2 million units shipped the year prior. The performance landed Apple in third place, behind market leader Samsung and Huawei, which shipped 70.8 million and 59.1 million handsets over the same period, respectively.
"The fourth quarter likely left Apple with excess inventory, creating an incentive for the company to use more generous trade-in offers and more financing options in as many regions as possible," according to IHS analysts. "While slightly reducing prices in China might encourage some buyers, Apple faces the underlying challenge of charging premium pricing in a maturing smartphone market. As a result, Apple may not be able to find short-term fixes for its problems."
Oppo and Xiaomi rounded out the top five with a respective 25.2 million and 24.7 million units shipped, both good for about 8% of the market.
While IHS' iPhone numbers came close to expectations from Cybart and others, the firm's methodology resulted in the same IDC error that riled Xiaomi, but 300,000 units lower.
So far, Canalys estimates were nearest to Xiaomi's referenced range of above 27.5 million units for the quarter. The research firm overestimated at 27.8 million smartphones shipped, down 1.3% year over year.
With Apple no longer reporting unit sales of major product categories, research firms are left guessing and the results run the gamut.