Tension over Trump's tariff tweet torpedoes $30B of Apple market cap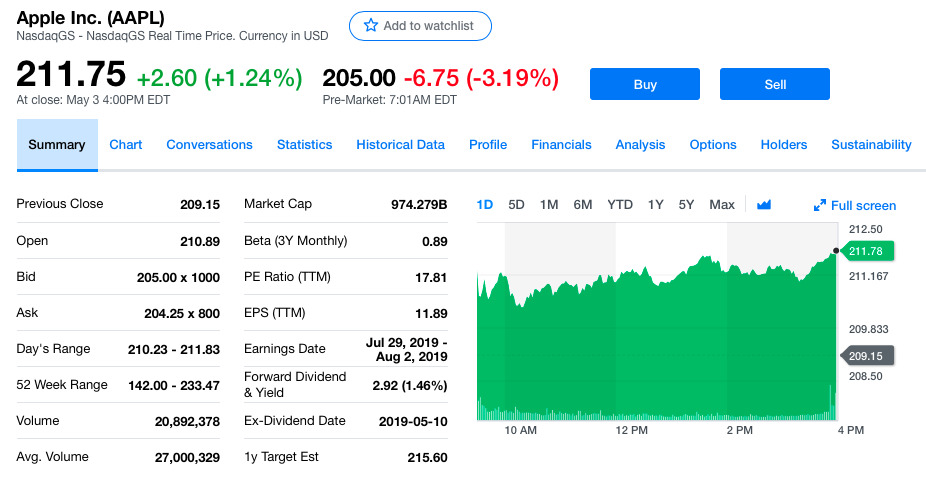 After President Donald Trump used Twitter to threaten a dramatic escalation of America's trade war with China, stocks tumbled in early trading. Apple was hit particularly hard, with shares dropping by more than 3%.
President Trump's tweet was enough to take more than $30 billion off the company's market capitalization, less than a week after better than expected earnings drove an over $10 per share climb.
For 10 months, China has been paying Tariffs to the USA of 25% on 50 Billion Dollars of High Tech, and 10% on 200 Billion Dollars of other goods. These payments are partially responsible for our great economic results. The 10% will go up to 25% on Friday. 325 Billions Dollars....

— Donald J. Trump (@realDonaldTrump) May 5, 2019
"The president is, I think, issuing a warning here, that, you know, we bent over backwards earlier, we suspended the 25% tariff to 10 and then we've left it there. That may not be forever if the talks don't work out," White House economic adviser Larry Kudlow stated to the BBC.
The BBC cited Asia director Michael Hirson of Eurasia Group as saying that Trump's "move injects major uncertainty into negotiations, which now face a rising risk of an extended impasse - perhaps even through the US presidential election."
The tariffs Trump threatened to hike are assessed on the importing companies, and boil down to a tax that American buyers will pay on goods from China as the price of goods increase. In October, the Trump administration announced $200 billion of tariffs and China countered with $60 billion in tariffs of its own. Apple products were omitted from the original U.S. order, perhaps a consideration of the many letters of concern the administration received from Apple and other tech companies.
Reports last summer claimed the Trump administration promised Apple CEO Tim Cook that iPhone would not be included in the Chinese trade war, but reports have gone back-and-forth on this topic. Apple Watch escaped getting hit by tariffs in September.
While the Tweet doesn't specifically convey whether the tax hike would include any Apple products, the prospect of an endless trade war and the uncertainties raised is likely to have a destabilizing impact on the global economy. Beyond just buying power, Apple's first quarter results were hit hard by economic uncertainty in China, with a carry-on effect impacting Apple's sales domestically.