Anticipation over Apple's new modular Mac Pro mounts as first iffy renderings hit the web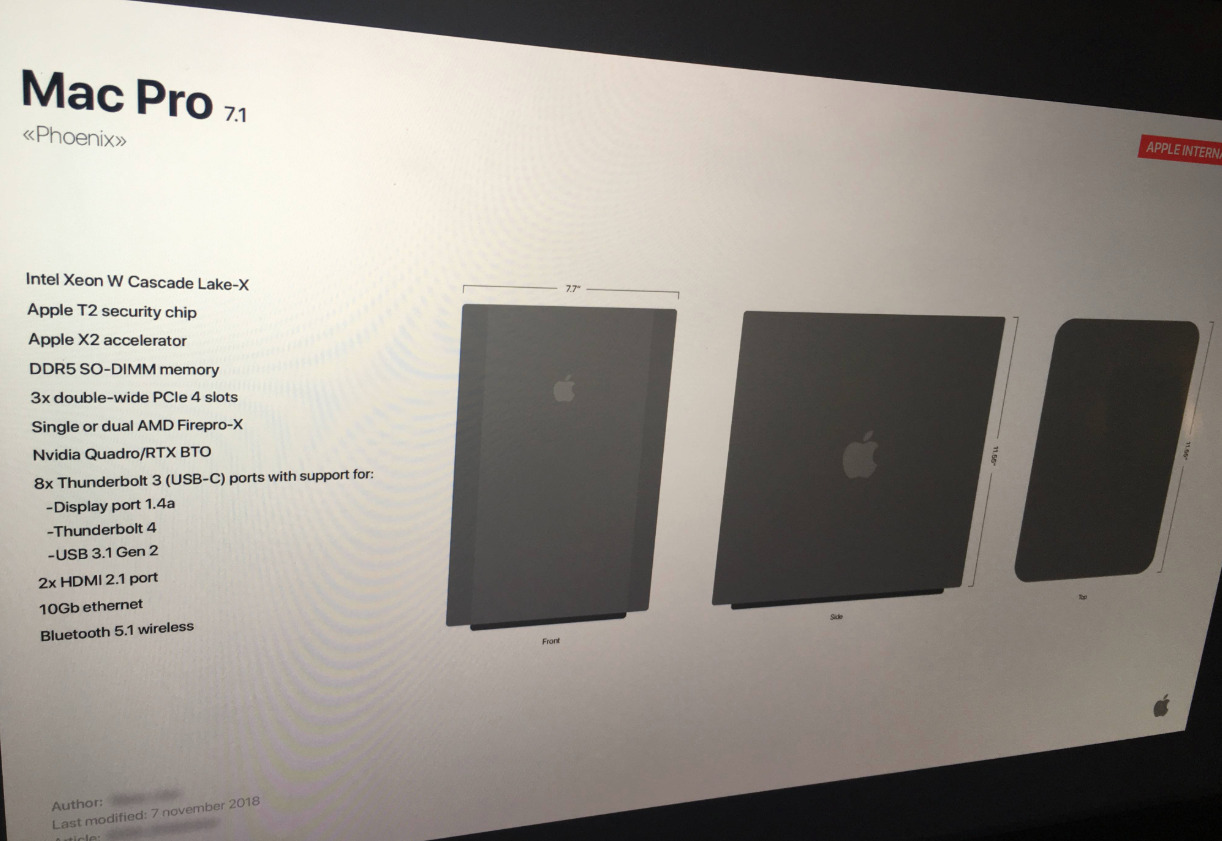 The first "leak" for the modular Mac Pro has surfaced in the form of a supposed internal Apple document for the device, alleged evidence for the highly-anticipated Mac that has many questionable elements making it very hard to believe is genuine at all.
Apple is actively in development of the Mac Pro and is rumored to be preparing to reveal the hardware at WWDC in June. Years into its creation, no details have been confirmed about the Mac Pro, aside from it being "modular," leaving the rest up for speculation.
In an image posted to Imgur, an internal slide from a presentation for the "Mac Pro 7.1" has seemingly been photographed on a display and then shared. The document is dated as last modified on "7 November 2018," with it also bearing a notification it is for "Apple Internal" usage, the Apple logo in one quarter, and the author's name conveniently blurred out.
The supposed design is for a relatively square Mac Pro measuring 7.7 inches wide, 11.55 inches tall, and 11.55 inches long, with rounded vertical edges. There are only views of one side, the top, and the front, but not on the back or the base, which is depicted as a small black plinth recessed about an inch from each side.
Also on the sheet is a list of specifications, which contains a number of relatively odd elements that strongly suggest the image isn't genuine at all.
The Mac Pro is claimed to have an Intel Xeon W Cascade Lake-X processor with the Apple T2 security chip, "Apple X2 accelerator," and DDR5 SO-DIMM memory. The RAM claim is unlikely as the first commercial DDR5 releases have yet to occur and aren't expected in any volume until well into 2020, making the inclusion of the immature technology on such a high-profile product an unwise decision.
There also has yet to be any formal announcements regarding DDR5 in a SO-DIMM format, doubly making the claim iffy, let alone the lack of detail about ECC versions, especially for a slide updated in November 2018.
The size of the box in the illustrations doesn't lend itself well to three dual-width PCIe 4 slots. The relative newness of PCIe 4 also makes it an unlikely inclusion, again for maturity at launch, and a lack of available cards that will be able to use it.
The rest of the specifications list is relatively straightforward, including eight Thunderbolt 3 ports with support for "Thunderbolt 4," two HDMI 2.1 ports, 10-gigabit ethernet, and Bluetooth 5.1 support.
"Thunderbolt 4" has yet to be released, or announced. Thunderbolt 3 was announced in 2015, with the technology not reaching any Mac products until the 2016 MacBook Pro.
There are other questionable elements from an attention to detail standpoint, such as incorrect branding on the AMD FirePro GPU.
The new Mac Pro is tipped to ship in 2020, and in one rumor its modular form may use a stacking system, something not illustrated in the slide. Using proprietary connectors, this could allow users to buy a "brain" module and then only add what they need on top, such as extra storage or another GPU.
A modular Mac Pro would solve one of the biggest complaints about the Mac, in that Apple can force its customers into acquiring all-in-one designs that have little in the way of upgrades available. In a business environment, the ability to upgrade hardware to lengthen its lifespan is crucial, and could gain the Mac Pro more custom from its intended market.
Ultimately, leaks and rumors are not to be entirely trusted due to Apple's culture of secrecy, as well as the potential for fake "leaks" to be circulated based on nothing but speculation and whims. Until Apple officially reveals its products, there is no guarantee what is being "leaked" is actually true.