Apple overtakes Berkshire Hathaway to retake third on Fortune 500 list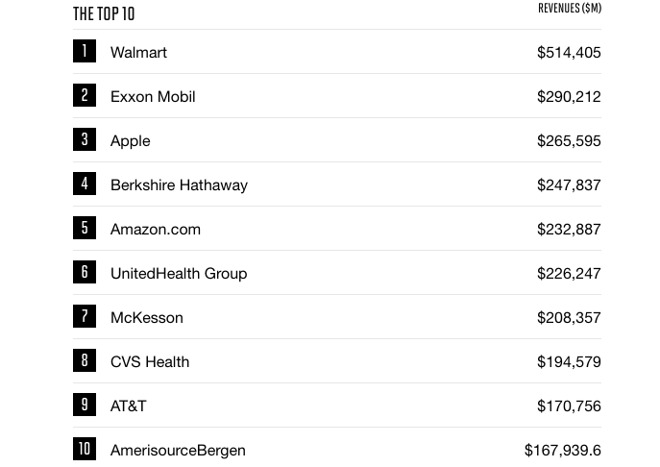 AppleInsider may earn an affiliate commission on purchases made through links on our site.
Apple has regained its position of third place on the Fortune 500 list of companies following a brief slip in 2017, with the iPhone maker also identified as the most profitable company on the list in 2018, a title it has managed to hold onto for five years in a row.
For the 2019 list, Apple secured third place with revenues of $265.6 billion, behind Exxon Mobil in second with $290.2 billion and Walmart in first with $514.4 billion respectively. Apple narrowly beat out Berkshire Hathaway, a major investor in the firm which had revenues of $247.8 billion, and Amazon in fifth with $232.9 billion.
Apple previously held third place in the 2015 and 2016 Fortune 500 lists, but dipped down to fourth for 2017. For that year, Apple was beaten by Walmart, Berkshire Hathaway, and Exxon, with the later rising from fourth to second.
According to Fortune, Apple saw a revenue change of 15.9 percent, generating $59.5 billion in profits, which itself was a change of 23.1 percent. The company has assets valued at an estimated $365.7 billion, and with approximately 132,000 employees.
The year 2018 will be "remembered as the year that Apple first achieved a market value of $1 trillion," advises Fortune's analyst, "as well as when growth in iPhones, Apple's largest single product by far, began to slow." Apple's challenge now is to reposition itself as a service provider "as consumers hang onto phones longer."
This year's Fortune 500 is the 65th year of the list's existence, of which Apple has appeared on it for 37 years. The entire list represents two thirds of the US gross domestic product, with $13.7 trillion in revenue, $1.1 trillion in profits, $22.6 trillion in market value, and employing 28.7 million people globally.