Berkshire Hathaway's Warren Buffett points to Apple's earnings as reason for continued investment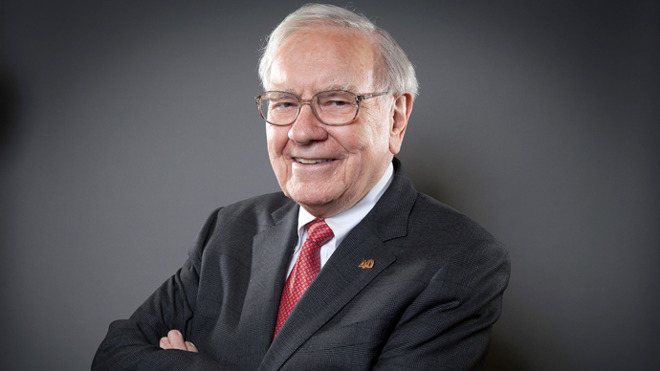 AppleInsider may earn an affiliate commission on purchases made through links on our site.
Berkshire Hathaway will continue to hold its considerable stake in Apple, notable investor Warren Buffett has advised, with the iPhone maker's latest quarterly results showing why the investment fund has put multiple billions into the company.
"We haven't changed our [Apple] holdings," claimed Buffett on Thursday, ahead of this weekend's annual shareholder meeting for Berkshire Hathaway, held in Omaha. The fund's 2018 annual letter revealed the company owned more than $40 billion worth of stock at the end of the year, excluding the 32% increase in value the shares have received so far in 2019.
On the latest quarterly results, Warren Buffett remarked to CNBC "I was pleased with what they reported," before highlighting the company never makes investment decisions based on just one quarter's results. "What they talked about and reported is consistent with the reason we on $50 billion-plus of Apple."
Buffett also commented on the reduction of its holdings in Apple on December 31 to 249.6 million shares, decreasing by almost 3 million shares in the fourth quarter, advising it wasn't a sale under his direction. It was suggested one staff member that owns "a little over 1% of our holdings in the office" may have made the sale, but Buffett admits "I have no reason to think he's bought or sold Apple."
The "Sage of Omaha" previously commented on Apple's potential, claiming in February "If it were cheaper, we'd be buying it," referring to the shares. "I don't see myself selling - the lower it goes, the better, I like it, obviously." In August 2018, Buffett explained he found Apple to be a reliable investment for the moment.
Buffett has also issued doubts on Apple TV+ becoming an immediate success, but that its failure could be a good thing to the company. "I'd love to see them succeed, but that's a company that can afford a mistake or two," he said in March, adding "You don't want to buy stock in the company that has to do everything right."
Berkshire first bought into Apple in 2016 with shares worth around $1 billion, and has repeatedly acquired more shares in the company. The fund, under Buffett's direction, typically avoids technology stocks, but made an exception for Apple, and as of Thursday, revealed it was buying shares in Amazon.
The shareholder meeting will be attended by tens of thousands of investors, keen to hear Buffett's investment strategies, market outlook, and his succession plan.